Four LAS researchers recognized by index as most highly cited
Professors named to Clarivate Analytics' list of world's most influential scientists
Four faculty members in the College of Liberal Arts & Sciences have been named to the 2021 Clarivate Analytics Highly Cited Researchers list.
The list recognizes researchers who demonstrated significant influence in their chosen field or fields through the publication of multiple highly cited papers during the last decade. Their names are drawn from the publications that rank in the top 1 percent by citations for field and publication year in the Web of Science citation index.
The highly cited Illinois researchers this year are: atmospheric sciences professor Atul Jain, crop sciences and plant biology professor Stephen Long, and plant biology professor Donald Ort. Ed Diener, a professor emeritus of psychology who died in April, also was on this year's list.
Two other faculty members at U of I were also on the list. They include materials science and engineering professor Axel Hoffmann, and mechanical science and engineering professor Arend van der Zande.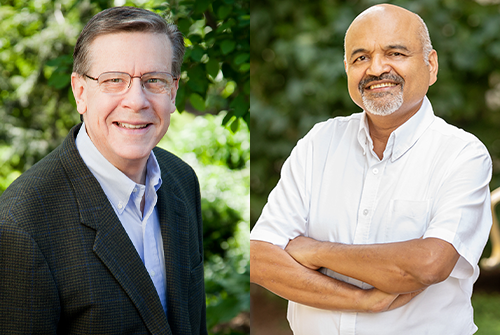 Jain studies the interactions between climate and physical and biological processes, including land use, hydrology, energy, and carbon and nitrogen cycles. His team has developed a global model-data integration framework that uses satellite and ground-based observations to study climate impacts at regional and global scales. He is a contributor to major assessments of the Intergovernmental Panel on Climate Change and has earned numerous awards and honors, including the National Science Foundation's Faculty Early Career Development Award and inclusion on the Reuters list of top climate scientists.
Long is the Stanley O. Ikenberry Chair of Crop Sciences and Plant Biology. He uses computational and bioengineering approaches to improve photosynthetic efficiency and works to address the effects of climate change on crop yields. He was elected a Fellow of the Royal Society of London in 2013 and a member of the National Academy of Sciences in 2019. He has been recognized as a highly cited researcher every year since 2005.  He directs Realizing Increased Photosynthetic Efficiency, a multinational project. He is an affiliate of the Carl R. Woese Institute for Genomic Biology at the U of I.
Ort is the Robert Emerson Professor of Plant Biology and Crop Sciences at Illinois. His research focuses on improving photosynthesis and addresses crop responses to global change factors including increases in atmospheric carbon dioxide and temperature. He leads the Genomic Ecology of Global Change theme in the IGB and was elected to the National Academy of Sciences in 2017. 
Diener was a social psychologist and a leader in the field of positive psychology, which focuses on the factors promoting happiness and well-being. In the mid-1980s, Diener and colleagues developed the Satisfaction with Life Scale, and in 2009 the Flourishing Scale, both designed to gauge happiness – which he called "subjective well-being" – in a methodical, repeatable manner. He was a co-author of hundreds of articles on the subject of well-being. He won the American Psychological Association Award for Distinguished Scientific Contributions in 2012. In an obituary of Diener, The New York Times called him "a playful social psychologist" who conducted "pioneering research into what defined contentment."
News Source
Diana Yates, Illinois News Bureau