College of LAS honors academic professional and staff award winners
Individuals are selected for outstanding service to the college and campus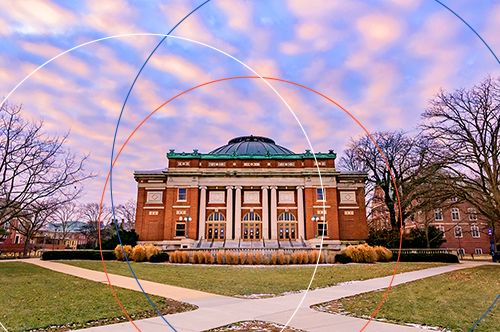 Six staff members and academic professionals are being recognized for their particularly noteworthy efforts in advancing the mission of the College of Liberal Arts & Sciences in 2021-22.
Jeeyoung Ha, Melissa Sotelo, and Kasia Szremski have been selected by an awards committee to receive the LAS Academic Professional Award. The recognition comes with a $1,000 award and a $1,000 salary increment supported by funds from LAS alumni.  
Marci Blocher, Karen Flesher, and Kat Fuenty have been selected to receive an LAS Staff Award. The recognition comes with a $2,000 award supported by funds from LAS alum.
All six awardees will be honored at a ceremony in March.
"We're proud to present this year's recipients with the College of LAS Staff and Academic Professional Awards," said Venetria K. Patton, the Harry E. Preble Dean of the College of LAS. "They demonstrate to us all the value and importance of hard work, creativity, and adaptability, and their efforts are critical to the success of LAS." 
Summaries of the winners follow:
Marci Blocher
Marci Blocher works in the Department of Mathematics as an office support specialist. Since she joined the department in 2002, Blocher's cheerful dedication has been a huge benefit to the wellbeing of students studying mathematics, her colleagues report. Blocher reached her current position in 2009, taking on responsibilities that include scheduling meetings, assembling recruiting materials, and screening applications to the graduate program, among other tasks. She has also become the designated department thesis checker, responsible for approving the format of thesis submissions for all graduate students. The department has come to rely greatly on Blocher's energy and competence for the integrity and efficiency of its admissions process. She has a strong sense of the main priorities of the graduate program and the timing of necessary tasks.
Jeeyoung Ha
Jeeyoung Ha is the director of the Korean language program for the Department of East Asian Languages & Cultures, where she designs and teaches the Korean language curriculum. In addition to hiring, training, and supervising TAs within the department, Ha develops teaching materials, tests, exams, and other supplementary materials. Since 2020, Ha has also served as the director of undergraduate studies for the department. Ha has co-authored a set of Korean textbooks with the University of Hawaii Press that contribute tremendously to the teaching of Korean by filling gaps in an area desperately in need of suitable teaching materials. According to her colleagues, Ha is vital to providing an amazing environment for students to learn language and culture.
Karen P. Flesher
Karen Flesher is instrumental in running Spurlock Museum. She's worked at Spurlock since 2004 and currently holds the title of business/administrative associate. While her job is ever-changing, Flesher keeps the day-to-day business of the museum operating smoothly and professionally, with her responsibilities including bookkeeping, financial records, mail, accounts payable, human resources, and event supervision. Flesher has memorized hundreds of university rules and policies, in addition to those of outgoing granting institutions, so she can assist coworkers. Her colleagues report that, above all, she's always patient, kind, and friendly. Her efficient handling of the museum's daily affairs is key to Spurlock being able to build and maintain positive relationships with university entities, community members, visitors, artists, cultural groups, and other collaborators.
Kat Fuenty
Kat Fuenty is an office support associate for the Department of Asian American Studies. Since taking the position in 2018, Fuenty has enthusiastically completed duties such as taking calls, event planning, technical support, and creating media for advertisements. In addition to these efforts, Fuenty has gone above and beyond their job description, taking on supervising undergraduate workers, scheduling classes, assisting in budgeting, and coordinating building and office maintenance. Fuenty's detail-oriented personality and welcoming personality makes everyone feel welcome, with colleagues reporting that Fuenty's home-made baked goods haven't hurt office morale, either. With Fuenty's  detailed-oriented work ethic and commitment to creating conditions for others to thrive, colleagues said, the public spaces in the department have become warm places to gather and connect.
Melissa Sotelo
Melissa Sotelo works with the Spurlock Museum as the collections coordinator for exhibits, where she assists in the design, fabrication, and installation of permanent and temporary exhibits. Sotelo first served Spurlock from 2003 to 2006 as a collections student assistant, and she has continued professionally since 2007 as the collections coordinator. Throughout her time with the Spurlock Museum, Sotelo has assisted in the planning, mounting, and installation for 42 temporary museum exhibits; she has designed, mounted, and installed 25 featured object displays; and she has researched and evaluated 15 traveling exhibits to possibly host at the museum. Sotelo's colleagues praise her commitment and the incredible work she has completed to fulfill the university's land-grant mission to serve the community.
Kasia Szremski
Kasia Szremski serves as the associate director for the Center for Latin American & Caribbean Studies, where she manages the implementation of the core programing areas of the center and provides strategic guidance to the director for the development of programs and activities. This semester, Szremski wrote and won a grant from the provost's office to organize a Latin American and Caribbean study club. The organization brings together undergraduates interested in Latin America and the Caribbean to build an on-campus community while deepening their knowledge of the region. Szremski also has played a crucial role in the development of the Illinois Global Institute, where Szremski is admired for going beyond her job description to ensure the success of her coworkers and the programs she works for.
News Source
Christian Jones and Allison Winans