Brendan Harley invested as Robert W. Schaefer Professor
Professor of chemical and biomolecular engineering honored for commitment to research, education, and mentorship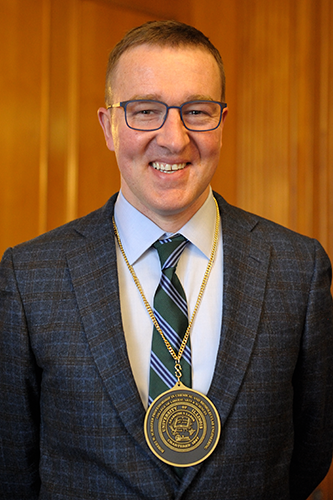 Brendan A. C. Harley—a leader in the fields of biomaterials, tissue engineering, and regenerative medicine—has been named the Robert W. Schaefer Professor in Chemical and Biomolecular Engineering at the University of Illinois Urbana-Champaign. The awarded position is named after an Illinois alumnus who graduated with a degree in chemical engineering in 1956 and was a great supporter of the university.
"Endowed professorships are one of the highest honors the university confers upon its faculty members," said Reitumetse Obakeng Mabokela, the vice provost for international affairs and global strategies. "Our faculty are the intellectual heart of our institution, and through investitures, we recognize their innovation and contributions, and express our gratitude for their impactful work."
Harley joined the Department of Chemical and Biomolecular Engineering in 2008. He is also affiliated with the Departments of Bioengineering as well as Materials science and engineering. He is the leader of the Regenerative Biology & Tissue Engineering research theme at the Carl R. Woese Institute for Genomic Biology (IGB) and serves as the Program Leader of the Cancer Discovery Platforms research program within the Cancer Center at Illinois (CCIL). 
"I've really had the pleasure of working shoulder to shoulder with [Harley] for about 10 years," said CCIL director Rohit Bhargava. "Ten years ago, we talked about a crazy idea: what would happen if you took engineering principles and applied them to cancer? Brendan, of course, jumped on this idea right away from a tissue engineering background." 
"Brendan's work is now allowing us to interrogate the little parts of the tumor that are perhaps the most dangerous," Bhargava said. "By reconstructing these systems in the lab, we'll be able to study brain cancer, and one day, I'm sure we'll make therapies that truly are effective against glioblastoma. Brendan's innovations that combine all these concepts from engineering, material science, and integrative biology are surely saving lives." 
Harley has authored more than 140 peer-reviewed research papers and fifteen patent applications. He is an elected fellow of the Biomedical Engineering Society, the American Institute for Medical and Biological Engineering, and the American Association for the Advancement of Science. He is also a recipient of the Clemson Award for Basic Research and a Young Investigator Award from the Society for Biomaterials as well as an NSF CAREER award.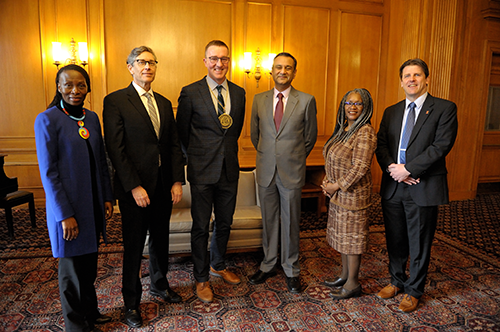 "Clearly, the research community thinks Brendan is excellent, but so do our students; he regularly appears on the list of teachers rank as excellent," said Venetria K. Patton, Harry E. Preble Dean of the College of Liberal Arts & Sciences. "It's not easy to run a world-class research operation, mentor students, and be an outstanding teacher all at the same time."
Indeed, a resounding theme of the investiture ceremony was Harley's dedication to research, teaching, and mentorship, all in equal measure. 
"We've already heard about Brendan's dedication to mentoring, and we see some very tangible results of that in the IGB," said IGB director Gene Robinson. "Just last summer, we instituted the Young Innovator's Program where trainees, graduate students, and postdocs could compete for seed funding for ideas that they wanted to develop into new research areas. And I'm here to tell you that the three top winners all came from Brendan's lab—I don't know if we can make a stronger statement about his commitment to excellence."
Harley's awarded position is named after the late Robert W. Schaefer. After graduation, he served in the U.S. Navy, and later, he joined the Monsanto Company in St. Louis where he was part of the team that introduced I-Dopa, the breakthrough Parkinson's disease drug. After retiring in 1988, Schaefer traveled the world and served on the board of many organizations.
"I really want to thank the Schaefer family and Robert Schaefer for their trust in us as a campus and me as a scholar via the creation of this super professorship—it really is a transformative thing," said Harley, who will use the support for his students to pursue out-of-the-box ideas and career development opportunities. "Support from the Schaefer professorship is an investment in my lab's future, and I am immensely appreciative."
In his speech, Harley described the prelude to his illustrious career: his personal battle with cancer in the eleventh grade. It was this experience that shaped Harley's future in academia and empowered him to dedicate his career to the land-grant mission of innovative research, inclusive teaching, and dedicated mentorship. Later this year, Harley will celebrate 10,000 cancer-free days. 
"It is our responsibility to make a difference in this world, and for me, that includes making science bigger, more inclusive, and more equitable," Harley said. "I want more people to experience the joy of solving problems and having impact." 
Harley's legacy is extending this joy to his mentees and cultivating the next generation of problem solvers. 
"Projects grow, branch and evolve only as a direct result and consequence of your attention, creativity, and care," Harley said speaking to his research group members. "I am proud that every grant, every fantastic idea, every cool story that has come from our lab started as a spark in one of your minds. It is the privilege of a lifetime to work with such kind, curious, and caring people. I am forever thankful to each of you for being a part of this journey. I would not be standing here today without you." 
News Source
Claire Benjamin, Department of Chemical and Biomolecular Engineering