Report: 94 percent of LAS alumni secure first destination within six months of graduation
Illini Success Initiative details career paths of recent graduates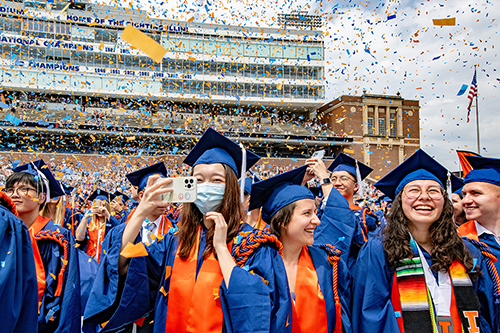 An annual study of recent alumni reports that 94 percent of LAS alumni who graduated during the 2021-2022 period secured a first destination within six months of commencement.
The average salary for new LAS alumni is $74,705.
The data comes from the recently released Illini Success Initiative, a campuswide report that shines light on the early career paths of bachelor's degree recipients. This year's report examines undergraduates who graduated during August 2021, December 2021, and May 2022.
The university collected data on 3,286—or 53 percent—of LAS alumni from the 2021-2022 class. The report collected data from a survey of graduates and other sources such as the National Student Clearinghouse, LinkedIn data, and college reports.
"The Illini Success Initiative is helping us understand the wonderful opportunities that come with a degree in LAS," said Venetria K. Patton, the Harry E. Preble Dean of the College of Liberal Arts & Sciences. "It's clear that our graduates leave campus with a strong set of abilities and perspectives that open doors in whatever career path they choose."
Out of the 94 percent LAS alumni who secured first destinations, 52 percent found employment just six months after graduation and 42 percent were continuing their education. Less than 1 percent of graduates pursued volunteer/service positions. Six percent of LAS alumni were still seeking their first destination six months after graduation.
The average full-time salary of $74,705 for recent LAS graduates ranks the third on campus after the Grainger College of Engineering with a reported average salary of $92,813, and the School of Information Sciences, at $80,813.
The University of Illinois has conducted the Illini Success Survey since 2016. In the past eight years the rates of securing first destinations have increased steadily. The number of students securing a first destination six months after graduation stood at 90 percent for 2019-2020, and 93 percent for 2020-2021.
Campuswide, 95 percent of 2021-2022 bachelor's recipients secured a first destination, with 67 percent choosing a destination in the state of Illinois. Other common destinations for new alumni included California, New York, Texas, Washington, Wisconsin, Massachusetts, and Indiana. About 1 percent of the graduating class secured first destinations internationally in countries including South Korea, Canada, China, India, Spain, Germany, and Japan.
Around 88 percent of 2021-2022 graduates reported participating in experiential learning, which the report defined as internships, undergraduate research projects, study abroad programs, service learning, clinical programs, field work, and other opportunities. Of the students who took part in such experiences, 44 percent received a full-time job offer as a result.
"No matter where they are from or where they land, a degree from the University of Illinois Urbana-Champaign is one of the best decisions and best investments a student can make for their education, career and life," Chancellor Robert J. Jones said. "We are thrilled to see our graduates succeeding at such high rates."
The Illini Success Initiative is supported by the Office of the Provost, Career Services Council, Division of Management Information, Center for Innovation in Teaching and Learning, Office of the Registrar Institutional Review Board Office, Council of Undergraduate Deans, and other partners.