University Scholars include two LAS faculty members
Prashant Jain and Carol Symes honored for teaching, scholarship, and service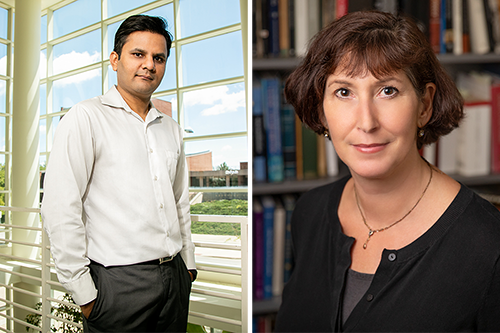 Five University of Illinois Urbana-Champaign professors have been named University Scholars in recognition of their excellence in teaching, scholarship and service.
Two College of LAS professors have been named University Scholars in recognition of their excellence in teaching, scholarship, and service. The award is presented by the University of Illinois System to faculty members from the Chicago, Springfield, and Urbana universities.
Prashant Jain, professor of chemistry, and Carol Symes, professor of history, are among five professors on campus to receive this honor.
Begun in 1985, the scholars program recognizes faculty excellence and provides $15,000 to each scholar for each of three years to enhance their academic career. The money may be used for travel, equipment, research assistants, books or other purposes.
"We value the critical role of our diverse, world-class faculty in maintaining the University of Illinois System's preeminence as a global leader in higher education," said Nicholas Jones, the System's executive vice president and vice president for academic affairs. "Continuing to support their efforts remains a top priority, and recognition as a University Scholar is one example of how we look to demonstrate that.
"Our honorees are to be commended for their dedication to excellence in teaching, scholarship and service and for their outstanding contributions to the discovery and innovation that will continue to drive progress and positively impact our state, nation and world. These individuals are most deserving of this prestigious award, and we are proud to recognize and congratulate each one of them."
Jain is a world leader in three high-impact fields of research: artificial photosynthesis, catalysis, and fundamental nanoscience. His teaching record is superb in advanced laboratory courses and undergraduate and graduate lecture courses in physical chemistry. He is particularly recognized for making technically challenging concepts in statistical mechanics and thermodynamics accessible to students.
Through his vision, leadership in the scientific community and outreach, Jain is helping reimagine and reinvent how chemicals and fuels are manufactured. Building on the foundations of discoveries and ideas from his laboratory, capital and energy-intensive, carbon-emitting facilities could in the future be replaced by distributed photoreactors that deploy solar photons for sustainable, zero-carbon manufacturing. 
Symes is well-respected, often-cited, and increasingly recognized as a leader in the fields of medieval history, classics, theater, and medieval studies, an interdisciplinary field that includes all aspects of the Middle Ages. Symes' work forging new paths across disciplinary boundaries has been acknowledged by colleagues, students, the university and the history profession.
A former professional actor, Symes brings humor and drama to her lectures, mesmerizing her student audiences while maintaining the highest scholarly standards. Her classes are full of ideas and interpretations that challenge students to think seriously about historical experience and change. At the college and campus levels, she has given generously of her time and considerable talents in the interests of students and colleagues.
The others honored from UIUC include Gloriana González, a professor of curriculum and instruction, Derek Hoiem, a professor of computer science, and D.K. Lee, a professor of crop sciences.
News Source
Steve Witmer, Illinois News Bureau, and College of LAS