College of LAS names 2023 alumni award honorees
Nine recipients have made impressive impact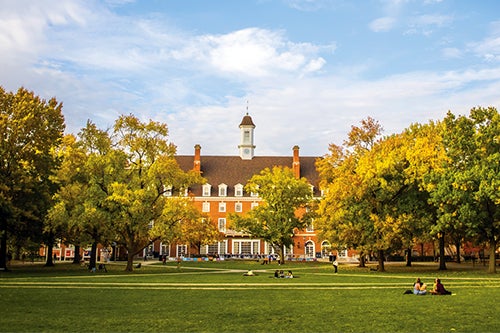 Nine alumni from the College of Liberal Arts & Sciences will receive the college's 2023 annual alumni awards at a celebration on April 21. They are researchers, entrepreneurs, lawyers, and public servants who have had impressive impact on their fields and communities.
LAS Alumni Achievement Award
Maria C. Carrillo (BS, '91, psychology)
Maria C. Carillo is an internationally recognized expert on Alzheimer's disease. As chief science officer for the Alzheimer's Association, she oversees a global portfolio of research efforts, including a multi-national neuroimaging initiative that aims to accelerate early detection of the disease. 
Read more about how hands-on research experiences changed Carrillo's career trajectory.
T. Markus Funk (BA, '91, Germanic languages and literatures; BS, '92, business administration)
T. Markus Funk is a partner in the international law firm Perkins Coie and teaches law at institutions including Oxford University, Northwestern, and the University of Chicago. He previously was a federal prosecutor and served with the U.S. Department of State.
Read more about the many pathways of T. Markus Funk.
Lawrence M. Page (MS, '68; PhD, '72, zoology)
Currently the curator of fishes at the Florida Museum of Natural History, Lawrence M. Page has dedicated his career to describing and protecting biodiversity, particularly freshwater fishes. He conducted research and taught at the University of Illinois for more than 30 years, publishing more than 200 papers and nine books.
Read more about Page's impact on biodiversity research. 
Eric P. Whitaker (BS, '78, biology; MS, '81, health education)
Ambassador Eric P. Whitaker devoted his career to public service, serving in various roles with the U.S. Foreign Service and Department of State and as U.S. Ambassador to Niger from 2017 to 2021.
Read more about Whitaker's commitment to public service. 
LAS Distinguished Service Award
Douglas H. Hoffman (BA, '75, religious studies)
Douglas H. Hoffman has retired from a dual-faceted career as both a member of and an employee of Cboe Global Markets (formerly known as the Chicago Board Options Exchange). He is an active volunteer with the Program for Jewish Culture & Society, serving since 2016 as the first chair of the program's advisory council.  
Read more about how Hoffman "pays back" his alma mater. 
Jerrold M. Levy (BS, '73, actuarial science)
Jerrold M. Levy retired after working for more than 40 years as a consulting actuary and pension consultant. He served on the LAS Alumni Council from 2008- 2015 and again from 2016- 2019, acting as council president for several years. He also has been a member of the Mathematics Development Advisory Board, playing a key role in the creation of a new scholarship program for undergraduate students.
Read more about Levy's career and commitment to LAS. 
LAS Alumni Humanitarian Award
Lance E. Rodewald (BS, '76, chemistry; MS, '84, computer science)
Dr. Lance E. Rodewald's long-time research interest has been improving children's access to life-saving vaccines. He is a senior advisor to the national immunization program of the Chinese Center for Disease Control and Prevention, and he previously led immunization programs for the World Health Organization and the U.S. Centers for Disease Control.
Read more about Rodewald's "tenacious optimism" in the fight against vaccine-preventable diseases. 
LAS Outstanding Young Alumni Award
Jacob Becraft (BS, '13, chemical engineering)
Jacob Becraft is a synthetic biologist and the co-founder and CEO of the biopharmaceutical company Strand Therapeutics. Together with colleagues at MIT's Synthetic Biology Center, he developed the world's first synthetic biology programming language for mRNA. Read more about this rising biotech star. 
Britney P. Robbins (BA, '10, rhetoric/creative writing)
Britney P. Robbins is the founder and CEO of The Gray Matter Experience, a non-profit that helps Black high-school students learn about and practice entrepreneurship. She is also the manager of partnerships and community for CAST US, a multi-million-dollar venture capital fund that aims to support Black, Latinx, and women entrepreneurs in Chicago's south and west side neighborhoods.
Read more about how Robbins is transforming entrepreneurship.