Two from LAS named University Scholars
Merle Bowen and Ying Diao honored for teaching, scholarship, and service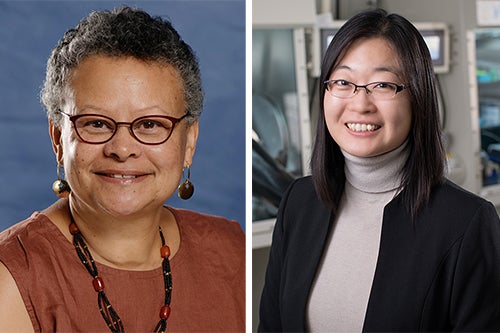 Five University of Illinois professors at the Urbana-Champaign campus, including two from the College of Liberal Arts & Sciences, have been named University Scholars in recognition of their excellence in teaching, scholarship and service. 
The scholars program recognizes faculty excellence and provides $15,000 to each scholar for each of three years to enhance their academic career. The money may be used for travel, equipment, research assistants, books or other purposes.
"Faculty excellence is truly the University of Illinois System's foundation, and unquestionably the basis for the exceptional academic experience of the nearly 95,000 students who enrolled in our three universities last fall," said Nicholas Jones, the system's executive vice president and vice president for academic affairs. 
"The University Scholars program spotlights outstanding individuals and provides resources for them to expand their academic horizons. They so richly deserve the accolades that come with this recognition, and their accomplishments also represent the standards to which we aspire as we actively recruit educators and researchers of the highest caliber."
Merle Bowen, a professor of African American studies, specializes in Africa and the African diaspora. Her recently published book, "For Land and Liberty: Black Struggles in Rural Brazil," received the P. Sterling Stuckey Book Prize from the Association for the Study of the Worldwide African Diaspora. (Read more about Bowen's book) 
Her current research continues her concern with Black rural communities' struggles for land and against environmental injustice. In her pedagogy, she balances detailed lectures with in-class and supplemental activities designed to stimulate student engagement, from group analyses and short presentations to structured in-class debates. 
She has mentored students from the Abdias do Nascimento Scholars Program of the Pontifical Catholic University of Rio de Janeiro and she serves as academic director of the Civic Leadership Institute for President Obama's Young African Leaders Initiative. 
Ying Diao, a professor in chemical and biomolecular engineering, has established a vibrant and imaginative research program at the interface of materials chemistry, molecular electronics and biomedical sciences. Her highly creative research draws inspiration from many disciplines to significantly advance molecular electronics technology, which promises to have a transformative impact on electronics, clean energy and healthcare. 
Diao works in the area of molecular assembly and additive manufacturing. She has published 68 articles as an independent investigator. Diao is an outstanding educator, winning the School of Chemical Sciences Teaching Award in 2017. She has also mentored 33 undergraduate students, about half of whom are female. She is the chair of the department's graduate recruiting subcommittee and works to increase diversity through proactive recruiting efforts and forming connections with HBCUs. 
Other honorees from the University of Illinois Urbana-Champaign are Kaiyu Guan, natural resources and environmental studies; Cecilia Leal, materials science and engineering; and Brian Ogolsky, human development and family studies.  
News Source
Maeve Reilly, University of Illinois