The gritty pursuit of a dream
As good as she was at basketball, Ashley Berggren's next sport was a big hit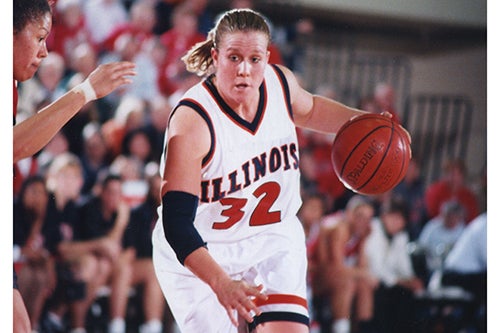 On Feb. 22, 1998, the U of I women's basketball team fell to Purdue, dropping their record to 18-8. With her fifth point that day, however, future Illinois Athletics Hall of Famer Ashley Berggren became the all-time women's leading scorer in school history.
Berggren (BS, '98, psychology) would finish her career with 2,089 points, a mark that would stand for more than a decade. The record cemented her as one of the greatest players in program history, but the scoring title wasn't the target of her 1995-1998 college career.
"I didn't think about trophies. I don't think I even got a trophy for (being named) All-American," Berggren recalled. "I think about all the games and the moments with my teammates that led to the awards—that's what really sticks out in my mind."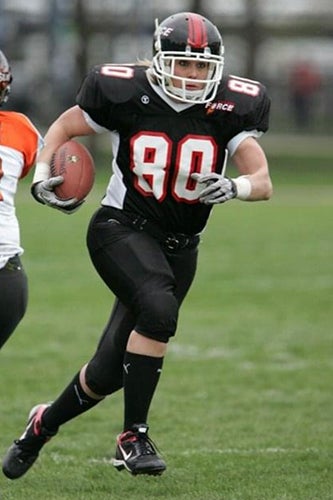 Many of those moments occurred in Huff Hall, where the team played the majority of its home games in the 1990s. When Berggren arrived on campus in 1994, the Illini had gone seven years without a winning record. Not long after her arrival, however, former athletic director Ron Guenther made a decision that fundamentally changed the program, Berggren said.
"He made a commitment to the women's game. He invested in the women's game," Berggren said, "Our budget went up, we were chartering planes, there was more food around in general."
Guenther also hired Theresa Grentz as the new head coach. These changes created the environment that allowed Berggren to become a three-time first team all-Big Ten winner, the 1997 Big 10 player of the year, and the program's first Associated Press All-American.
During her sophomore year Berggren set a record that has yet to be broken, averaging 24.6 points per game. She also finished second in the Big Ten with 9.4 rebounds per game. The following year, her junior season, the team made it to the NCAA tournament for the first time in a decade, advancing to the Sweet 16. It did the same her senior year.
At 5 ft. 9, Berggren was often called too short for Division I basketball, but she possessed grit that's hard to measure. " I attribute a lot to my siblings, my older brother Mark and my sister Erica. I saw some of the things (Erica) was achieving and I wanted to do the same,"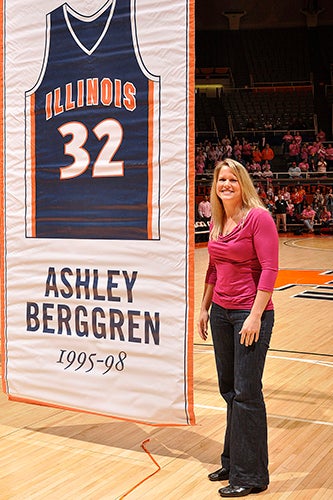 Berggren said, "And my brother instilled that tenacity in me, because when we would battle he'd say, 'Suck it up, you gotta compete if you want to play with us.' So I did."
She began getting college recruiting letters in the eighth grade and became a three-sport star in high school, playing basketball, volleyball, and softball. Berggren had many accolades in softball, but ultimately she chose basketball. Deep down, however, she harbored a different dream.
"I wanted to take over Jim McMahon's position, be the quarterback for the Chicago Bears and take them to a Super Bowl," Berggren said. "I still remember where I was when they won it. It's one of those things you remember."
As a girl, Berggren looked up to Walter Payton and Mike Singletary, two Chicago Bears who happened to live in her hometown of Barrington, Illinois. She never let go of that dream, even after college when Berggren was drafted by the Chicago Condors of the American Basketball League.
A few years later she moved to Steamboat Springs, Colorado, where she met her future wife, Pria. Berggren returned to the Chicagoland area for a teaching position at Schaumburg High School (during which time she also coached high school basketball), and one day she spotted a flyer advertising tryouts for the Chicago Force of the Women's Football Alliance.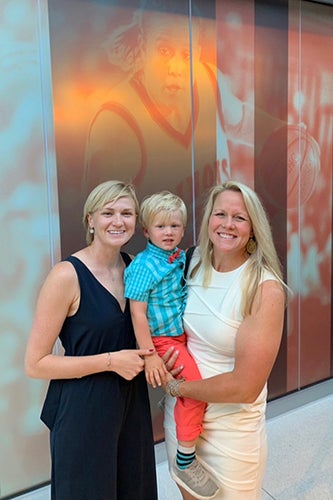 "I thought, 'Oh, this is possible? I think I could try,'" Berggren recalled. "And it was a lot of fun."
Berggren joined the Chicago Force in 2011 and was named rookie of the year. She played four years and won
a gold medal at the International Federation of American Football's World Women's Championships in 2013. She played mainly wide receiver, but she also played defensive end and enjoyed occasional stints at her dream position: a quarterback for a Chicago football team.
Berggren now lives with Pria in London as a stay-home mom to three sons who are more interested in soccer than basketball or American football, on account of growing up in England. She also serves as a school governor (similar to a school board position) for two schools. She is proud to have been a female sports star in a sport that now features athletes like Angel Reese, Hailey Van Lith, and Caitlyn Clark.
"To be part of that evolution is really, really special. Not too many people can experience that," Berggren said, "The way the community embraced our team and myself was really, really special."
Editor's note: This story originally appeared in the Fall 2023 issue of The Quadrangle.