Ruby Mendenhall named Kathryn Lee Baynes Dallenbach Professor in Liberal Arts & Sciences
Faculty member is known for her research on racial segregation and violence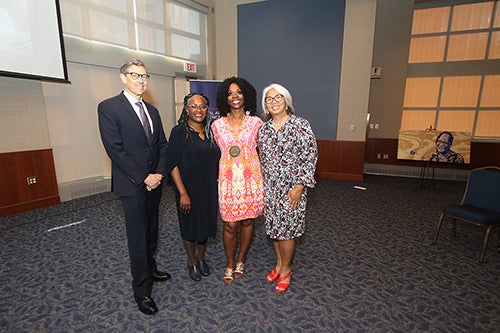 Ruby Mendenhall's unwavering energy toward her work and community outreach has become a hallmark of her highly successful academic career. She was recently named the Kathryn Lee Baynes Dallenbach Professor in Liberal Arts & Sciences.
Mendenhall is a professor of sociology and African American studies. She is also the associate dean for diversity and democratization of health innovation at the Carle Illinois College of Medicine. A recent ceremony honoring her as the Dallenbach professor highlighted a decorated career of community outreach and scholarship.
The professorship is named after Kathryn Lee Baynes Dallenbach, who graduated from the University of Illinois in 1923 and continued an interest in higher education as an alumna. Her son, William (Bill) Charles Dallenbach III, a 1949 graduate of U of I's College of Business (now Gies College of Business) became principal owner of Dallenbach and Burke and served as director of Champaign National Bank. Throughout his life he supported many charities through volunteering and donations, with his generosity also extending to the University of Illinois.
Dallenbach's daughter, Ann Tinsman, attended the investiture ceremony and expressed her excitement for Mendenhall's work and what she will accomplish.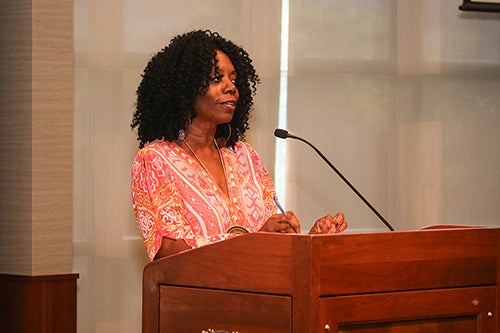 "She creates new spaces with her work," Tinsman said.
Gene Robinson, director of the Carl R. Woese Institute for Genomic Biology and Swanlund Chair in Entomology, praised Mendenhall's stellar work ethic and research. His work with Mendenhall includes a study of chronic stress in neighborhoods with high levels of violence.  
"Investitures are really special," Robinson said. "This one is even more special when you think of everything that Ruby does for this campus, and how she pours her heart and soul into making this a better university and into making this a better world."
Mendenhall expressed gratitude for the kind words spoken on her behalf as she accepted the honorary professorship medallion.
"Oprah Winfrey often credits Maya Angelou by saying 'I come as one, but I stand as 10,000.' And all of you are my 10,000 that I stand with. So, thank you," Mendenhall said.
Mendenhall's research in part examines how living in racially segregated neighborhoods with high levels of violence affects the mental and physical health of Black mothers and children. Through the use of surveys, interviews, crime statistics, police records, data from 911 calls, art, wearable sensors, and genetic analysis, she seeks to apply innovation to improve the health and wellness of Black and Latinx (a gender-neutral form of Latina/Latino) high school students and young adults.
She is currently working with Chicago youth to co-create a community health worker and citizen/community scientist training program that provides tools to address and heal from racial trauma such as police killings, gun violence, and higher rates of COVID-19 deaths due to health disparities. Her work has been funded by the National Science Foundation and the MacArthur Foundation.
Mendenhall said she wants to help youth with her research.
"We want to—as someone said to me—put rocket fuel under their dreams," Mendenhall said.
Mendenhall has also been the recipient of the Op-Ed Project's Public Voices Fellowship (2019), Harris School of Public Policy Minorities in Public Policy Alumni Award (2021), the LAS Dean's Distinguished Professorial Scholar Award (2021), and the Pearl Birnbaum Hurwitz Humanism in Healthcare Award (2021).
She concluded the ceremony by reading of a poem, written by herself, titled, "Gratitude for this journey with you." It read, in part: "My spirit entered this world Black, Brown, and beautiful. Both parents asked in different ways, 'What can I do for you?'" 
The crowd delivered a standing ovation after she read, "I stand on many, many shoulders and feel extremely grateful for each and every one of you who provided rocket fuel to my bold and audacious dreams, making many of them come true."