Why I like being an international student in the College of LAS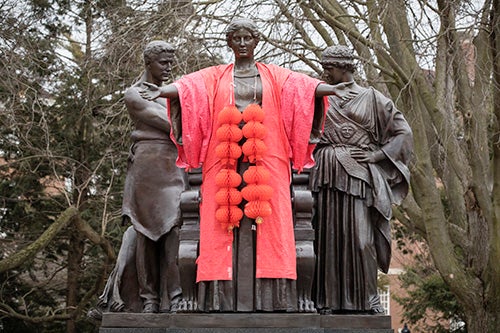 As an international student, I feel at home in the College of LAS.
When I first came here, what surprised me about the college is that there are so many international students from all parts of the world. Together, we enjoy sharing the experience of studying abroad, celebrating different festivals from all countries, and attending various activities the college hosts.
I can always feel the intimacy, inclusiveness, and supportiveness among students. Last year, when I saw Alma Mater dressed in a in red robe with lanterns hanging around her neck for Chinese New Year, I felt warm, even though it was snowing.
The College of LAS offers so many majors, from philosophy to history, statistics to Spanish. I can talk with students studying different fields and get a touch of another fantastic world.
Surrounded by buildings that are home to LAS programs, the Main Quad is the place I go most often. A typical Friday afternoon always starts with lying on the grass, chatting with friends, and checking out activities happening on Quad.
I don't deny the fact that it is hard to live and study in a new country. I never thought that the process of getting used to this new life would be so easy and pleasant at Illinois. But it is, thanks to the help of faculty in the College of LAS and friends around me.