How to declare a second major, add a minor, or run your degree audit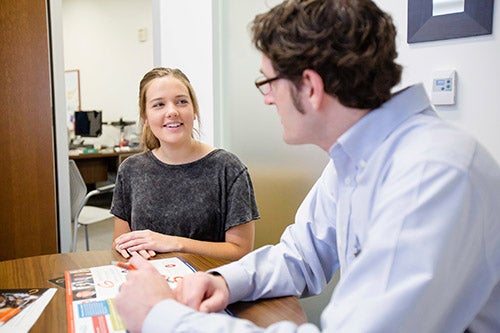 Learning how to declare a second major, add a minor, or even run your degree audit can be quite confusing if you're unsure of where to start. Luckily, many resources are available to help you get acquainted. The College of Liberal Arts & Sciences and the Office of the Registrar offer information on how to declare your second major, add a minor, and how to check your progress toward your degree.
How to declare a second major or dual degree
So, what's the difference between adding a second major and getting a dual degree? Students who are pursuing a double major are adding another plan of study to their concentration and within their discipline. When someone wants to enroll in a dual degree, it means they will earn two different degrees. 
In the College of LAS, if you want to add another major, you are to complete at least 12 hours of advanced level coursework in your program. One exception to adding a major is that you cannot declare during the months of April and November. Outside of those months, you can contact any of the admissions/records officers in the LAS Student Academic Affairs Office. They will assist you in adding a second major by talking with you about your options and filling out the correct documents.  
If you want to earn a second degree in a different college, you should apply directly to that college. If you want to add an LAS degree, you will go through an application process. Within this process, it is essential that you meet with an advisor so they can confirm you are meeting your educational goals. It is required that all LAS general education requirements, 30 additional hours of study within the degree with the most required hours, and 12 hours of advanced level coursework in that discipline are completed. Students will be required to meet the GPA set by both colleges, as well as, an Illinois GPA of 3.0 at the time of application. 
If you are interested or have questions about obtaining a dual degree, you should contact Tenaya Reifsteck. 
Tenaya has provided some tips on declaring a second major or dual degree: 
 For both double majors and dual degrees, the first piece of advice I have is that students need to make sure they meet the

declaration criteria

for whichever major they are adding before they try to fill out the form.

For double majors (generally two majors within LAS), they need to come to 2002 Lincoln Hall to get a double major form. The

LAS Admissions and Records Officer

unit handles these.

For dual degrees (generally two majors in different Illinois colleges), you should attend a dual degree

information session

to obtain the application form.
How to add a minor
Most students add a minor if they are interested in another field of study. They pursue a major in what they are really interested in, but add a minor in, maybe, a side passion. A student can choose a minor that complements his or her major or something that is completely different. This can enhance your experience and make you stand out professionally.
The College of LAS suggests you talk with an advisor within the department to aid in your decision and learn about the requirements you will need to fulfill. You must have earned 30 hours toward your degree as well as make a "Statement of Intent to Pursue a Campus-Approved Minor." This should be submitted to the LAS Student Academic Affairs Office. Find a list of LAS minors here.
How to run a degree audit
You can track your progress toward your degrees by using a degree audit (DARS). This audit will show the courses you have completed and those that are in progress. Within this audit, you can run the declared program you are in, as well as, run a different program audit. Here, you can see which classes you have left to complete and how your report would look if you wanted to add a minor, major, or another degree. If you would like to see your major GPA and Illinois GPA, the audit generates those, as well. After looking at your degree audit and you feel that you have questions, you can contact your admissions and records officer in the LAS Student Academic Affairs Office.