Since the beginning of the COVID-19 pandemic, public health experts have stressed the importance of testing to help slow the spread of the virus. As we prepare for students, faculty, and staff to return to campus for the 2020-21 academic year, the university has created a robust COVID-19 testing operation that will provide ample access to tests and quick results.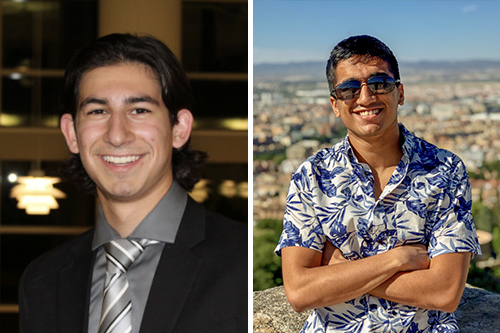 LAS students Brandon Coleman (a junior in psychology and business) and Sumeet Thosar (a junior in molecular & cellular biology and psychology) both began working in campus' testing facilities this summer. We asked them to tell us how the testing process works.
1. Where do I get tested?
Brandon: There are currently twelve open locations on campus, but every week until school starts they will be opening more sites. Right now, the locations are State Farm Center, Lot 31, Krannert Center, Alice Campbell Center, South Quad, NCSA, Freer Hall, Graziano Plaza, Illinois Fire Service Institute, Foellinger Auditorium, the Illini Union, and Veterinary Medicine.
See a regularly-updated list of testing sites here.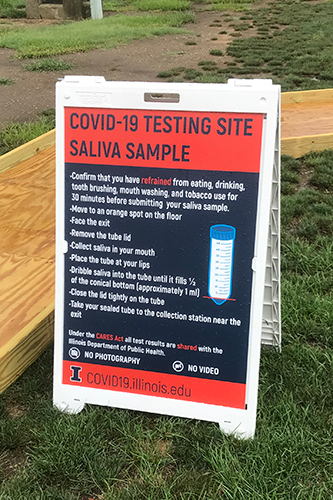 2. Are the testing sites safe?
Sumeet: Safety is maintained with everyone wearing masks. In addition, social distancing is mandated at the testing center to ensure no one gets infected.
3. How much does it cost?
Brandon: The test is completely free [for students, faculty, and staff]. You just have to bring your I-card and some saliva.
4. How does it work?
Sumeet: Participants go up to the registration desk. From there, we verify your information. After that, you are given a test tube where you spit out approximately 2-3 ml of saliva. Then you cap the test tube and put it in the designated biohazard bag. From there, we store it in the given container and you are good to go.
5. Is it uncomfortable?
Brandon: The test is a little awkward because you are basically drooling in a test tube, but nobody watches and it doesn't take very long.
6. How long does it take to get tested?
Sumeet: It takes approximately 5-10 minutes max to get tested. It is a fairly quick process.
7. How accurate/reliable are these tests?
Sumeet: The university saliva test is as reliable as nasal tests or other saliva tests. You should refrain from eating, drinking, brushing your teeth, using mouth wash, chewing gum, or using tobacco for 30 minutes prior to the test.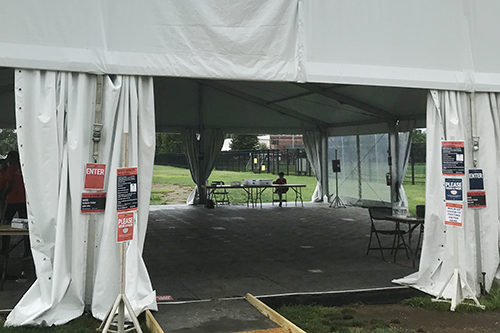 8. How quickly will I get my results?
Brandon: Typical results are expected within 5 hours, but could take up to 48 hours.
9. What happens if I'm positive?
Sumeet: If you test positive, you will be informed of your results through the McKinley Health Center Patient Portal. Your test results will be sent to the Illinois Department of Public Health who will contact the Champaign-Urbana Public Health District who will contact you in regards to contact tracing.
For more information on the university's testing plans visit the testing website or read the requirements and expectations massmail sent on August 3.