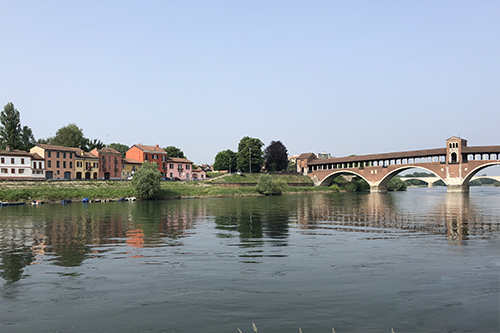 LAS Honors offers courses abroad on an annual basis.
Tourists and Migrants: A Tale of Two Italies with Professors Emanuel Rota and Eleonora Stoppino
First-eight-week Spring 2020 course, including 2 fall pre-departure meetings followed by a faculty-led trip to Pavia, Italy, from January 6 to January 16, 2020 and 4 class meetings after return to Illinois

ITAL 390
3 credits
Join Professors Emanuel Rota and Eleonora Stoppino in their native Italy for an in-depth study of the role of migration in conceptions of Italian identity. Migration is increasingly the key political and cultural issue in the age of globalization and Italy has been at the forefront of the clashes and encounters of Mediterranean cultures. One of the results of this transformation has been an increasingly divergent experience of Italy. On one hand, Italy is a popular destination for international tourists. Italians market Italy as a safe space where culture and a good life can be experienced by international visitors. On the other hand, refugees and migrants disrupt the narrative of a stable Italian culture and of Italy as a welcoming and hospitable destination. The course aims to unify the narratives of two segregated Italies.
Students will have the opportunity to conduct interviews and interact with NGOs, journalists covering these issues, and Italian institutional representatives. This is a great course for students interested in issues of globalization, migration, journalism, and human rights, and those who may want to pursue a career in international relations or work with international NGOs.
Applications for the ITAL 390 trip are due September 15, 2019.
Learn more about the trip here.