Supporting Life + Career Design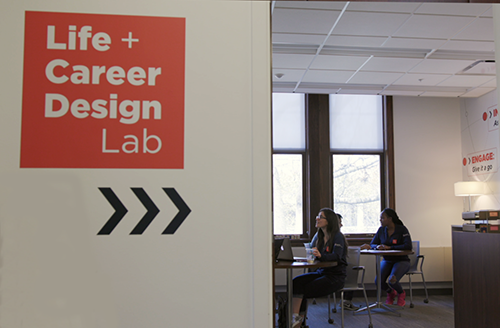 In LAS, academic growth is only part of our students' journey to success.
We see their success as the result of rich experiences in the academic, personal, and professional domains. Supporting development in all three areas will help propel these young leaders to successful futures.
The college provides an innovative framework for life-long learning in career development shaped by experiences inside and outside the classroom. We guide students as they explore and design their careers.
We do so through a set of core classes, workshops that focus on professional and personal development, the ACES + LAS Career Fair, and helping figure out their purpose and ambitions through wayfinding maps and e-portfolios. We also have a physical space, the Life + Career Design Lab, where students can work with peer and staff advisors to take advantage of these resources.
This work is meant to complement traditional career center services offered on campus and elsewhere across our college. The college's comprehensive set of services are designed specifically for LAS undergraduates and integrated into the academic program beginning in each student's first semester on campus.
The College of LAS is committed to fully developing and preparing students and continues to invest resources in this area. With your support, we will offer more professional development experiences on campus and off and expand our method and impact to all areas of the LAS student experience.
---
A strong core
Our focus on life and career design combines classes, workshops, advising, and field opportunities.
The Professional Development Program
This program provides students a dedicated set of activities geared toward preparing them for post-graduation success. Students are welcome to participate in any and all portions of the program.
The program includes:
A multi-course sequence that guides students through creative and intentional life and career goal-setting and mapping pathways to reach those goals
Classroom time focused on reflection, goal setting, and professional development
Out-of-classroom experiences that may include internships, service learning, study abroad, research, or part-time work
A capstone project that puts professional skills into action (under development)
Guidance on documenting learning, life, and career development in a professional e-portfolio
On-campus workshops focused on career management
Workshops on-campus include:
Articulating Your Humanities and Social Science Skills to Future Employers
Developing Technology Competencies
How to Sell Your LAS Degree at the Business Career Fair
Internships Abroad
Networking with Illinois Alumni
Post-Graduation Service Opportunities—Giving Back While Gaining Skills
Resumes for Scientists: How to Best Highlight Your Research Skills
Tech Savvy Skills Every LAS Student Should Know
The Power of Presentations—Enhancing Your (Employable!) Communication Skills
Field experiences include:
Students have the opportunity to travel to places like Chicago, Washington, D.C., New York, Cape Town, and Shanghai to understand the diverse work cultures and opportunities in the world within specific fields and to engage alumni in professional settings.
Students participate in internships and professional service at home and abroad.
Resource room and integrative advising
An important element of this work is providing a welcoming physical space students can go to with any questions or concerns they have regarding their life and career development. The Life + Career Design Lab staff and peer mentors have expertise in high-impact learning experiences like study abroad, undergraduate research, and internships, and can help students connect these experiences to their professional development.
---
Expansion plans
With support from private donors and industry partners, LAS will expand this work through program enhancements and financial assistance for students.
Future plans include:
Accelerate students' professional development through a capstone project
Integrating formal leadership training into Life + Career Design core courses in collaboration with campus-based and other partnerships
Using state-of-the-art technology to connect students and alumni
Funding special programs and travel to support alumni-student interaction and other professional development experiences in the field
Granting stipend or scholarship support for students' career-defining field experiences, such as internships, service work, and study abroad
Establishing an award recognizing outstanding alumni support of lab initiatives and an award honoring faculty/staff for outstanding contributions to students' career development
Develop career communities for students' exploration of careers through alumni and community engagement, career-customized advising, and guided internship experiences
Offering Life + Career coach training to equip academic advisors, faculty, and staff with strategies to support students' career preparation and development in all aspects of their academic experience
---
Empower LAS students
You can help ensure the growth and impact of our Life + Career Design work with countless LAS students.
Here's how:
Volunteer. You can participate in one of our many workshops, or be a guest speaker in a class. You have valuable experience that students can benefit from. Click here to get involved.
Be a conduit to your company or organization. Host an off-campus opportunity for students, encourage recruitment of LAS students, or facilitate a corporate donation. Click here to learn more.
Give. Donations of any size are needed to fuel our efforts for years to come. Your support helps in a variety of ways including through scholarships that enable summer or semester professional experiences. Endowment opportunities also exist and start at $25,000. Visit our giving page to get started.
---
Contact us
To get involved, email us.