Anthony Salazar, Scholarship Recipient
"I'm glad I came to Illinois. I love it here, the environment and the opportunities and the intelligent people. It helps you grow as a person and as a professional, too." — Anthony Salazar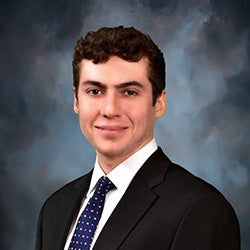 Anthony Salazar, a College of LAS Lincoln Scholar, was interviewed during the 2019-2020 academic year. View stories from this year's scholarship recipients at the giving stories page.
When Anthony Salazar began weighing his options following high school graduation, like many teens, he was considering a number of opportunities at schools throughout the region. However, ultimately his choice came down to numbers.
His choice to attend Illinois was based on finances.
"Illinois was one of my top picks, but, financially, the Lincoln Scholars Initiative put the icing on the cake to come here," he said. "I imagine it makes a larger impact than I'll probably ever realize."
The Libertyville native is in his final semester as a chemical engineering major thanks to the support of his scholarships, which allowed him to focus on studies without additional stress.
"I've absolutely loved it here," he said. "The scholarship essentially allowed me to not get a job right out of the shoot. I feel that's helped me get those opportunities in research and later on my coops, too. Without the scholarship I think that stretch would have been too much."
His forthcoming degree has landed him a job with Baker Engineering and Risk Consultants, a safety consulting firm based in Chicago. With the job, he will travel to various sites around the country to offer insight into safety measures.
"I really like that the focus of the work itself is on safety," he explained. "I think that's something really important that chemical engineers do. I've had industry experience where I was able to focus on safety, and I know it can be applied across all of the chemical engineering disciplines and the impact seems to be positive."
His post-graduation first destination was possible because Salazar found his passion for chemistry while in high school. When the time came to begin selecting his plan of study for the next four years, he turned to chemical engineering because it sounded like a challenge.
"I think a big part of why I love this area of study is the problem solving and being exposed to a situation or problem that you might not know how to solve, but you have to use what you learn in a totally different way," he explained. "It's challenging."
From 2017-2019, Salazar worked on research in theoretical polymer physics and collaborated to publish a paper. Though with this challenging and rewarding work, he found a unique stress release with the Illini Service Dogs student organization. The campus program works with student volunteers to train mobility service dogs.
"Growing up I had a dog, and I've always been a dog lover," he said. "On Quad Day, when all the clubs are out on the Main Quad, I saw the dogs, and I had to meet them." Salazar worked as a second trainer for seven of his eight semesters on campus.
"I'm glad I came to Illinois," he said. "I love it here, the environment and the opportunities and the intelligent people. It helps you grow as a person and as a professional, too."
---
Read more stories