Daniel Fitzgerald, Scholarship Recipient
"The greatest impact that the Lincoln Scholars Initiative has had on my student experience is relieving a great deal of the financial pressures associated with attending college. This has allowed me to focus on academics, reach my full potential as a student, and better enjoy the time I have spent here." — Daniel Fitzgerald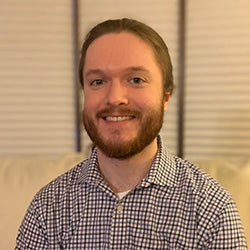 Daniel Fitzgerald, a College of LAS Lincoln Scholar, was interviewed during the 2019-2020 academic year. View stories from this year's scholarship recipients at the giving stories page.
Daniel Fitzgerald has allowed an enduring passion of diving into history lead him to the University of Illinois. The senior from Roselle is a history major with a minor in secondary education.
"I chose to study history, because it has been a lifelong interest of mine, and I pursued a minor in secondary education to be able to share my knowledge of history with students," he explained.
After graduation, Fitzgerald plans to share his passion as a high school social studies teacher near his home in the greater Chicago area and eventually become a public-school administrator or pursue further degrees to become a history professor.
"I chose the University of Illinois because of its outstanding history department and because it has the best secondary education program in the state," Fitzgerald said. "I also picked the University of Illinois because of the quality of the campus and the many resources available to undergraduate students. The greatest impact that the Lincoln Scholars Initiative has had on my student experience is relieving a great deal of the financial pressures associated with attending college. This has allowed me to focus on academics, reach my full potential as a student, and better enjoy the time I have spent here."
---
Read more stories