David Lee, Scholarship Recipient
"This opportunity really expanded my world. I believe I genuinely received a holistic liberal arts education. I am definitely satisfied with my educational experience." — David Lee, recipient of the Stanton R. Cook Scholarship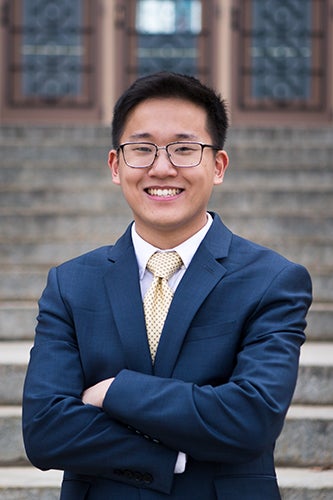 David Lee was a recipient of the Stanton R. Cook Scholarship and was interviewed during the 2020-2021 academic year. View stories from this year's scholarship recipients at the giving stories page.
David Lee was a senior in high school when the 2016 primaries and caucuses captivated the American public. As the historic narrative played out, Lee was entranced by the processes, people, and nuances of the American political procedure. That's when the Champaign native realized political science could be a natural fit for his future.
Four years later, Lee is poised to graduate with bachelor's degrees in political science and economics. He plans to attend law school before heading to work within public policy for the State of Illinois.
"In political science you have to know a little bit about everything," he explained. "At the end of the day you need to know how to analyze things and the hard science behind action. I really wanted to know more than just how to win an election but more about the studies and facts behind the scenes."
When applying to schools, Lee considered several options; however, Illinois was his top choice as it had the most to offer him in terms of programming and financial support.
"A large portion of my student loan capacity was taken away because of the Stanton R. Cook Scholarship I've received," he explained. "I still have some on my plate, but I don't feel like I'm compromising. It's amazing."
Lee's Illinois experience has been framed within a context of successful internships, exploring his faith, and his work for the student government. Since October 2018, Lee has worked as a columnist for The Daily Illini where he has written about the college student experience and the 2020 election cycle, a topic reserved for senior writers.
"That's the hottest topic right now for everyone," he explained.
Within the College of Liberal Arts & Sciences, Lee has taken classes outside of his major areas of study to gain a broader educational foundation through philosophy and religion courses.
"This opportunity really expanded my world," he said. "I believe I genuinely received a holistic liberal arts education. I am definitely satisfied with my educational experience."
---
Read more stories