Haydn Lambert, Scholarship Recipient
"Donors enable students to focus not on their tuition bill, but on getting the most of what the university and college have to offer. An Illinois education is a real gift—I've loved every minute of my time here." — Haydn Lambert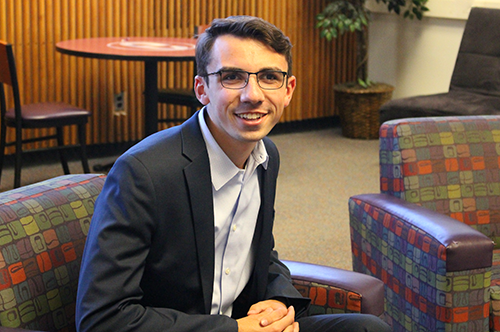 Haydn Lambert received the Wirt Family Scholarship was interviewed during the 2018-2019 academic year. View stories from this year's scholarship recipients at the giving stories page.
Every day, hundreds of new prisoners are incarcerated and locked up, not just behind bars but deep within a legal system that's complex and increasingly challenging to navigate. Haydn Lambert never really thought about those issues when he was younger. Now, it's his driving passion, thanks to one LAS class that opened his eyes to a world he'd never imagined. It was exactly the kind of transformational experience he hoped for when he came to Illinois.
Monticello, Illinois, could hardly be described as a hotbed of criminal activity. Located just 30 minutes west of Champaign, Haydn's hometown, as he described it, is "different from the university by nearly every measure." Different or not, life in Monticello created a student whose aspirations were like those of any other student with big dreams. "I knew that in order for me to have the kind of career I wanted—one which dealt with complicated world issues—I'd need a school that would give me not only knowledge of my field but also cultural competence and an appreciation for complexity," said Haydn.
While the U of I may have been close to home-cooked meals and other luxuries of home, proximity wasn't the driving factor in Haydn's school decision. "I considered just about every state school. But I chose Illinois because it provided the interdisciplinary perspective that would prepare me to lead and solve complex issues with confidence."
Once at U of I, he charted his own unique path, carving out dual majors in English and political science. At first glance, the two degrees may seem to have little in common, but for Haydn, they were perfect complements. "Because I'm an English major, I'm able to write more clearly and effectively about politics," he said. At the same time, studying politics helped him look at problems and solutions through a critical and nuanced lens.
"Lately, I've gotten super excited about studying the causes and effects of incarceration in the United States," said Haydn, citing HIST 219 with professor Rebecca Ginsburg as the spark that ignited his passion. "As someone who had never been impacted by incarceration, the class was transformative in two ways. First, it demonstrated so lucidly that hyper-incarceration was a problem that was happening right under my nose. And second, it made me think about some particularly challenging questions," he said. While others may have forgotten the class the moment their books were closed, that wasn't the case for Haydn. "I still think about the class nearly every day. It's had a profound influence on my desire to become a public defender and advocate for system reform now and in the future," he said.
He already has a good idea what that might look like, thanks to the Wirt Family Scholarship, an LAS scholarship offered exclusively to students in the James Scholars Program. Because of the scholarship, he was able to reduce his work hours and pursue an internship with the Champaign County Public Defender's Office. For Haydn, it was a transformative experience, which allowed him to trade his classroom chair for a front row view of the criminal system. "I've been able to see many of the institutions and systems taught in my classes in a real, relevant, and meaningful context," Haydn said.
In addition to his studies, Haydn has also served as a teaching assistant for an educational psychology class and project manager for Illinois Enactus, a social entrepreneurship organization he joined after seeing an ad on Facebook. It was there he became the co-founder of a unique organization that uses custom employment to reduce the economic inequality between adults with disabilities. According to Haydn, En-ABLE-ing Entrepreneurs started as the idea of Amanda Hedberg, another Enactus member who noticed that people with disabilities faced some really intense barriers in achieving meaningful work and economic equality. Together with another student named Jassiem Renfro, they believed they could change that.
Their first idea was a custom t-shirt printing business that would be owned and operated by adults with disabilities. "With the success of that project, we decided to expand our work and create a model that would help adults with disabilities start their own business," Haydn said. Today, Haydn serves as the COO for what is now a 501(C)3 organization. "What started as an original idea has turned into a unique opportunity that we're confident can transform lives," he said.
With all of that on his plate, Haydn still manages to excel scholastically, earning a consistent spot on the Dean's List and making Bronze Tablet, which recognizes students graduating in the top 3 percent of their class. Perhaps his most astonishing achievement is the speed at which he's accomplished it all. The third-year student will graduate in May and has already accepted a job with Teach for America. He plans to teach for two years in Chicago and eventually pursue a law degree that will allow him to serve marginalized communities.
As for his time at Illinois, Haydn said it's been both life-changing and meaningful, and he's grateful for the support that enabled him to follow his dreams. "Donors, especially those who provide scholarships, enable students to focus not on their tuition bill, but on getting the most of what the university and college have to offer," said Haydn, adding, "an Illinois education is a real gift—I've loved every minute of my time here."
---
Read more stories