Heather Holmes, Scholarship Recipient
"They are the original seed planted inside a student's head that says, 'Maybe I can be this, maybe I can do that, or maybe this dream is achievable.' Scholarships change lives." — Heather Holmes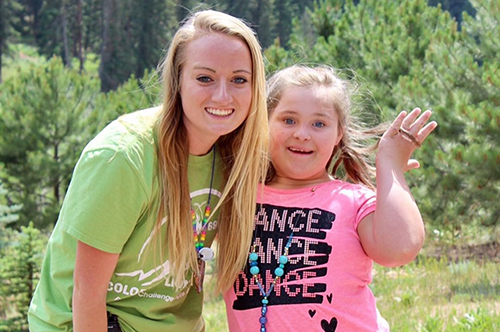 Heather Holmes received multiple scholarships during her time at Illinois and was interviewed during the 2018-2019 academic year. View stories from this year's scholarship recipients at the giving stories page.
For some students it happens during a particularly insightful lecture or in the middle of a busy corporate internship—that "a-ha" moment when they realize not just who they are, but where their true passion lies. For Heather Holmes it happened in the middle of the woods.
The epiphany came during the summer of her sophomore year, when she had the opportunity to work at a Missouri camp for people of all ages with special needs. "The pay was minimal and, subtracting travel costs, I knew that I would end up making almost nothing," said Heather. "That being said, I felt financial freedom through the scholarships I had received. So, I decided to pursue the opportunity. This decision changed my life. It was where I both discovered my passion and made the decision to become a physician assistant."
For Heather, that meant learning to speak a language for which there was no written dictionary, like knowing that one camper meant she was in pain whenever she said her doll was in pain. Or that one little girl was so afraid of medical providers that the only thing that gave her the bravery to face her fears was discussing her favorite fast food. Heather soon began referring to these incidents as "Chick-fil-A" moments.
"I spent the summer learning these unique nonverbal cues alongside American Sign Language," said Heather. "I discovered that communication barriers in health care can come in so many different shapes and sizes, and that it takes intentionality and sacrifice by medical providers to slow down the pace and truly connect with patients standing on the other side of communication barriers. This is why I decided to pursue the physician assistant path, because I felt that they have the opportunities to sacrifice their time, language, culture, and region to go in search of those patients who don't have the ability to fit into our normal American health care system."
Working at the camp meant helping children and adults with spina bifida, down syndrome, cerebral palsy, and conditions so severe that it meant they might not be alive to see the next summer. For Heather, it was a life-changing experience.
"I was trained to interact with campers in a way that made them feel independent and in-control, while still providing guidance," said Heather, adding that campers were never denied an activity. "We held rifles as campers with cerebral palsy pulled the trigger, used pulleys to hoist campers in wheelchairs 30 feet in the air to guide them through a high ropes course, and carried campers on our backs or in our arms through the pool so that they could swim with everyone else." It was a lesson in compassion and understanding that moved her to the core.
"My campers have taught me that people are so much more than what they can or can't do and that just because someone's abilities are different doesn't mean they are less. When we exclude a community of people because they are different than us, we are excluding all of the talents, abilities, and ideas that they could contribute to our society," said Heather. "Oftentimes, if we're willing to put intentionality and time into breaking down barriers we've built based on differences, we find that the person on the other side of the wall has more to teach us than we could possibly ever teach them."
Heather and her identical twin sister Hannah both came to LAS from Lawrenceville, Illinois, a small, rural community with a high poverty rate. Less than 30 percent of graduates there typically go on to college. Fortunately, they were encouraged to succeed by their parents, as well as a high school chemistry teacher who was so invested in their education that he asked the school to create an additional class that would better prepare them for their first year in college. "He is an Illinois alumnus and quickly became our mentor throughout high school," said Heather. With that support, the twins strove for excellence, graduating as co-valedictorians with the exact same GPA.
Due to financial reasons, they had decided to attend Southern Illinois University, when a letter from Illinois changed their plans. After learning that they had both received scholarships through the Lincoln Scholars Initiative, they quickly set their sights on Illinois. "The decision was instantaneous," recalled Heather. "We chose the U of I for the well-known STEM research that provided so many wonderful opportunities for undergraduates, as well as the in-depth science curriculum taught by top researchers in the field."
Heather, who eventually decided to pursue a degree in molecular and cellular biology, will graduate this spring and attend the physician assistant program at Rosalind Franklin University of Medicine and Science in North Chicago, Illinois, in the fall. Physician assistant programs are notoriously competitive. "Each school accepts only 4 percent of applicants," said Heather. "I am one of the youngest in my class, and I truly believe that it was the opportunities that Illinois, specifically the College of LAS, provided that have opened the door for the next step of my journey."
For Heather, who received multiple scholarships during her time at Illinois, financial donations represent more than a monetary gift. They give students the courage they need to look beyond the statistics that define them and follow their passions wherever they lead. "They are the original seed planted inside a student's head that says, 'Maybe I can be this, maybe I can do that, or maybe this dream is achievable.'" In short, said the future physician assistant, "Scholarships change lives."
---
Read more stories