Ivie Osagiede, Scholarship Recipient
"I am eternally grateful for how this scholarship has lifted such a heavy burden off the shoulders of myself and my parents." — Ivie Osagiede, recipient of the Margaret Ann and George William Hann Scholarship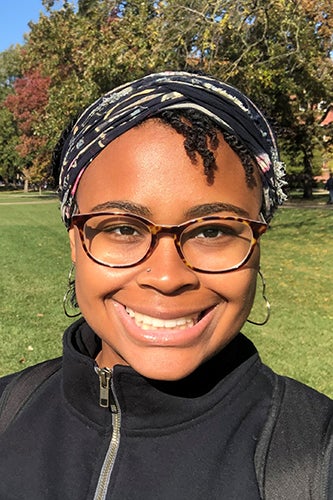 Ivie Osagiede was a recipient of the Margaret Ann and George William Hann Scholarship and was interviewed during the 2020-2021 academic year. View stories from this year's scholarship recipients at the giving stories page.
During her childhood in the south suburbs of Chicago, Ivie Osagiede developed a fierce passion for life sciences. Sitting in her grade school classroom, she fondly remembers learning the impossibly perfect structure of the cell and skeletal system and the major biomes of the world.
"These topics interested me more than anything else I studied," Osagiede recalled. "They stood out most because I really enjoyed memorizing the different parts of things and how they interact."
Osagiede is now a sophomore in molecular and cellular biology with the potential to secure two minors in chemistry and French. Though she nearly chose a different plan of study, it only took one course within MCB to solidify her choice.
"Molecular and cellular biology is particularly fascinating, because we can't see any of it and yet it has such a massive impact on our lives. A few molecules can make a world of difference," she said. "Everything in the life sciences has a cause and effect."
One day, she hopes to become a pediatrician or obstetrician.
"My dream specialty is heavily influenced by who my clientele would be," she said. "I believe I would create the best relationships with these populations, and a healthy doctor-patient relationship is critical for quality care."
Choosing Illinois was an easy decision as it was her best option academically and financially. "Initially, I was drawn to the school's rigorous biology program; then, my generous financial aid package sealed the deal," she said. "Receiving the Margaret Ann and George William Hann Scholarship has allowed me to study at Illinois without worries. I don't have to worry about debt or student loans or whether I can afford to spend another semester here. I am eternally grateful for how this scholarship has lifted such a heavy burden off the shoulders of myself and my parents."
---
Read more stories