Kirsten Dillender, Scholarship Recipient
"[My fellowship allowed me] to fully put myself into the work and my own writing and ideas. These opportunities are really important." — Kirsten Dillender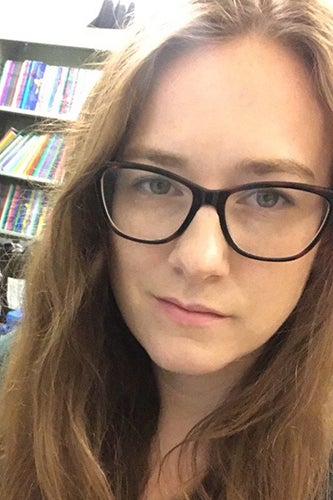 Kirsten Dillender received the Donald A. Smalley Fellowship and was interviewed during the 2019-2020 academic year. View stories from this year's scholarship recipients at the giving stories page.
Kirsten Dillender entered the university setting with a fervor for environmental science and ecology.
As an undergraduate, she dove into biology courses; however, she quickly realized her studies weren't providing the fulfillment she always imagined. That's when she turned to her original academic passion – English.
"I found that working with text was something I really enjoyed doing, and I found I could bring my interests in environmental sciences and ecology into the work I do with literature," she explained. "I can have both of those worlds."
Transitioning to the humanities from a science track was difficult initially, she admitted; although, she found how her interests coexist through examining and comparing pieces of literature. In her research, Dillender considers works of fiction through the various lenses of social, economic, or scientific impact. With this perspective, she questions how these factors co-occur within societal realities of today.
"When you think about writing a paper, it sounds simple, but when you realize how many things affect our environment–social, economic, scientific factors. So many things play a role in these topics that we then work out through the humanities and literature that the research is a lot wider ranging at times," she said. "When you are working through science research oftentimes you are digging for results and answers, but when I am doing humanities research, I am trying to make people and concepts talk to each other. It lends itself to more creative thinking so we can think about the bigger impact and what is the bigger picture."
Dillender–who is in her second year of PhD coursework and a recipient of the Donald A. Smalley Fellowship–landed in Champaign-Urbana after taking a thoughtful look at several factors including regional resources, faculty specialties, and funding. 
"There is a really strong environmental community here, but I was also looking for programs that would be a good fit for us financially," she said. "I didn't really know anything about fellowships. I come from a middle-class background, so college was pitched as a four-year program, you receive a degree, then you get a really great job. I really didn't know there was opportunity to go to school on fellowship and have the chance to fully put myself into the work and my own writing and ideas."
With the resources provided by her fellowship, Dillender has dedicated time to improving her writing and building her interests as a scholar, which led to her first academic publication in a journal to be released later this year.
"I wouldn't have had the time to put all that attention into that paper had I not had the fellowship," she said. "These opportunities are really important so that following this kind of passion and work isn't limited."
Dillender will remain at Illinois through the next four years as she completes her PhD.
---
Read more stories