Lotanna Ezenekwe, Scholarship Recipient
"I think we have a great community. I've never met a Lincoln Scholar who doesn't have an interesting story, and I'm grateful to the donors who continue to be generous with us." — Lotanna Ezenekwe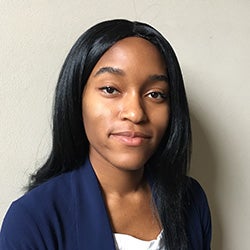 Lotanna Ezenekwe, a College of LAS Lincoln Scholar, was interviewed during the 2019-2020 academic year. View stories from this year's scholarship recipients at the giving stories page.
For Lotanna Ezenekwe, there's a difference between knowing one is alive and understanding what that means.
"I knew I was alive; everyone knows they are walking, talking, breathing, but I didn't know about all of the cellular processes and everything that goes into being alive," she explained. "There is just so much more to that; it's very complex."
The Illinois senior is finishing her studies in molecular and cellular biology and is weighing her options as she decides which of two medical schools she will attend. Ultimately, Ezenekwe isn't sure in what field she will specialize, though she's considering a few options with the potential for deep impact.
"I like talking about women's health and social justice, and that's why I'm considering OB/GYN," she explained. "Although, I had severe acne growing up, so dermatology is interesting to me. People don't realize how much that impacts your self-esteem until they go through it. People talk about dermatology and think it's vanity, but I think making people happy is very important."
Keeping in line with helping others, Ezenekwe has worked as lead EMT with the Illini Emergency Medical Services, a team that volunteers during campus events in case of a medical emergency. The crew is on hand for athletic events, Krannert events, and any student activity on the quad.
"If you see people with red shirts and carrying a ton of equipment, that's us, although, most people don't see us until someone is actually in need," she explained.
Ezenekwe also served on the executive board for Vis-A-Vis, a volunteer program that places Illinois students within Champaign-Urbana schools as mentors and tutors.
Four years ago, Ezenekwe chose Illinois because of the financial support available to her.
"Being at Illinois is one of the first times I've felt pride in my school," she said. "I'm glad I go here. I feel like I couldn't have made a better decision. I'm glad there was a monetary push for me to go to Illinois. As we are getting ready to graduate, more and more of my friends are starting to think about their debt. In the coming years, I feel I will be even more grateful. I think we have a great community. I've never met a Lincoln Scholar who doesn't have an interesting story, and I'm grateful to the donors who continue to be generous with us."
---
Read more stories