Madeline Decker, Scholarship Recipient
"A lot of my tuition is covered, so I can do things like volunteer in Ecuador in the summer, and make a difference. It's really allowed me to focus on my academics and on the extracurricular pursuits that have really shaped who I've become and what I've become interested in as a person, as a future teacher, and as a student." — Madeline Decker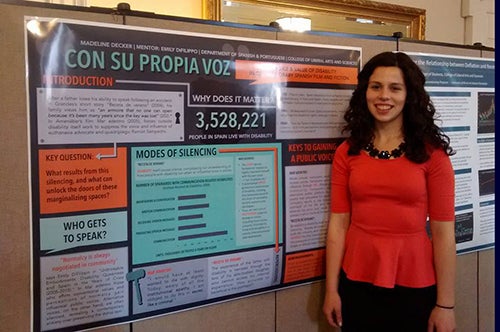 Madeline Decker received the Jean Crist Weagant and William G. Crist Memorial Scholarship and was interviewed during the 2017-2018 academic year. View stories from this year's scholarship recipients at the giving stories page.
For some college is about getting away from home, moving to a different state or even an exciting country far around the world. For Madeline Decker, however, it was about discovering an academic gem right in her own backyard.
"Both of my parents attended the university and stayed in the area," explains the Illinois senior, who is currently completing a double major in English and Spanish, with a minor in secondary education. Growing up in Champaign, Illinois, Madeline says she enjoyed the many cultural opportunities that came with living in a campus town. She didn't plan to attend Illinois, though, until a campus tour encouraged her to give it a second look.
"As soon as I visited campus and saw it as a potential student and not as a community member, I got really excited about it and everything that's going on on campus," says Madeline. She also liked the research opportunities and small classes she'd enjoy as an English major. After seeing that, she says, "I was kind of sold."
Madeline says her passion for language began as soon as she could talk. "My home was one that was definitely filled with books, and I started reading stories and telling stories at a very early age," says Madeline, who was homeschooled until the last couple of years of high school when she attended Judah Christian, a small, private high school in Champaign.
According to Madeline, her parents always encouraged her interest, building a small writing desk in the living room when she was just a child. "As I got older, that kind of came together with my interest in social justice, and I started to see how stories and language are something that can really bring people together," she says, adding that "stories have that power to give us experiences that we haven't had ourselves, so we can empathize better with the experiences of others."
When she was 12, Madeline began exploring other cultures on various mission trips to Latin America, including two trips to an orphanage in Peru that helped foster her love of Spanish. Madeline says she was fascinated both by the language itself and by the way it enabled people to cross cultural barriers. "It just makes your ability to connect with others much more meaningful when you can speak to them in their language."
Madeline Decker and another student play with children and a circular piece of fabric during a study abroad trip. In college, she began exploring other interests, as well. She's been an editor and writer at Buzz Weekly for Illini Media, and currently enjoys working as an undergraduate assistant at the University Library Illinois History and Library Collections. The latter she discovered while writing a blog post about opportunities in English studies, which she says was basically a letter to her freshman self and all of her insecurities.
"You get a lot of interesting comments when you tell people you're an English major," says Madeline with a laugh, adding that many tried to dissuade her from her chosen path or encourage her to pursue studies in a STEM fields. As part of her research for her post, she was looking at job opportunities on the Department of English's website when she found an ad for an undergraduate position offered by the Illinois History and Lincoln Collections. She had been intrigued by the collection ever since she heard about it her freshman year, so she decided to apply. Apparently, her passion won them over.
"With very little background in history and library science in general, I got the position," says Madeline. She's loved it from the start, and she's picked up some new skills on the job, providing the graphic design for exhibits and promotional materials. "It was not something that I expected to be doing at all," says Madeline. "Life is funny that way."
She had, however, planned to do research. And at Illinois, she got her chance, participating in the undergraduate research apprenticeship program. "I think there were about 10 of us," says Madeline."Each was partnered with a graduate student and we would help them do work related to their research."
She was paired with a graduate student who was working with images of old medical journals she had captured on a trip to Spain. "They were really big, so she had to scan them in parts and then put the pages back together," explains Madeline, who gained invaluable experience with Photoshop while working on the project.
Later, the grad student helped Madeline with her own research project, comparing the treatment of disability in Spanish film and literature, which she presented at an undergraduate research symposium. Part of that involved creating an infographic poster to make the information accessible to the audience, where her budding graphic design skills came in handy. From there, she would go on to do several honors research projects in English, one of which was awarded the undergraduate Illinois Prize for Research in the Humanities.
Some of her most rewarding work at school, however, came from working with children. One semester, she got to work at her old school, tutoring several students in Spanish. On another occasion, she worked at the International Prep Academy in Champaign, a bilingual school with a mix of students who either spoke English or Spanish predominantly.
That experience fueled her interest to teach at a bilingual high school. While those are few and far between, she recently learned about one that she's interested in pursuing, thanks to an international education fair she attended. It's a K-12 school in Ecuador, and English teachers who go there get free Spanish and dance lessons, a fun perk she's looking forward to exploring.
Madeline says that, for her, scholarships have been freeing, allowing her to make the most of her time at Illinois. Over the years, she's earned several, including the Jean Crist Weagant and William G. Crist Memorial Scholarship. A merit-based scholarship for female undergraduates living in Illinois, this unique scholarship was created by Robert A. Weagant, now professor emeritus for the Jane Addams College of Social Work at the University of Illinois at Chicago, in honor of his late wife Jean Crist Weagant (AB, '50, general curriculum) and her father.
"A lot of my tuition is covered, so I can do things like volunteer in Ecuador in the summer, and make a difference," explains Madeline. "It's really allowed me to focus on my academics and on the extracurricular pursuits that have really shaped who I've become and what I've become interested in as a person, as a future teacher, and as a student."