Michael Mitchell, Scholarship Recipient
"I wouldn't be where I am without the people who helped me get over the obstacles that I had." — Michael Mitchell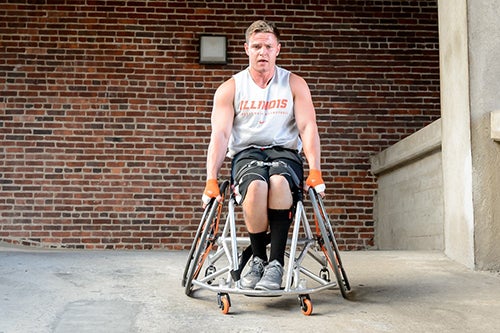 Michael Mitchell received the Eakman Scholarship and was interviewed during the 2017-2018 academic year. View stories from this year's scholarship recipients at the giving stories page.
After Michael Mitchell broke his femur for the seventh time, he thought his days of making fast breaks down the basketball court were over. And then he discovered wheelchair basketball—a unique sport that allowed him to continue playing the game he loved, despite a rare bone condition that made him prone to injuries.
"It was a godsend," says the student from Dell Rapids, South Dakota. And it's been a big part of his life ever since, eventually bringing him to Illinois where he joined a men's intercollegiate team that's one of only nine of its kind in the country.
When the young athlete visited campus in 2014, he knew he had arrived at a world-class university. What he didn't know was that it was the birthplace of the sport that had led him there. It all started shortly after World War II when Timothy Nugent, director of the Rehabilitation Education Center at Illinois, saw the benefits that physical activity provided for wounded veterans returning from the battlefront. In 1949, he created the National Wheelchair Basketball Association, and his vision quickly spread, inspiring teams across the country.
Michael knew none of this when he made his decision to attend Illinois. "I was that nerd who was actually looking at the school," he says with a laugh. He loved athletics, but wanted a school that would provide him with something more.
At Illinois, he discovered a university that offered a wide range of helpful resources. The school's reputation for excellence and innovation also appealed to Michael, who says that sense of excitement permeates the air at Illinois. "When you're in class, you're always aware that you're pushing the boundary," he says.
Inspired by the doctors who played such a large role in his life, Michael originally pursued a pre-med degree with a focus on biology. More recently, however, he's felt a strong pull toward teaching—an interest he's been able to explore thanks to a flexible curriculum that allowed him to minor in chemistry and teach as an undergraduate instructor.
"Teaching was something I've wanted to do since my sophomore year, but with basketball I always told myself I didn't have time," says Michael. Now, he's making the time—and loving every minute of it, describing it as the best part of his week, every week. "I like going to class and helping these students reach their potential," says Michael. "I think that's something that carries over from wheelchair basketball," he adds. "You learn that people can outdo themselves. And they don't even realize it."
For Michael, that realization came through the hard work of others. "I wouldn't be where I am without the people who helped me get over the obstacles that I had," he says. Now he strives to do the same for others, whether it's on the court, inspiring those with physical limitations to fully pursue their dreams, or at the front of the class, leading students who may one day shatter barriers of a different kind.
Michael says that one of the highlights of his time at Illinois has been participating in various wheelchair basketball benefit events, where the team challenges high school teachers and basketball teams to a high-speed game on wheels. "We usually rack up the score a little bit in the first quarter, and then we'll end up giving them the ball and letting them shoot. It's a lot of fun," says Michael, but more than that, it's an important reminder—that everyone has obstacles. What matters is what you do with them.
"I think I just have a lot of potential to impact young people in a good way," says Michael, who is currently applying for teaching positions. With a few months left until graduation, he's already gaining valuable experience in his chosen field. As a James Scholar, Michael recently developed chemistry lesson plans that will be used in area high schools, having a direct impact on the type of kids he soon hopes to teach.
With basketball, honors projects, and teaching, he's had a full plate. And yet, he's also remained firmly focused on his academic career. In the past four years, Michael has made multiple appearances on the dean's list and established an academic record that's the envy of his peers. Last fall, that hard work paid dividends, when Michael, who began his senior year with a 3.95 grade point average, was invited to apply for the Eakman Scholarship. This prestigious scholarship, named in honor of Dr. Thomas Eakman, was created in 2005 to celebrate the legacy of the vice president of Academic Affairs and his 30 years of exemplary service to the university.
"It was really cool," Michael says of the honor, which he earned, garnering needed tuition support. "It was honestly one of the first times I felt like I had been significantly rewarded for something that was academically based.
For Michael, scholarships like the Eakman make it possible for exceptional students like him to pursue their dreams. In just three simple words, Michael summarizes the importance they've had in his life. "They're everything, honestly," he explains. "Financial stability is crucial to my ability to focus and my success in the classroom and on the court. As a self-supported student, my means of paying for school rests in the hopes of getting scholarships like these," explains the grateful senior. "Without this, the U of I wouldn't have been within reach."