Nicole Odulate, Scholarship Recipient
"It's somebody's future that you're literally helping build. [...] Each dollar is somebody's step up to a better life. While it may not seem like a lot, it's a lot to somebody else." — Nicole Odulate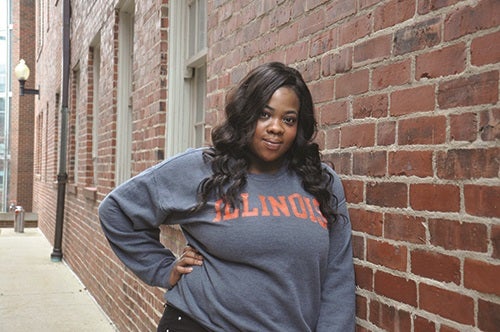 Nicole Odulate, a College of LAS Lincoln Scholar, was interviewed during the 2017-2018 academic year. View stories from this year's scholarship recipients at the giving stories page.
"I'm trying to leave this world with something more than my name," says Nicole Odulate. It's a lofty ambition, but one that the senior from University Park, Illinois, is actively pursuing, thanks in part to the financial help she received through the Lincoln Scholarship Initiative.
As the second of five children raised by a single parent, Nicole didn't have a lot growing up in the southern Chicago suburb. But what she did have was far more valuable than money — a hard-working and supportive mom who encouraged her to aim high.
"Growing up, my mom really stressed education to us," says Nicole. "That pushed me to do really well in high school." For four years, she knuckled down and dug deep. When others were skating by, she took honors classes and strove for excellence. And her hard work paid off. In 2014, Nicole graduated sixth in her class, with a passion for psychology she discovered her senior year.
It came from observing the people she grew up with. "One of my favorite past times was people-watching," she explains. "I just like to watch how people move and how they interact." Eventually, she realized that interest could lead to fascinating field of study. "My senior year, I ended up taking a psychology course and absolutely falling in love with it," explains Nicole. "So I was like, 'Yeah, this is definitely something I want to study.'"
She thought about attending Duke, but she also wanted to stay close to her mom. So, she decided to visit Illinois, and that's when everything changed.
"I ended up coming to visit Illinois a week before decision day," says Nicole. "I came onto campus and it was so beautiful, and everybody was super welcoming to me." On top of that, there were the enticing scholarship offers. Between the Lincoln Scholarship Initiative and Presidential Scholarship Awards, she secured more than $15,000 in annual scholarships. With two other siblings already attending college and two more on the way, it was an opportunity too good to pass up.
She planned to go pre-med, but now laughs at that thought, saying she was far too outspoken to be a doctor. "I've always been my brother's keeper," Nicole says. "Standing up for people is one of my favorite things." So, after a lot of soul searching, she decided to pursue something more in that bent. With the help of summer classes going into her senior year at Illinois, she completed a minor in criminology, law, and society in one year, rounding out the psychology major and behavioral neuroscience concentration she had already achieved.
Next, it's on to law school, where she hopes to acquire the skills needed to overturn the wrongful convictions of those who sometimes falsely admit to lesser crimes to avoid a lengthy sentence. "A lot of African-Americans are not really educated in the law and the legal system," she says. She wants to help. But her plans don't stop there.
Together with her brothers, she one day hopes to launch a program that helps other kids in poverty stay out of trouble and focus on their goals. Already, she's gained a lot of useful experience in that area, volunteering with C-U One-On-One and another mentoring program where she tutors kids in math. "I know one thing that saved me, quote unquote, was having good examples, so I wanted to be that for somebody else," she says.
Last year, Nicole started working with one young girl who had a lot of potential but was headed down the wrong track. "When I started mentoring her, it was not known if she was going to make it to high school," says Nicole. Now, she's successfully transitioned to the ninth grade and, hopefully, the start of a more empowered life. "I'm super happy for her and super proud of her," says Nicole. "Super, super proud."
In the future, Nicole hopes to turn her knack for shaping young lives into a second career. "I don't really plan to retire retire," she says, explaining that she'd really love to teach. When others are closing up shop and heading for the golf course, she plans to pursue a teaching certificate and pass on some of the lessons that have helped her life.
For now, however, she's focused on graduation. And when she does finally walk down that aisle, she knows one very special person will be cheering her on from the sidelines.
"My mom is without a doubt my No. 1 inspiration," says Nicole. "She didn't go to college, but she was able to convey to us, without having to yell or beat us down, that if you want to have a better life, this is what you've got to do."
It was a lesson that she and her siblings took to heart. Her older brother has a job waiting at VISA when he graduates this spring from Southern Illinois University. She also has a younger brother studying IT in college and a sister who will soon be going into graphic design.
Nicole says that scholarships are the reason all of that was able to happen — "1,000 percent," adding that small gifts are every bit as important as large contributions. Her scholarship was made possible by those gifts. Created to help celebrate the renovation of Lincoln Hall in 2012, the Lincoln Scholarship provides annual tuition assistance, and can be renewed for up to four years as long as recipients maintain a competitive GPA.
The grateful graduate says most don't realize the big difference a small contribution can make. "It's somebody's future that you're literally helping build when you give that $10, when you give that $20, when you give that $30. Each dollar is somebody's step up to a better life," she explains. "While it may not seem like a lot, it's a lot to somebody else."