Nidhi Shastri, Scholarship Recipient
"Scholarships like the one I received continue to be the saving grace and support that holds us up. Thank you for investing in our future and caring for our success." — Nidhi Shastri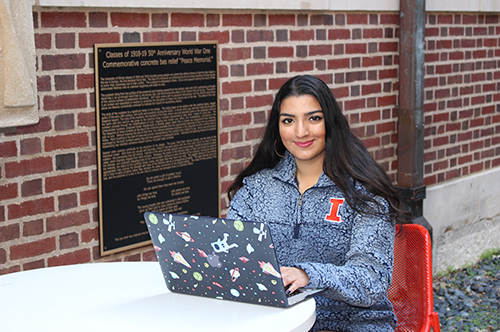 Nidhi Shastri received the Gary V. Kaiser and Patricia Kaiser Scholarship and was interviewed during the 2018-2019 academic year. View stories from this year's scholarship recipients at the giving stories page.
Nidhi Shastri has been a writer, a speaker, a college radio newscaster, and a podcaster. During her time at Illinois, she has developed a wide range of communication skills and used them to help those who sometimes feel unrepresented in the broader culture. But before she could help others find their voice, she had to find her own.
For Nidhi, that journey started in Hoffman Estates, Illinois, a Chicago suburb that, while rich in diversity, was low in economic opportunities. "Over 50 percent of my high school was on free and reduced lunch," said Nidhi. At times, she felt conscious about the economic divide she experienced.
"I sometimes felt bad looking at other more economically well-off schools, but I quickly adapted and use what I learned in practice in order to do well," said Nidhi, who helped captain the school's speech team to a state competition. "Though we didn't always have the same economic benefits as other suburban schools we competed against, we had very passionate teachers, and through that I developed a strong work ethic and a passion for my community."
After graduating high school, she briefly considered following her sister to Marquette University, but Illinois offered a better financial aid package, and something even more important—the ability to do her own thing. "I wanted to step out of my comfort zone and have an adventure on my own, and University of Illinois became a way to do that," she said.
At first she planned to be a biology major, but things didn't go according to plan. "I knew I was falling behind," said Nidhi, who soon found herself wondering if she had the tools to persevere. "Though I contemplated dropping out many times, I decided to stay at Illinois and keep trying to succeed."
Realizing that she had a passion for communicating, she decided to switch majors her sophomore year, opting for a major in political science with a concentration in law and power, and a second major in earth, society, and environmental sustainability. For Nidhi, it was love at first course guide.
"I knew as soon as I was in these two majors that these were the places I was meant to be," said Nidhi. "I studied the intricate and complicated world of political theory deeply in my four years and applied environmental concepts to the politics I was learning." And she took those lessons outside the classroom, advocating for political and environmental change on campus and beyond.
This past summer, she was selected to work with the Natural Resources Defense Council in Chicago, one of the largest non-profits in America, where she helped write, edit, and compile data for "Clean Jobs Midwest 2018," a survey of clean energy employment in 12 Midwestern states. "It is one of the largest and most influential projects I have ever had the opportunity to work on," said Nidhi, calling the experience invaluable.
At school, she took on other causes, working with Aahana UIUC, a registered student organization that helped raise money for a school in India that served disabled orphans, and becoming a multicultural advocate for University Housing, which she regards as one of her highest honors. "I get to educate residents and staff members on social justice and advocacy," said Nidhi, who has given talks on identity and dialoguing to University of Illinois at Springfield resident advisors, as well as U of I desk clerks and dining hall staff.
For many, speaking to large groups would be a challenge, but for Nidhi it's second nature, thanks to a three-year internship with a local college radio station that honed her speaking skills. During her junior year at WPGU 107.1, she landed a gig co-hosting a Sunday morning show called "Rock and Roll in Español." It was there that she caught the bug for broadcasting and began producing and publishing her own podcast, Model Minority, which focuses on the lives of African and Asian immigrants in America.
Nidhi said she's fortunate to have earned the Gary V. Kaiser and Patricia Kaiser Scholarship, which helped make much of her exploration possible. "As someone who qualified for Federal Work Study through FAFSA, I have always had a job in addition to being a full-time student. However, I often sent most of the money I earned back home to help out, which made it more difficult for me to have the same experiences as other college students. Getting this scholarship has allowed me to be able to still send money home and buy a new laptop for myself," explained Nidhi. While she still works and teaches a class to earn money, Nidhi said the scholarship has lifted some of the weight off her shoulders and allowed her to enjoy her senior year more.
After graduating, Nidhi hopes to secure a job in TV or radio that allows her to carry on the work she has already started with her podcast, communicating important concepts in a fun and interesting way. No matter where she goes, however, she said she will always be grateful for those who helped make it possible. "As more cuts to higher education threaten the ability for students from lower-income backgrounds to move up and work toward the 'American Dream,' scholarships like the one I received continue to be the saving grace and support that holds us up," said Nidhi. "Thank you for investing in our future and caring for our success."
---
Read more stories