Miranda Gonzalez, Scholarship Recipient
"The Lincoln Scholar Initiative has impacted my experience at Illinois by helping me have an opportunity to do more beyond my classes and working." — Miranda Gonzalez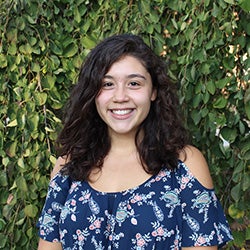 Miranda Gonzalez, a College of LAS Lincoln Scholar, was interviewed during the 2020-2021 academic year. View stories from this year's scholarship recipients at the giving stories page.
Teachers play a significant role in their students' lives, and Miranda Gonzalez believes this relationship is especially important within mathematics classrooms.
"I have seen how much a teacher can impact a student's experience with math to be more positive or negative," she said. "I want to help students learn that they are all capable of being a 'mathematician' or learning mathematics. I enjoyed my math classes and want to help others have a positive experience."
After graduation, Gonzalez plans to teach at a school of need in Illinois.
"My goal is to give back to communities similar to the one I grew up in," she explained.
Gonzalez chose Illinois after her high school teachers shared their positive experiences with the university. Outside of the classroom, she works for Campus Recreation as a lifeguard and swim instructor and is a member of Golden Apple Illini and Vis-a-Vis.
"The Lincoln Scholar Initiative has impacted my experience at Illinois by helping me have an opportunity to do more beyond my classes and working," she said. "It significantly lessened the financial burden that attending a four-year university would have left on my family."
---
Read more stories