This broadcast producer is learning that a career in film means being tested at every turn.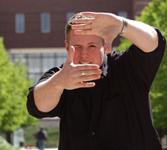 Chris Folkens began to dream of directing and producing films as a boy, after a brush with Hollywood. When he pursued that goal in earnest as a student at the University of Illinois, the Naperville, Ill., native saw the film industry's decidedly unglamorous, nitty-gritty side—and he still loved it.
It's an attitude that's helped the 2005 graduate of the College of Liberal Arts and Sciences (Speech Communication), who's now a broadcast producer for the Leo Burnett advertising agency in Chicago, as well as a freelance film director. Folkens has learned that a career in film is as much about coping with the uncontrollable—egos, politics, equipment malfunctions, disastrous accidents, self-doubt—as it is about creativity and recognition.
Folkens, 25, recalls one particularly dicey incident on a past music video shoot. He and his crew were on the first day of filming when a car accident damaged valuable equipment and, in an instant, threatened the whole production. No one was hurt, but it turns out that living up to the saying—"The show must go on!"—is easier said than done. Folkens said leading his crew through the aftermath was one of his hardest days as producer and director (though he adds that the shoot turned out "great").
The experience prompts him to call upon another familiar phrase to describe his job—flying by the seat of his pants. He says he's tested at every turn.
"Nothing can prepare you for it," he says, of the unexpected complications that arise during directing and producing. "It's learning while doing. That can be daunting stuff... It's a test of character. You're walking into the unknown every time you walk into something."
Folkens's interest in film stems back to the third grade, when he was an extra in the movie Home Alone 2. He played a background role, but for that brief time on the set he had front-row insight into how movies were made (the movie hit screens a year after it was filmed). Folkens held onto that fascination even after he arrived at the U of I, where there was no significant film production program. He started making films anyway, using mini-digital recorders.
The U of I did its best to accommodate his pursuit, as professors allowed him to turn his work into independent class projects and justify all the time he was spending on them. The administration granted him permission to shoot scenes around campus.
With that help, along with his determination, Folkens accomplished much. During his freshman year, he directed a music video and a short film, A Moment So Close, which won four of seven awards at that year's Illini Film and Video festival. Other short films followed while he was on campus, including Triad, a 40-minute, paranormal thriller about hauntings on the U of I campus, and, later, Toxin, a 25-minute thriller about a U.S. intelligence agent turning on his country. Folkens, a James Scholar in LAS, worked on Toxin as part of his honors requirements.
Folkens shot Toxin over four days in Champaign-Urbana with a $16,000 budget. His cast included U of I professors, and actors from the University and community, as well as local emergency workers, most notably a SWAT team from Champaign-Urbana and surrounding communities. The tight schedule and a cast which might have been called away at any time for a real emergency taught Folkens an important lesson about his job: Film it fast, and do it right the first time.
Folkens started at the advertising agency literally less than a day after graduation, and almost three years later he's progressed far enough that he knows how he could improve upon the films he's directed. He calls them a valuable learning experience, however, and it helped him find his niche. There was a time that he considered law school instead of film.
"I figured out that I enjoyed the Hollywood version of law," Folkens says.
He took away more than technical expertise from his time at the U of I, however. In his job, Folkens draws upon things he learned in the classrooms, including speaking and listening skills, and lessons he learned in leadership studies classes. Much of the behind-the-scenes work in producing and directing, he says, involves connecting with co-workers and clients in the same way you want to connect with an audience. How you say things, Folkens says, depends on who you're talking to.
His style has put him on a successful track. He's produced advertising for large companies such as Becks Beer, Marlboro, Kellogg's, and Hallmark, with other clients such as the Museum of Science and Industry in the works. As a freelance director he's created music videos for The Lifeline, a band he met in college that is gaining popularity in Chicago. He also directed a commercial recruitment video for Phi Mu Alpha, a nationwide music fraternity he joined while in college.
Folkens enjoys his work on advertising—he appreciates the skill involved in getting a message across in a short amount of time—but his dream is to someday direct Hollywood films. He's using his time now to hone in on his style and make contacts, he says, and he's realistic about his dream. But at least he's on the right track, Folkens says, and that's reason to be optimistic.
Dave Evensen
February 2008