LAS Alumna Receives Nation's Highest Civilian Honor
Thanks to her, more than $1.3 billion raised to fight breast cancer and a new meaning for the color pink.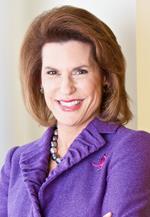 LAS alumna Nancy Brinker (AB '68, sociology), founder of the breast cancer grassroots organization Susan G. Komen for the Cure, received the nation's highest civilian honor on August 12 when President Barack Obama presents her with the Presidential Medal of Freedom.
The medal is awarded to people who make a meritorious contribution to the security or national interests of the United States, world peace, culture, or other significant public or private endeavors. In 1982, Brinker founded the foundation to raise awareness and money for breast cancer research, support, outreach, and education.
She launched the organization after promising her sister, Susan G. Komen, that she would fight breast cancer. Komen died of the disease in 1980 at the age of 36. Brinker is a breast cancer survivor.
"To say that I am honored, humbled, and exhilarated is a vast understatement," Brinker says, in a press release. "I will be pleased to accept this honor in my sister's memory, and on behalf of the millions of women and men who have walked side-by-side with us over many years to end the suffering and misery from this disease."
Brinker at first fought an uphill battle to gain allies in her cause, as sponsors were wary of associating themselves with cancer, and breast cancer in particular. Her efforts helped change those attitudes, however, and today more than 1.5 million people in more than 130 cities around the world participate in the Susan G. Komen Race for the Cure. Her efforts have led to legislation that supports the fight against breast cancer. She received an LAS Alumni Achievement Award in 1989.
Her most visible achievement is establishing pink as the iconic color for breast cancer awareness, according to the foundation's website. Today many sponsors incorporate the color into their products and displays to show support for the cause. All told, Brinker's organization has raised and invested more than $1.3 billion in battling the disease.
In 2001, Brinker was named U.S. Ambassador to Hungary, where she conducted "global health diplomacy" to raise breast cancer awareness there. She and her foundation then worked to increase awareness in 50 other countries in areas such as Africa, Central and South America, Eastern Europe, and the Middle East. She continued her cause as U.S. Chief of Protocol from 2007 to 2009.
She shows little sign of slowing her fight, as breast cancer remains one of the leading causes of death in the world and she says cases are expected to triple in the next 30 years.
"Too little attention is being paid to the human suffering and the social and economic impacts of this disease," Brinker says.