A future face of diplomacy
LAS student earns prominent fellowship in international affairs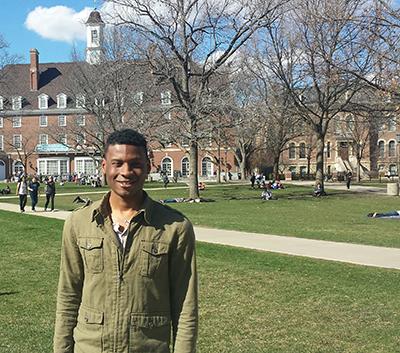 A walk with the affable Larry Harris, Jr., across campus is not for the shy of heart. He may not know all the 42,000 students who attend the University of Illinois, but as he waves and greets his way across the grassy Quad and through the corridors of the Illini Union, you get the feeling that given a bit more time, he just might.
"There are a lot of people who go to this university," says Harris, a senior in political science, as he pauses in the basement of the Union. "Anyone I meet, I try to hang out with them get to know them more, to understand their story."
Here's part of Harris's story. Just as he's been a ubiquitous face on campus, through various student organizations and his job as a campus tour guide, soon he will be part of the face of the United States, as he's been named a fellow in the prestigious Charles B. Rangel International Affairs Program. The fellowship will pay his way through graduate school in return for at least five years of foreign service at the U.S. Department of State.
The Rangel program, a joint effort between the Department of State and Howard University, seeks to diversify the foreign service to reflect the population of the United States. Harris was one of 30 applicants from across the country chosen for the program.
Harris would like to serve in the public affairs sector of the U.S. State Department, in a role that suits him well. Timothy Wedig, lecturer and associate director of LAS Global Studies, the Center for African Studies, and the Center for Global Studies, wrote a recommendation letter for Harris for the fellowship, and he said Harris's enthusiasm for learning and service is inspiring.
"There are so many very bright and capable students here at Illinois, but Larry stands out from the very moment one meets him," says. "He has a genuine passion about life that is contagious and helps make him a natural leader."
Harris was first introduced to foreign affairs at Bloom Trail High School, in Chicago Heights, during a time of financial difficulty for his family. Sometimes the electricity would be shut off at their home, so he would stay after school to read newspapers or get on the computers. The things he read about the civil war in Syria influenced him deeply.
"Even though a lot of the citizens there literally had bombs raining on their heads, a lot of them were still hopeful that they would weather this difficult time," Harris recalls. "It just made me think that I have no right to complain about not having water or electricity when these people are going through something that's much worse. That's when I really got interested in foreign affairs."
Harris, a first-generation college student in his family, began taking courses in international relations as soon as he enrolled at Illinois. He took on a job as a campus tour guide, excited each day at the prospect of meeting people from around the world coming to visit the university.
Harris eventually took an internship with the Virtual Student Foreign Service, which allowed him to stay on campus as he did work for the U.S. Department of State. Then, in fall 2014, he went overseas for the first time (much to his mother's anxiety) for an internship at the U.S. Mission for International Organizations in Vienna, Austria, where he served in public affairs.
While in Vienna, Harris helped coordinate statements, photos, and social media for the U.S. Department of State during the Iran nuclear negotiations, which recently ended in an agreement. He also dealt with reporters ("They can sometimes be relentless," he says).
He learned, too, that others often did not expect to encounter an African American in the foreign service. Harris says that he was one of the few people of color working for the U.S. foreign relations in Vienna.
"A lot of people at first had trouble believing that I was a legitimate representative of the United States because I did not look like any of my colleagues," he recalls. "So I had to establish my own legitimacy among my international colleagues there. How I did that was how I do it with any relationship. I hang out with people after hours, during work—just continuous contact. That was my plan for establishing my own legitimacy so I can carry out my job."
He recalls attending an event during his junior year, when he was invited to speak on behalf of the United Nations Educational, Scientific, and Cultural Organization (he was a representative for the UNESCO Center for Global Citizenship at Illinois) at the United Nations. During his visit, he heard a Nigerian official condemning the United States for threatening to withhold aid from nations that persecute members of the lesbian, gay, bisexual and transgender community.
The official called it an instance of the United States trying to impose its culture upon Africa, Harris says, but he felt it was an issue of human rights. So he gathered his thoughts and went to speak with the official after her talk. The meeting was brief, but it sparked an important concept as he came to understand her point of view a little more.
"Africa is a region that has been colonized," he says. "A lot of people in Africa see the West trying to introduce values of LGBT rights, and they see it as another form of colonization."
He wasn't swayed from his own point of view, but Harris adds, however, that the discussion wasn't a matter of winning the argument with the official, but coming to a mutual understanding.
"Diplomacy isn't telling someone they're wrong and you're right. It's trying to understand the other person's point of view and trying to find some middle ground," Harris says. "That's when I realized this is something I would like to do as a career."