New master's program combines geographic information science and business
Professional Science Master's Program in Geographic Information Science will help students succeed in a growing field of study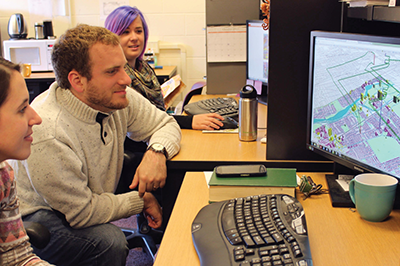 Look no further than your favorite location-based smartphone app, and you'll see the vast potential for students in geography and geographic information science. This field of study in LAS just got stronger with the recent launch of a Professional Science Master's program that melds training in both geographic information science and business.
Faculty in the Department of Geography and Geographic Information Science—which is ranked among the top 10 percent of geography departments in the nation—said the new, 16-month Professional Science Master's Program in Geographic Information Science will teach students to analyze geographic data while also instructing them on the role of geospatial technologies and data in business functions, such as market research, business location, and logistics.
"Students who come to the program benefit from high-level, cutting-edge GIS training from leading people in the field, and they also gain from the U of I's business program, which is very highly regarded and also cutting-edge," said Sara McLafferty, head of the Department of Geography and Geographic Information Science. "So we think we have a very exciting combination where we've got two really strong programs that are being merged."
Graduates from the program will likely see growing demand for their skills. Experts in GIS are increasingly integral to today's tech world, where they apply their skills to everything from location finders and games to lesser known but crucial applications such as environmental monitoring networks that are important for research and policy-making for business, transportation systems, the environment, and health.
The PSM's required courses are flexible depending on each student's area of focus within GIS, and the business portion is defined by five key elements: business fundamentals, finance, project and process management, workplace dynamics, and law and regulation.
Students who take part in the GIS PSM program will not only gain wider perspectives from the variety of  courses, but also from students in the five other PSM programs on campus, including agricultural production, bioenergy, food science and human nutrition, plant biotechnology, and technical systems management.
"Most of the time in our GIS courses, people have a similar kind of mindset in terms of how we can interpret something," said GIS major advisor Shakil Kashem. "But in an ideal world, whether you are working in a business or any another setting, you are working with people from all different backgrounds who have their own ways of thinking."
The ten students who are starting the GIS PSM this fall will be on track to take classes for an academic year, take part in an internship in the summer of 2017, and graduate in December 2017. The program's first student, Jiangdong Liu, is currently completing his internship requirement at Urban GIS, an urban planning consulting firm in Chicago.
Applications for Fall 2017 are now live, with a January 2017 early application deadline.
"This program gives the students an opportunity to work with students in the other PSM programs as well as in business," McLafferty said. "It really mirrors what students find in the real world when you're not just in a small bubble."