Tackling sports concussions
Elizabeth Pieroth receives 2016 LAS Alumni Achievement Award for her work to treat and reduce concussions in sports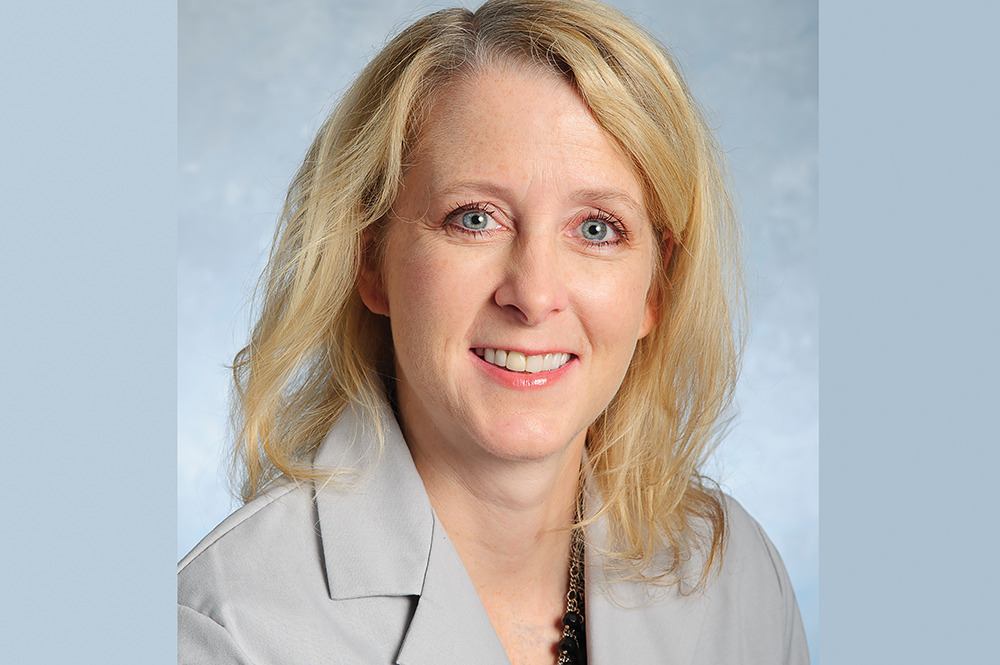 Elizabeth Pieroth is the first to point out that she is not gifted athletically. Growing up, her family nicknamed her "Grace" because of her lack of that quality in sports. But when it comes to protecting an athlete's most important body part—the head—Pieroth is the go-to person for many athletic programs around the country, including major professional teams.
Today, Pieroth (BS, '88, psychology) is the concussion specialist for the Chicago Blackhawks, Bears, White Sox, and the Chicago Fire soccer team. She is a board-certified neuropsychologist and associate director of the sports concussion program in the NorthShore University HealthSystem, as well as a member of the Brain Injury Association of Illinois Board of Directors and the USA Football Heads Up National Advisory Committee. She also recently won the Excellence in Safety Award from USA Hockey for an educational program she developed.
Now, Pieroth can add another honor to the list—a 2016 LAS Alumni Achievement Award.
Although not an athlete herself, Pieroth said she always loved sports growing up in Chicago Ridge, Illinois.
"It's hard to live around Chicago and not love sports," she said.
She came from a football house, because her brother played the sport and her father was a referee for more than 30 years. Today, she lives in a hockey house, because her husband still plays, and both of her sons play hockey. (The oldest son also plays football.)
When Pieroth came to the University of Illinois in 1984, she was like a lot of other undergrads and wasn't sure what she wanted to do. She wound up majoring in psychology because, as she said, "I knew I wanted to work in healthcare in some capacity."
Then she found out about the doctor of psychology degree, "and it was a perfect fit, a combination of medicine and psychology," she said. "It finally clicked for me."
As part of her PsyD degree at the Illinois School of Professional Psychology in Rolling Meadows, Illinois, she did a residency at the Schwab Rehabilitation Hospital and Care Network in Chicago, working on the brain injury unit. There, she had her first exposure to sports-related concussions, although most of her patients had more severe brain injuries.
Her residency was followed by a fellowship at the Henry Ford Hospital in Detroit, where her supervisor, Mark Lovell, was a concussion specialist. She arrived at the hospital in 1997, which also happened to be the first year of the National Hockey League's concussion program.
Through Lovell, she started doing concussion work with the Detroit Red Wings, administering a baseline cognitive test to every single player on the hockey team. If a player wound up being concussed, Pieroth and Lovell would retest him.
According to Pieroth, the NHL was way ahead of its time in 1997 because the issue of concussions wasn't the headline-grabber it is today.
"In 1997, it was the opposite of today," she says. "We were begging people to pay attention to athletes' heads. But many people said we're making something out of nothing."
After her fellowship, Pieroth returned to the Schwab Rehabilitation Hospital, where she went back to doing work with patients who have severe brain injuries. But she also began to see more and more concussion patients because not many doctors did this kind of work at the time.
Soon, concussion patients became such a big part of her job that she went into private practice and primarily worked on concussions. In 2004, she became the concussion specialist for the Bears, followed by the Blackhawks in 2005, and the White Sox and Chicago Fire in 2011.  She also consults with many high school and small college athletics programs, and she served as the concussion specialist for Northwestern University from 2010 to 2014. (Good news: She remained an Illini fan, even during her Northwestern years.)
In 2012, she left her private practice to join NorthShore, where she now sees patients throughout the Chicago area.
"But the part I'm most passionate about is education," she said.
A concussion is a brain injury that occurs at the cellular level, Pieroth explained. No definitive test can determine whether a person has a concussion or not, so doctors rely on symptoms. The most common symptom is a headache, with about 85 percent of concussed people reporting one.
However, she cautioned that people often get headaches when they hit their head, even if it's not a concussion. Therefore, Pieroth looks for other symptoms, such as dizziness, fatigue, and mental fogginess. Some patients also have nausea or sensitivity to light and noise.
Concussion awareness is so high today that she often has to calm the fears of parents who might be waking their child every half hour during the night. She says if parents are going to do that, they might as well take the child to the emergency room and have a CT scan done to rule out a more severe injury. The reason for keeping someone awake is that a person with a head injury might later feel symptoms of a more severe problem, such as bleeding on the brain. If the patient is asleep, he or she might not notice the new symptoms.
Pieroth's educational efforts answer the most common myths about concussions, such as that they always lead to unconsciousness (only about 10 percent do), and that patients must have complete cognitive rest.
"Patients who are told to do nothing usually show an increase in symptoms because they just sit around and think about their symptoms," she said. "Research has shown that prolonged rest is not curative, and encouraging the appropriate return to both physical and cognitive activity aids recovery."
Pieroth teaches these lessons for the Heads Up program, a health and safety program sponsored by the USA Football Advisory Committee. She also is on the U.S. Soccer Concussion Task Force and supported its recent policy changes. The task force recommended no heading of the ball in practice for players under 10 years old and limited heading for ages 10 to 14.
Pieroth is especially proud about creating "A Step aHead," a joint education program with the Chicago Blackhawks, Athletico, the Amateur Hockey Association of Illinois, and NorthShore. This program offers baseline neurocognitive testing to hockey players, and they emphasize education to the hockey community on many topics, including safe checking, equipment safety, and more.
In the meantime, her two young boys continue to play many sports because she says the fear of concussions should not keep any child from being active.
"We have an obesity problem in this country, and we need kids to be physically active," she said. "For many kids, the only way they get regular exercise is through sports. So we need to be determining how to make these sports safer. Not only football, but all sports."