LAS alumni award winners announced
Seven recipients to be honored later this fall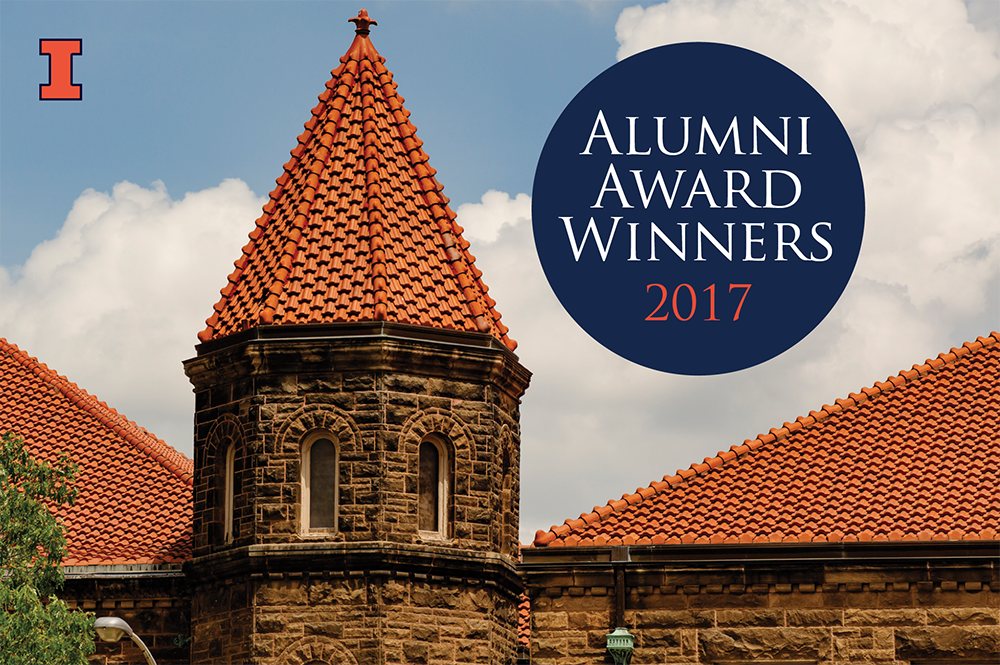 The College of Liberal Arts & Sciences has announced seven recipients of its 2017 annual alumni awards. The awardees represent several different fields of study and have remarkable accomplishments that are linked to their experiences and connections at the University of Illinois.
Summaries of the award recipients are below. Several will be honored during Homecoming celebrations in October, with the winners of the Outstanding Young Alumni Awards being honored at earlier dates. More detailed stories about the recipients will be posted later.
Ifeoluwa (Luvvie) Ajayi (BS,'06, psychology) is a recipient of the LAS Outstanding Young Alumni Award.  Through her blog, Awesomely Luvvie, and her first book, "I'm Judging You: The Do-Better Manual," Ajayi has emerged as a highly prominent pop culture commentator, with more than 10,000 visitors to her site on any given day,  180,000 likes on the Awesomely Luvvie Facebook page, 30,000 followers on Instagram, and 60,000 followers on Twitter. She co-founded The Red Pump Project with another Illinois alumna to increase HIV/AIDS awareness.
David Boger (MS, '64; PhD,'66; chemical engineering) is a recipient of the LAS Alumni Achievement Award. He is currently a world-renowned expert in rheology and professor of chemical engineering at Monash University in Melbourne, Australia, where he has also held several positions at the University of Melbourne. He is best known for the development of "Boger Fluids," which behave both like solids and liquids depending on how stress is applied to the fluid. He was elected to the National Academy of Engineering earlier this year.
Nancy Greenwalt (BA, '89, speech communication) is a recipient of the LAS Alumni Humanitarian Award. She currently serves as executive director for Promise Healthcare, also known as the Frances Nelson Community Health Center, which assures access to medical services for thousands of men, women, and children. Greenwalt manages health and dental clinics for the organization and also helps raise money for operations. Prior to this work she worked for Community Shares of Illinois, which linked employers and employees to charities.
Donald Johanson (BA,'66, anthropology) is a recipient of the LAS Alumni Achievement Award. He currently serves as the director of the Institute of Human Origins, which he founded in Berkeley, California, in 1981, as well as a professor and Virginia M. Ullman Chair in Human Origins in the College of Liberal Arts and Sciences at Arizona State University. Johanson is known for his discovery of "Lucy," a 3.18 million-year-old female hominid skeleton in Ethiopia. It led to Johanson's extensive contributions to public outreach and research in the field of paleoanthropology.
Wayne Koonce (BA,'71, geography) is a recipient of the Dean's Quadrangle Award. He serves as the president of Koonce & Company, LLC. The company includes a real estate merchant banking division and property development operation that contributes and collaborates with mixed-use properties throughout the world. In 2009, he and his wife, Harriet Hentges, announced a $10 million deferred gift to establish the Wayne Koonce Endowment for Liberal Arts and Sciences at Illinois, to promote academic excellence.
Morgan McClain-McKinney Limo (BA, '09; MA, '11; political science) is a recipient of the LAS Outstanding Young Alumni Award. She serves as the program advisor for the United States Agency for International Development (USAID), where she was awarded the USAID Meritorious Honor for Support to President Obama's Power Africa Initiative. Her savvy diplomatic skills and ability to cultivate relationships have made her a leader in working with entrepreneurs in the United States and Africa to increase opportunities for trade, investment, and creating market opportunities for the world's poorest populations.
Michael Sofia (PhD, '84, chemistry) is a recipient of the LAS Alumni Achievement Award. He serves as the chief scientific officer for the company he founded in 2012, OnCore Biopharma, now Arbutus Biopharma, Inc. Earlier in his career, he joined a small startup biotech firm, Pharmasset, where he led efforts to produce Sofosbuvir, the first drug to cure Hepatitis C. He founded Arbutus Biopharma to combat Hepatitis B, and Arbutus Biopharma is now considered a leading drug discovery and development company in the fight against the disease.
The LAS alumni awards were launched as early as 1987. Read about past recipients here.