Doctoral student selected as Health Policy Research Scholar
Arrianna Planey is the first to represent geography in prestigious nationwide program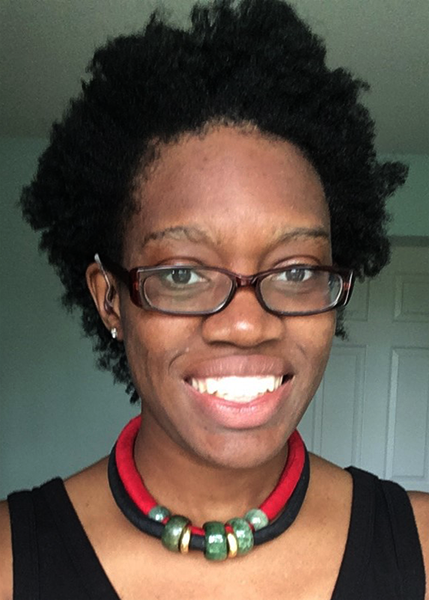 Arrianna Planey, a doctoral student in the
Department of Geography and Geographic Information Science
, has been selected as a
Health Policy Research Scholar
. This leadership development program, established by the
Robert Wood Johnson Foundation
, connects a cohort of forty PhD students from around the United States who specialize in healthcare policy research.
The Health Policy Research Scholars
2017 cohort
includes students from diverse fields such as biochemistry, economics, nursing, and public health. Planey, who is the only Scholar from the state of Illinois, is also the first scholar representing a geography graduate program, and her research shows the vital importance of mapping healthcare issues.
The scholarship will primarily support Planey's dissertation research, which uses mixed methods to examine how healthcare policy influences providers' location decisions across the United States, thus affecting healthcare service availability to consumers. By coupling statistical and spatial analytical methods with mapping the spatial distribution of audiologists, and state-by-state policies on insurance coverage, she illustrates overall patterns and inequities in healthcare.
"If fewer people are insured, then fewer people can afford a doctor. Geography enables us to study health policy and understand the spatial component of these outcomes, to bring us closer to actionable solutions. Geographers' ability to engage the sociopolitical characteristics of "place" enable us to communicate across knowledge gaps," said Planey.
Planey's initial research has found that audiologists tend to locate their practices in densely populated, higher-income metropolitan areas. She has also found that Medicaid covers hearing services in just over half of U.S. states. These spatial and economic factors work against hearing-impaired individuals in rural and/or lower income communities.
Participants in the Health Policy Research Scholars program will have access to professional coaching and networking resources, and participate in leadership sessions focused on the effective sharing of their academic research to policymakers and healthcare consumers.
Planey has a strong social science background, with a bachelor's degree in history from University of California-Berkeley, and an master's degree in political science from the University of Chicago. Her shift to geography and geographic information science has provided new, visually rich ways to conceptualize, and communicate her work.
"My research interests have always addressed sociopolitical phenomena experienced by mobile populations in and across space. Between migrants, stateless communities, and resettled refugees, I was always thinking about space and place. As a geographer, I have tools in my methodological toolkit that allow me to ask bigger questions than I would otherwise."
"I hope that my research can reach decision-makers in health policy. The core message is that how we define and classify health--e.g. treating the body as a collection of parts of differential importance--has major implications for healthcare accessibility and health outcomes for people," said Planey.
News Source
Matt Cohn, Department of Geography and Geographic Information Science