CS + Astronomy major analyzes the physics of college baseball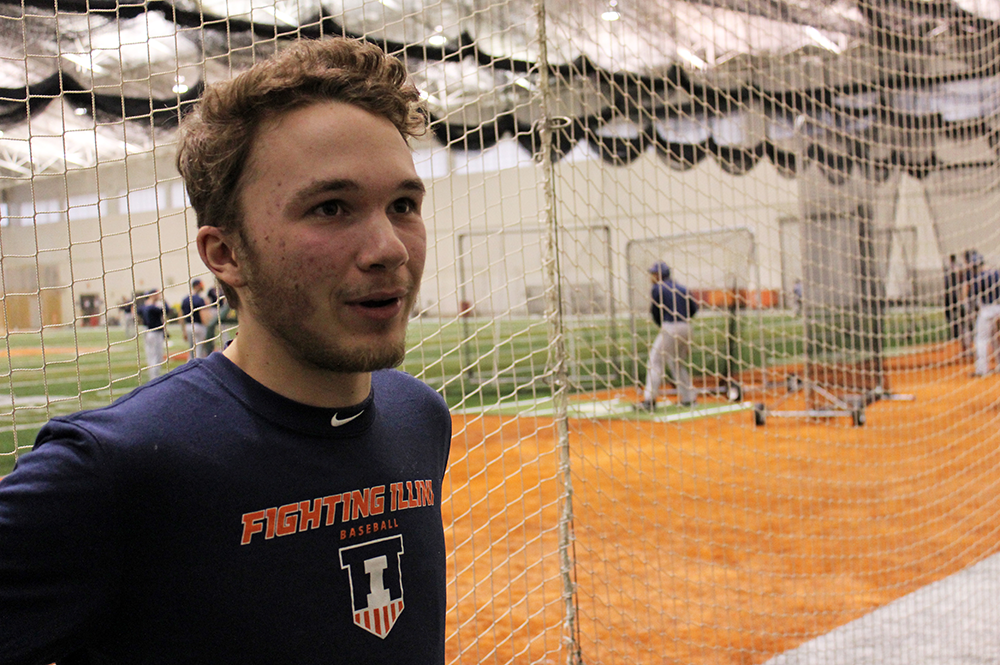 Charlie Young sits about 30 feet behind home plate at a University of Illinois baseball preseason practice. He shares the space with a spindly piece of technology, known as a FlightScope, which gathers data about every pitch, swing of a bat, and batted ball and sends it to the tablet in his hand.
Young is a sophomore CS + Astronomy major, but on the south side of campus he's putting his computational skill to work on something else: baseball. It turns out that computer science and aspects of astrophysics—exit velocity, launch angle, carry distance, spin rate, etc.—can also tell a lot about America's pastime.
He's running the Fighting Illini's new analytics program, applying the data-gathering and sorting now familiar in Major League Baseball to what is still the mostly unexplored terrain of college baseball.
For Young, the position pays in only academic credit. But it's also giving baseball a prominent role in his life that the Cubs fan thought ended after he stopped playing in high school. And it's provided Young with a new career plan.
"I originally thought I was going to go to astrophysics grad school and work with CS like that, but coming in to work with the Fighting Illini baseball team, I definitely know that I now want to do data analytics for a Major League Baseball team full time," said Young, who is from Naperville.
His plan is more than a dream.
He spent last summer working under contract with the Cincinnati Reds – teams tend to keep the details of their analytics programs quiet and he can't say much about what he did – and he'll spend this summer with the Baltimore Orioles.
He's also presented at an analytics conference and worked with University of Illinois professor emeritus of physics Alan Nathan, who is widely known for his research on the physics of baseball. His advisor, astronomy professor Brian Fields, has been very supportive of Young's pursuit of a career in baseball, Young said.
After all, analyzing the trajectories of baseballs is not a total deviation from what Young came to school for. Young said he chose astronomy not only because he enjoyed math and physics, but because of the exciting prospect of making discoveries. Ironically, he discovered that he could explore in baseball, too.
"As I became more involved with baseball, I can see that that original wonder for the unknown has transitioned perfectly into the field of baseball analytics," Young said. "With new types of tracking being tested and tried out every year, the odds of a new metric becoming available greatly increase. I think, just like how quickly astronomy is progressing, baseball is progressing in terms of technology and analytical methods, and that's what drives me."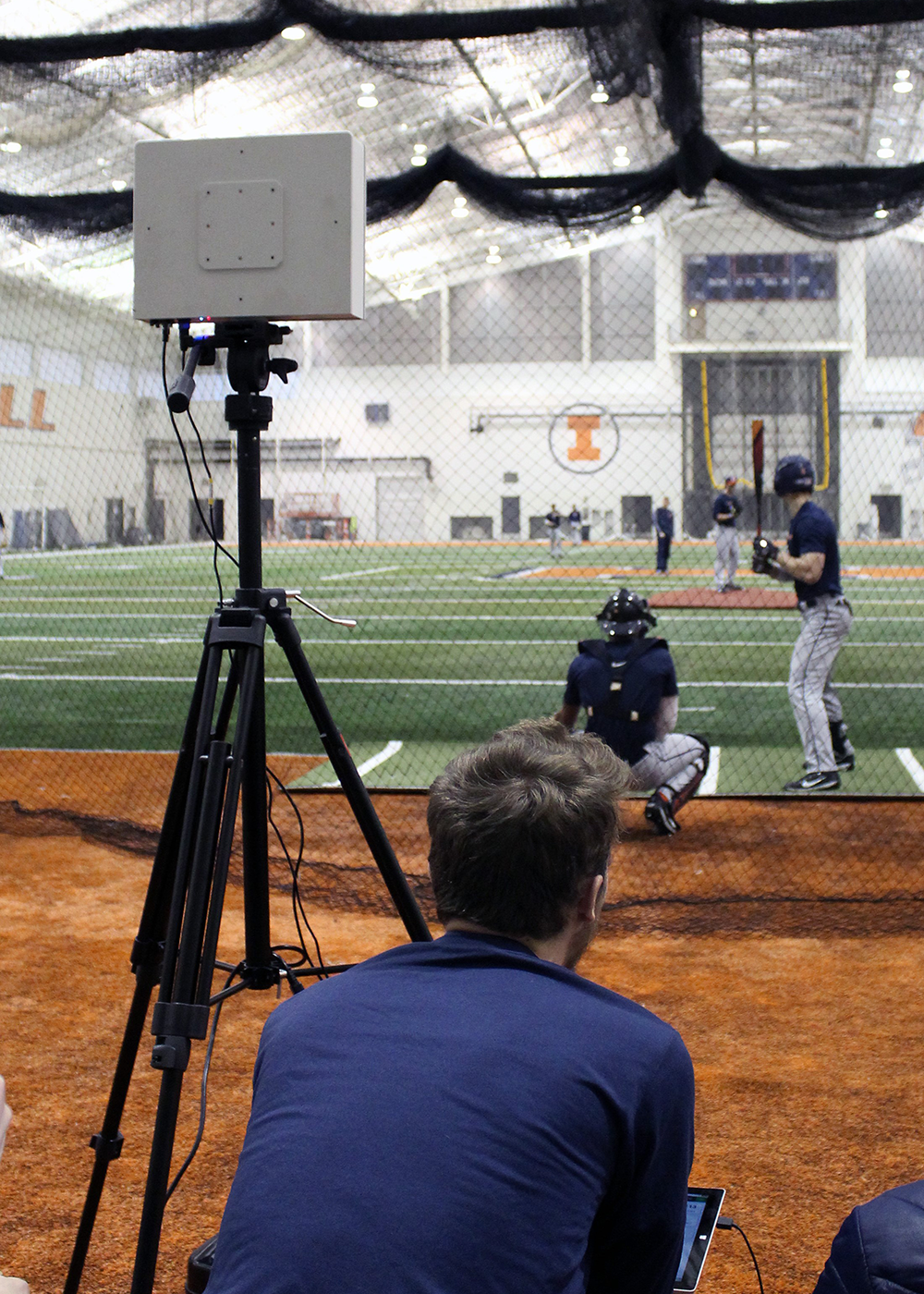 That said, his wasn't the only open mind required to make the connection between astronomy, CS, and baseballs. Professor Nathan, Young says, introduced him to Illini hitting coach Adam Christ, and Young took it from there, making his own unlikely pitch to head coach Dan Hartleb.
After listening to his staff urge for a while that the team should make use of data, Hartleb said yes to Young's longshot idea. And the longtime Illini coach gives Young a lot of credit for taking a leap of faith that many young students might be afraid to take.
"He sold himself," Hartleb said. "We talked about the technology a little bit, what we were going to get. He's been out every single day volunteering his time, comes in with a great attitude. He's just been awesome."
Young started with an app he built as his project for his CS 126 class that allowed him or someone else to manually enter data on each pitch and swing of the bat. That information would then be uploaded and parsed.
But the addition of FlightScope increases the possibilities.
The portable device stands on a tripod and uses Doppler radar technology to track baseballs, providing positions, speeds, and angles of pitched and batted balls.
A number of Major League teams as well as a handful of college baseball and softball teams use the same tracking devices. The company also makes products for golf, tennis and other sports.
But where Major League teams gather data over many years and can watch the development of their own players over long periods, the relatively short four-year stay of college players will likely limit some of what Illini baseball can do with its data, Hartleb said.
There are also limits to what data can be gathered on opponents' tendencies and applied. Major League teams face opponents a number of times over a 162-game season. Big Ten teams will only see conference opponents a few times each year.
What Hartleb really wants to see from Young's work is a full year of data, particularly spin rates – how quickly a baseball spins when a pitcher throws it, a key factor in determining how it curves or breaks – and how hard each batter can hit the ball, known as exit velocity.
"I'm really excited to see players and how they improve from year to year – if spin rates change, if exit velocities change. When we get players in as freshmen, they're usually not as physically strong and mentally developed as our older players and you can see those physical changes," Hartleb said.
During a recent indoor practice, Young watched the data being displayed on the tablet as it was gathered. Batters occasionally checked in to see what they could learn about their swings and their teammates'.
"A few have called me Analytics as my nickname, like 'Hey Analytics,'" Young said. "I totally embrace that. I think it's awesome."
His data is also playing a role in the competitive back and forth that's common to practice.
"One time there was a competition to see who could have the highest exit velocity, how hard it is off the bat," Young said. "There were these two guys that were asking me, 'Hey, what was this?'"
Young has also put his computational skills to work to present the data to the coaches and players and the most useful ways.
"I incorporate it into a MySQL database and I built a website using PHP and Python, and HTML," he said. "I built another website using Shiny R to communicate to the coaches basically what our data is and how it can help our team."
When Young came to Illinois, he was among the first few dozen majors in CS + Astronomy, one of the growing group of CS + X degrees that blend computer science with other disciplines. He wondered if he would be treated differently from students focusing strictly on computer science.
"But when I got here, I instantly knew that it was an entirely welcoming community of people," he said. "I have exactly the same opportunities as all the other engineering majors. The CS + X program really gives me an opportunity to explore the liberal arts side of my education… This kind of dual degree was exactly what I wanted coming in to college. The end goal will be a solid technical background, and a great ability to communicate ideas effectively and efficiently."
In a couple of years he'll venture into another unknown. Though analytics is now a staple of Major League Baseball, the backgrounds of those who work in the field are anything but set.
"Some of them played baseball in college and then maybe got their master's. Other ones have PhDs in psychology and applied that to baseball," Young said. "So I've asked – what is it like trying to go to MLB without a master's degree, without a PhD? And no one really knows yet."
The move will require another leap of faith, one that Young says his parents are behind.
"I didn't know I was going to be doing this, they didn't know that I was going to be doing this. But when I said, "Hey, I'm working for the team, I want to work for a Major League team,' they were like, 'We'll support you 100 percent.'"
News Source
David Mercer, CS @ Illinois, and Taylor Hoffman