Illinois alumnus appointed to direct China's central bank
Yi Gang received graduate degrees in economics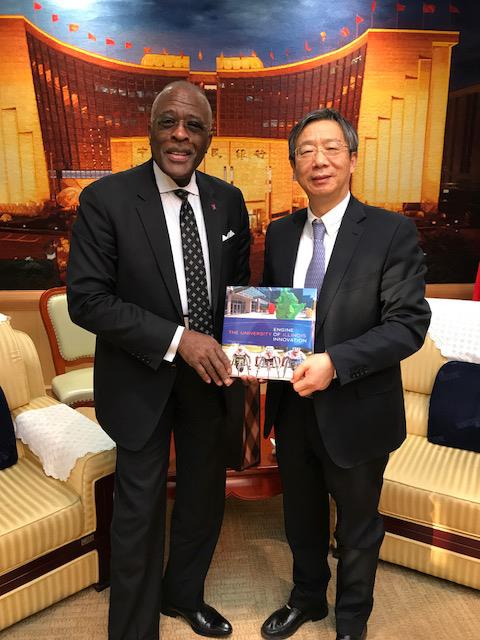 An alumnus from the University of Illinois has been named the next governor of China's central bank, where he is expected to continue ambitious reforms to control China's debt while maintaining the country's economic growth.
The National People's Congress voted this week to approve Yi Gang (MS, '84; PhD, '86; economics) to lead the People's Bank of China, where he has been a deputy governor since 2008. He succeeds Zhou Xiaochuan, who led the bank for more than 15 years.  
"The main task is that we should implement prudent monetary policy, push forward the reform and opening-up of the financial sector, and maintain the stability of the entire financial sector," Yi told reporters Monday at the Great Hall of the People in Beijing following his appointment, according to Bloomberg News.
The New York Times reported that Yi is one of the rare Chinese officials to reach a top rank after spending considerable time overseas. After earning his degrees at Illinois, Yi taught economics from 1986 to 1994 at Indiana University in Indianapolis, where he became known as a leading expert on China's monetary and financial sectors.  He joined the People's Bank of China in 1997.
At Illinois, Yi served as a teaching assistant in economics statistics courses and was also a research assistant. His dissertation was titled Stein Estimation and Model Selection.
George Judge, professor emeritus of economics who served as Yi's dissertation chair, remains in touch with his former student and said that Yi is an intelligent and highly motivated person.
"He has an inquisitive mind and he is not afraid to take on new, hard problems," Judge said. "His training in the quantitative areas of economics is excellent and his computer skills are exceptional."
Feng Sheng Hu, the Harry E. Preble Dean of the College of Liberal Arts & Sciences, said the college is proud to be affiliated with Yi.
"Dr. Yi's new appointment is inspiring," Hu said. "He will be making decisions that have global implications. His career is a testament to the power of an education in economics at Illinois, and also to the university's ability to create world leaders."
Gies College of Business Dean Jeffrey R. Brown said that the quality of education Yi received will guide him well as he faces managing China's monetary policy at this critical time.
"We have thousands of talented alumni in China and look forward to continuing to train some of that country's finest minds through our Master Science in Accountancy (MAS) and Master of Science in Finance (MSF) programs, as well as our undergraduate and PhD programs," Brown said.
The Department of Economics and Gies College of Business contributed to this report.