Rebecca Darr leads the largest domestic violence program in Illinois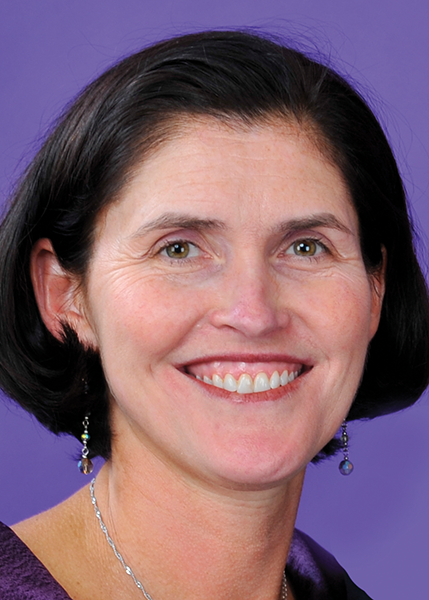 It was Valentine's Day, 2005, and for the first time since she could remember, Sarah was safe. Sarah had taken her two young boys and fled an abusive relationship, becoming one of the first people to find shelter in a new WINGS safe house in the Chicago suburb of Rolling Meadows.
"Sarah told me that Valentine's Day, on the day you expect love the most, was the day when she got hurt the worst," said Rebecca Snyders Darr, an LAS alumna (BS, '90, psychology) who directs WINGS (Women In Need Growing Stronger), the largest network of domestic abuse shelters in Illinois. Darr led the effort to build the Rolling Meadows safe house in 2005, as well as another safe house in Chicago in 2013, not to mention several transitional homes and apartments for women, men, and children escaping domestic violence.
Since Darr began as executive director of WINGS in 1999, the organization has expanded its staff from eight people to 80, and it has grown its assets from $600,000 to $22 million. Most importantly, she said, WINGS has helped thousands of abuse victims, earning her the 2018 LAS Humanitarian Award.
Darr grew up in Alton, Illinois, where she said, "I always knew I wanted to be in the helping profession. It was something instinctual." It was also modeled by her mother and grandmother. "I grew up watching my grandma take care of everybody in a small town and my mother giving the coat off her back to someone in need."
In fact, Darr was so empathetic as a child that she once tried to rescue a bee drowning in her Kool-Aid when she was five years old. She got stung instead. At age 13, she learned another lesson in empathy when the family's house burned down, and she discovered what it's like to depend on the help of others.
"We're all in this together," she said.
Darr majored in psychology at Illinois, where she was in the honors program, doing research on factors affecting mood. She also got hands-on experience at the Cunningham Children's Home in Urbana, where she worked in the boys' group home. These experiences convinced her she would much rather work with people than on research.
After finishing her bachelor's degree in 1990, she took a job at Cunningham Children's Home for two years. She also married her high school sweetheart, Joe Darr (BS, '90; MS, '92; mechanical engineering) a U of I alumnus who is on the Bronze Tablet.
The young couple moved to San Jose, California, where Darr received her master's degree in clinical psychology from John F. Kennedy University. She also put in 3,000 internship hours, working primarily with children in various programs. For instance, she counseled kids at a school for first-through-twelfth-graders who had been kicked out of every alternative school in Silicon Valley.
Despite all of her experience, when Darr and her husband moved back to Illinois in 1998, she sent out about 200 resumes and didn't get a single response. Her break finally came when she met Rita Meyer Canning, a member of the WINGS Board of Directors who also happened to be a fellow Illinois alumna.
"I told Rita I had a master's in clinical psychology and a lot of experience working with children," Darr said. "And then she looks me very intently and asks, 'But what do you know about building domestic violence centers?' I replied, 'Nothing. I don't build things. I'm a psychologist."
Darr soon had to learn how to build things when she was given the job of executive director of WINGS and immediately began constructing a shelter in Schaumburg. WINGS also began raising money for the new 15,000-square-foot safe house in Rolling Meadows, but they faced intense opposition from many in the neighborhood. People living nearby were concerned about safety should an abuser track down a spouse or partner, even though the property immediately surrounding the shelter was actually commercial. Darr even received death threats from people opposed, and she had to be escorted from meetings by police.
"We started out with 105 angry people, but at the end of the zoning process, a year and a half later, I had only five people still against me," she said. It worked out beautifully, and they've never had a complaint—"not a peep," she said.
In 2013, Chicago received $1.8 million in a lawsuit against a strip club for back taxes, and Mayor Rahm Emanuel decided to use it for a new domestic violence shelter. The result was a 23,000-square-foot WINGS safe house with 40 emergency beds, three two-bedroom apartments, and retail space where they will open a resale store.
"We generate about 25 percent of our gross revenue from our resale stores," she said.
Darr also notes that there is quite a U of I presence within WINGS because her board president and chief financial officer are both Illinois alumni.
"U of I grads are doing a lot to save the world in Chicago," she said.
The organization has a wide wingspan, providing counseling, a hotline, training for hospital staff on handling abuse victims, and a mentoring program. Darr hopes to create similar mentoring networks in other cities, where WINGS can link people who have gone through the same struggles.
WINGS has an impressive success rate, because 94 percent of those in their safe houses do not return to the abuser. And when people go through their longer program, the success rate is 100 percent.
Darr also dreams of someday building "Nicole's House" in Los Angeles. She first met Denise Brown, the sister of O.J. Simpson's slain wife, Nicole Brown Simpson, when Denise spoke in San Francisco. They have started to make plans for the shelter.
Although she is a builder, Darr said she is still a psychologist. She uses her degree "every single day" because she continually connects with the people who are funding, constructing, or living in the shelters.
One of those connections is Sarah, who is now free of her abuser. The abuser passed away, but Sarah still lives with past trauma. One way she copes with memories of her Valentine's Day abuse is by delivering flowers to other women each year.
Project Shelter Cupid started small, with Sarah buying a dozen roses for 10 women in her safe house. Darr helped her build up her project and raise funds from sources such as the Chicago Bears. This year, Darr asked to drive the van as Sarah delivered 150 dozen roses to women at five different shelters.
As they made their rounds, Darr recalled, she saw a woman "walk up to Sarah and ask, 'Who are those roses for?' Sarah exclaims, 'They're for you!' And the woman bursts into tears and said, 'For me?' The woman hugged Sarah, saying, 'No one has ever done something so nice for me.'
"Sarah responded, 'We just want you to feel loved on Valentine's Day."  Rebecca Darr wants everyone to feel loved every day.