The history of a sportswriter
Brad Evans explains how he became a famous sports analyst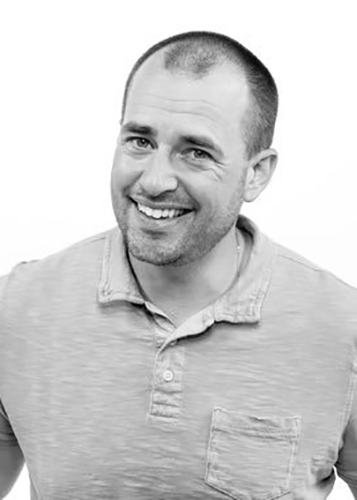 What was Brad Evans, aka "The Big Noise" on Yahoo! Sports, doing prior to becoming a must-read analyst for fantasy football and college basketball fans? He was a history teacher in Champaign, Illinois. Read on to learn how majoring in history and teaching students about the Battle of Tippecanoe helped Evans become one of the most recognized and award-winning personalities in the field of sportswriting.  
Degree: BA, '01, history
Family: My wife and fellow Illinois grad, Danielle (BA, '01, philosophy; MS, '03, library and information science), and our two awesome sons Zane and Rowan.
What's a typical day on the job for you?
"Atypical" best sums up my line of work. As a fantasy football, college basketball, and sports wagering analyst, tasks vary from season to season. A normal fall day involves combing through various NFL information channels—reading player notes, dissecting advanced stats, and crunching game tape. And that's just the prep work. Outside of research, podcasts and television/webcast video sessions are outlined and executed. Social media conversation is also a constant. Suffice it to say, every day brings unique challenges and unpredictable twists. It's what makes the gig so enjoyable.
What was your first job?
Speaking as a history/secondary education product, my training at Illinois scored me a teaching job at the Ready Program in Champaign. Before transitioning to sports writing full time, I taught at-risk high school students U.S. History, American Government, Psychology and Introductory Meteorology. Undoubtedly, my time as an educator was a rollercoaster ride, but I wouldn't trade the experience for anything in the world. Alternative students, like any youth, deserve quality education. It was a thrill to impart the knowledge gained at Illinois on my classroom. Watching kids grow and mature mentally was very rewarding.
How did you go from teaching to sports writing?
The road traveled to my current position was rather circuitous. During my fourth year in teaching, in 2005, I began writing fantasy football and baseball articles pro bono for a fledgling website called TalentedMrRoto.com, a venture launched by Matthew Berry who now is the senior fantasy voice at ESPN. The site, featuring a menagerie of quality scribes many who went on to achieve great success elsewhere, exploded. In 2006, Yahoo approached me about becoming one of their full-time fantasy mouthpieces and college basketball analysts. Fueled by my passion for sports, I jumped at the opportunity. Close to 13 years later, Yahoo, for some strange reason, continues to deposit funds into my bank account.
How did college and your studies in history prepare you for your career?
The learning environment and diversity at Illinois fired synapses. Interactions with people from all walks of life opened my mind to new perspectives. Additionally, the rigorous curriculum forced me to organize thoughts cogently, analyze information with pinpoint focus, enhanced curiosities and triggered an insatiable desire to uncover the truth. As a history/secondary education student, I learned to organize thoughts clearly while presenting information creatively. After all, the best lecturers are usually the best entertainers. They're well-prepared and enthusiastic in their presentation. Gleaning insights from professor deliveries along with the knowledge gained influenced me greatly. Whether teaching students about the Battle of Tippecanoe or fantasy players about the virtues of value-based drafting, I realized "info-tainment" was the key to success. Illinois unlocked that approach.
What's your proudest achievement?
In 2017, the Fantasy Sports Writers Association inducted me into the organization's Hall of Fame. For a fantasy writer, it's the industry pinnacle. It was an honor to be recognized by my colleagues. Close second, calling former Illini running back and then New Orleans Saint Pierre Thomas a breakout candidate before he took the NFL, and fantasy leagues, by storm Week 12 of 2007. Honorable mention, securing syndication for "The Fantasy Football Hour," a television show available in over 90 million homes coast-to-coast on regional sports networks I created, co-produce, write and co-star on.
Any additional comments?
I still get chills watching Illinois' historic come-from-behind victory over Arizona in the Elite Eight of the 2005 NCAA Tournament.