Multiplying the potential for mathematics
Association for Women in Mathematics at Illinois is awarded for outreach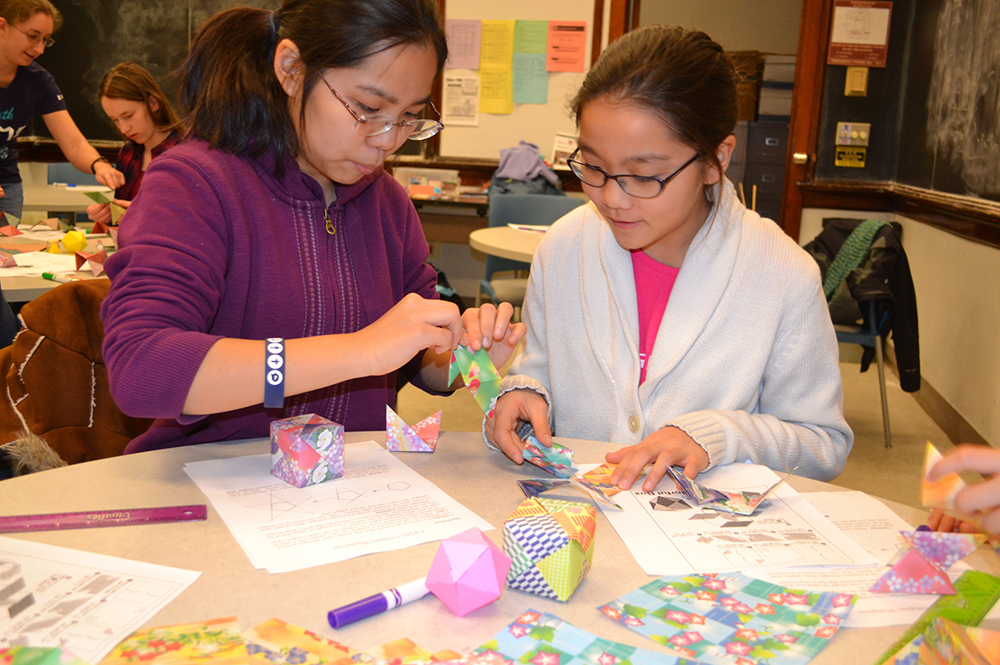 Genna Roth, a high school sophomore, dreams of following the career path of her favorite director, Wes Anderson, and weaving together math and art to create films.
Two thousand miles away from the sound stages and shooting scripts in Hollywood, however, she knows the odds are against her. Only eight percent of directors are women, and she feels that even some of her high school math and science teachers don't expect the same brilliance out of her as they do from the boys in her class.
"They push that idea that more men have to be in math and science," Roth said. "People expect girls to do cutesy, creative things while they expect guys to do more intense studying. I never understood why."
But Roth found a niche at the U of I's Association for Women in Mathematics, a graduate student-led organization that teaches complex mathematical concepts to middle and high school girls and gives the extra effort sometimes required to get young females established in the field.
They've done a good job of it—so good that the organization's outreach to girls through Girls Engaged in Math and Science (GEMS) workshops and Sonia Math Day, both led by female math graduate students, won the U of I chapter the 2018 AWM Student Chapter Award for Community Outreach.
During the GEMS workshops, conducted for a few hours each weekend for a month, AWM members introduced middle school girls to college-level math through hands-on activities themed around mathematical concepts present in art. During Sonia Math Day, eighth through 12th grade girls are led through a day of math activities themed around topics like knot theory, math in magic, and combinatorics, and graph theory.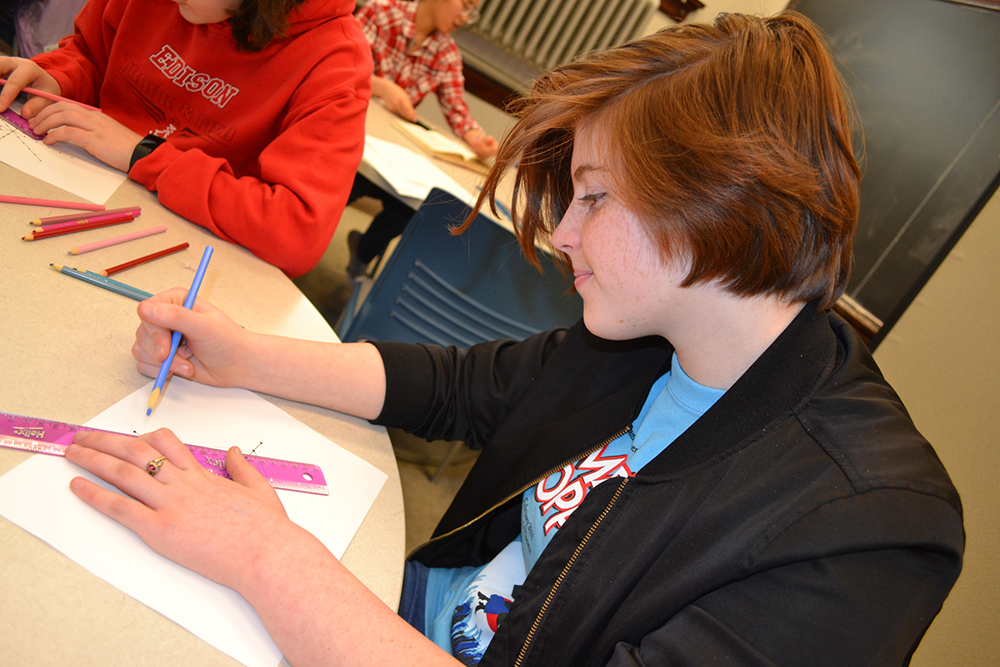 Roth, who attended the GEMS workshop, was particularly proud of how she used mathematical principles to make origami, a craft she laughingly confessed she had no talent for. One of the elaborate 24-sided deltahedron, a three-dimensional mathematical shape, Roth constructed out of floral patterned origami paper rests on a display shelf at her aunt's home.
Emily Shinkle, math graduate student and president of the U of I chapter of AWM (despite her position, she said she is not a spokeswoman for the nationwide organization), hopes her organization's outreach events to local middle and high schools will change the way girls like Roth see themselves fitting into male-dominated fields like mathematics.
"When people imagine a mathematician, they probably imagine a 70-year-old man. If you don't see people who look like you doing things like math, you start to think that it's not for people like you," Shinkle, said. "I think it's really important to bring girls to campus to see the math building, to see female mathematicians, see black mathematicians, Latina mathematicians, to see people who look like them."
She added: "We can talk about interesting math topics that don't come up until college math courses but in a way that these girls could understand and they were able to go home and explain it to their family."
All of AWM's outreach events are organized and led by math graduate students, who balance outreach work with a demanding academic schedule.
"We have some grad students who work really tirelessly to get things done," Shinkle said. "We have a tradition of doing really good outreach and we're really fortunate that we have enough participation and support from the department and other grad students that we're able to pull all these things off."
Dana Neidinger, outreach committee chair for AWM at U of I, said that she got interested in mathematics when she was a teenager and she realized that the subject was about more than just formulas to solve in class. It's also inherently creative and a lot of other things many people don't normally associate with numbers, she said.
"What I'm trying to do (in AWM) is get them at the middle and high school age," Neidinger said. "The girls can build their confidence and say, 'Wow, this is great, I'm good at math and this is fun.'"
On top of outreach to middle and high school girls, AWM hosts two seminar series, including one where graduate students share their research, and Teaching and Diversity Seminar aimed toward creating discussion about teaching and diversity in mathematics. A recent seminar featuring Nicole Joseph, an African American professor of mathematics education at Vanderbilt University, focused on black women in math. One session ran nearly an hour longer than it was supposed to, with students staying behind to continue discussing what could be done to improve the experience of black women in math.
It's clear that the large volume of effort devoted to younger females in mathematics is adding up to something special. Roth said that GEMS helped her realize how attainable careers in math and science—and film—can be.
"I feel like in those male-dominated fields, GEMS showed me that through perseverance, you can get those jobs," she said.