New Conrad Humanities Scholars pursuing a variety of research subjects
Six professors in the humanities selected for award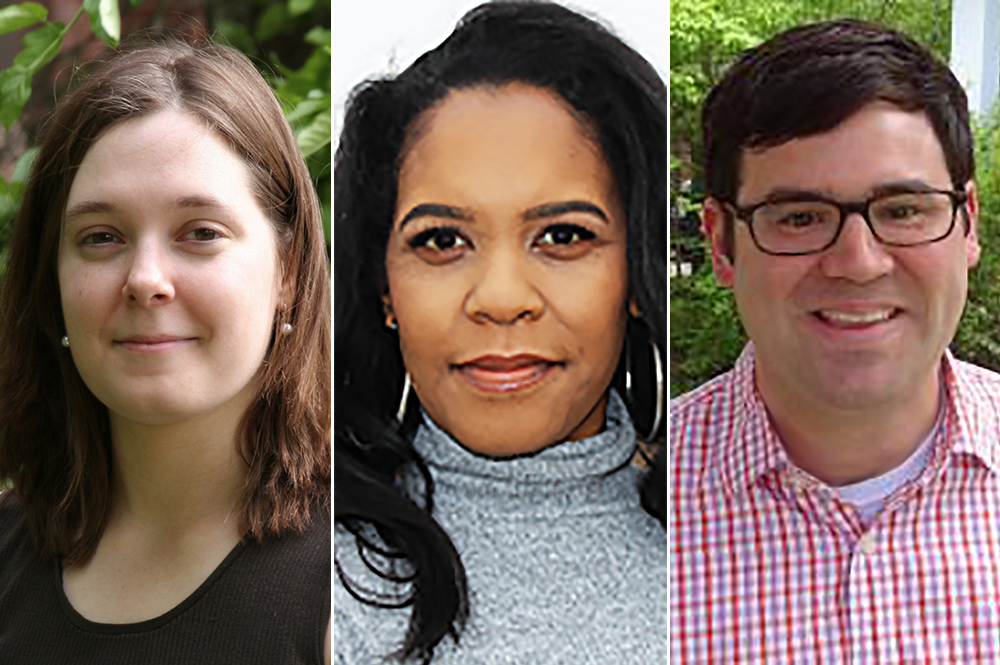 Six professors from the College of Liberal Arts & Sciences have been named Conrad Humanities Scholars. They are taking advantage of the new designation to pursue a variety of projects, from studying second language acquisition and black girlhood to researching immigration politics.
The Conrad Humanities Scholar awards are funded by a gift from the late Arlys Conrad, whose estate gift shared by the College of LAS and the College of Agricultural, Consumer and Environmental Sciences is intended to assist and retain promising mid-career faculty.
Melissa Bowles, professor of Spanish and Portuguese, Ruth Nicole Brown, professor of gender and women's studies, Eric Calderwood, professor of comparative and world literature, Josue David Cisneros, professor of communication, Jessica Greenberg, professor of anthropology, and Anke Pinkert, professor of Germanic languages and literatures, will receive $5,000 a year until the academic year of 2022-2023.
Read on for profiles of their work at Illinois.
Melissa Bowles
Melissa Bowles' interest in language began as a young child. Though her own parents only spoke English, her introduction to Spanish from Cuban American family friends sparked a lifelong pursuit of the language.
In graduate school, Bowles, a professor of Spanish and Portuguese, specialized in instructed second language acquisition, with a focus on how adolescents and adults acquire a new language in a classroom setting. This is an environment most people can relate to, since students very often study a foreign language, such as Spanish or French, in high school or college.
It wasn't until she arrived at Illinois in 2005 to teach Spanish, however, that she noticed that it wasn't just English-speaking adults taking the Spanish class, but another group of learners: the children of Spanish-speaking families in America. She has subsequently developed a primary research interest in understanding how the two types of learners respond to instruction, as well as their similarities and differences.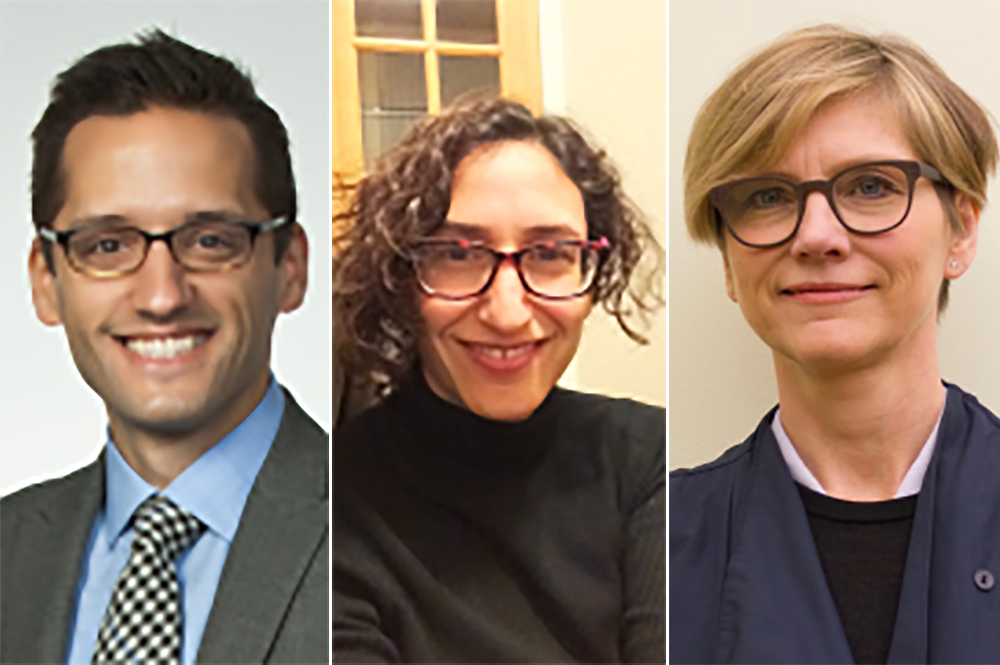 Currently, Bowles is finishing her book "Instructed Heritage Language Acquisition," (Oxford Press), which examines the effects of heritage language instruction. In it, Bowles explores how heritage languages, or the minority languages that are spoken at home rather than the dominant language outside the home, develop and change. She also examines the effects of receiving instruction on the heritage language whether one is an adult or a young child.
Bowles said there's evidence that providing instruction in a minority language not only helps students maintain and develop their home language skills and cultural connections; it also allows for similar or better learning outcomes in the learning and expression of English and other academic subjects. It backs up years of research identifying the cognitive benefits of bilingualism, she said.
She will use the grant money as a Conrad Humanities Scholar to recruit research participants, as well as to travel to national and international conferences.
"It really was an honor to find out I was one of the Conrad Humanities Scholars," Bowles said. "It shows a real commitment on the part of LAS to humanities research. It's a wonderful thing."
Ruth Nicole Brown
Ruth Nicole Brown has devoted her career to what she calls "engaged scholarship" with black girls to create new worlds with, ask questions of, and celebrate black girlhood.
The professor of gender and women's studies remains active on campus, in the surrounding Urbana-Champaign area, and across the United States co-organizing spaces dedicated to humanistic inquiry, the documentation of black girlhood culture, and collective knowledge production about the myriad ways social and political conditions shape and are shaped by black girls.
Brown's most recent book, titled, "Hear Our Truths: The Creative Potential of Black Girlhood," documents the pedagogy of creating spaces where black girls can come together and be who they want to be, she said
In fact, the book is a closer look into Brown's involvement in the Saving our Lives Hear Our Truths (SOLHOT) program, a collective she began in Champaign in 2006. Brown said the Conrad Humanities Scholarship will help her sustain working with local girls to practice freedom and enact social change.
Brown will also continue to work on other projects, such as her current  digital humanities project, Black Girl Nature, that examines the relationship between black girlhood and the outdoors. The project maps black girls' contemplative thought in relation to Anthropocene—the period of time when human activity has impacted Earth's environment—and environmental justice.
Sound, video, images, and text will be utilized to shape the final product that will culminate in an accessible book and interactive exhibit.
"I hope to continue co-organizing SOLHOT and Black Girl Genius Week while also developing a thriving on-campus space devoted to public scholarship and social justice," Brown said. "Illinois leadership is thinking intentionally about ways to make the arts and the humanities more visible, and as a Conrad scholar, I want to be a part of those conversations and do what I can to amplify and advocate for critically and creatively engaged work that makes this world more livable for us all."
Eric Calderwood
As a professor of comparative and world literature, Eric Calderwood defines his field as the study of people, and how people study cultural difference over time. Now, with the help of the Conrad Humanities Scholarship, he will be able to travel to help finish his current book project that examines the cultural memory of al-Andalus (medieval Muslim Iberia).  
Specifically, Calderwood is examining Al-Andalus, the Arabic name for the parts of the Iberian Peninsula that were under Muslim rule from 711 to 1492.
"The book will be about how that past has been used to talk about politics in the present. Many political and cultural projects have appropriated that moment in history and used it to very different ends," Calderwood said. "This period of history has become a symbol of Palestine, Muslim and Arab feminism, and Christian and Muslim tolerance— projects and traditions that we don't usually associate with each other."
Each chapter of the book will present a theme, including chapters on al-Andalus and feminism, al-Andalus and Palestine, al-Andalus and music, and many other topics. While the book will be written for a scholarly audience, Calderwood said there are other important implications for his research.
"The relationship between past and present has relevance and transferability to people in a lot of places," Calderwood said. "There's also an ethical urgency to teach—in a sensitive, curious and open way—the long historical relationship between Europe and the Muslim world given our current political realities."
Josue David Cisneros
Thinking about intercultural communication began pretty early on for Josue David Cisneros, a professor of communication. Raised in a community of Latinx immigrants, and paired with his fostered interests in politics, persuasion and rhetoric, has allowed Cisneros to view the topic of immigration uniquely.
While discussions surrounding immigration often center around political leaders and media, Cisneros is working on a book that combines his interests and digs deeper into the issue in entirety. Cisneros will look at 10-15 years of immigration politics in the U.S. to understand the ways immigrant rights activists make claims, make demands, and fight against restrictive policies.
"I'm hoping to explore strategies, pros and cons, and strengths and weaknesses of these movements, and learn about the best ways ordinary citizens and non-citizens use communication to make their voices heard," Cisneros said. "It's important to get some perspective from the point of view of folks who might not always have their perspective in the conversation."
The book, which will be finished next year, will include interviews with these grassroots leaders as well as Cisneros' own analysis of different immigrant rights movements
"I'm really honored to be recognized, mostly because of the history of the award and the fact that LAS is such a huge and varied college," Cisneros said. "I'd like to thank the Conrad family. I'm grateful they're still supporting faculty in their research and activities."
Jessica Greenberg
As a professor of anthropology, Jessica Greenberg's research has focused on democracy, postsocialism, and youth activism in the Balkans. She has been committed to her field since her days as an undergraduate student.
"I fell in love with anthropology when I was in college. What drew me to it was the idea you could have one foot in what was familiar, and one foot in a place that was totally different. That perspective means you are always learning something new about both place."
More recently, Greenberg has been busy conducting interviews and ethnographic research at the European Court of Human Rights, in Strasbourg, France. The court is considered one of the biggest and most successful international human rights courts and has jurisdiction over 47 Council of Europe countries.
It's there that she explores the ideas of justice and democracy, an interest resulting from her first book, "After the Revolution: Youth, Democracy and the Politics of Disappointment in Serbia," which tells the story of how student activists manage the transition from protest to engagement in democratic institutions after Serbia's October 2000 electoral revolution. Her interest in international legal institutions and human rights came out of her experiences working with social movements in the Balkans during that time period.
"One of the things I'm finding is that these institutions are the sight of tremendous hope. In a time of rising populism and rising nationalism, and immigration crisis, people are turning to these institutions with tremendous idealism," Greenberg said. "But when you talk to people on the ground, there's also a great deal of frustration at how slow and imperfect the engagement can be. That juxtaposition of hope and frustration in the process of social change has always been interesting to me."
Greenberg is working on a book that she hopes will reach broader audiences of people interested in human rights policy and practice. She will use the grant to support her projects and travel, though she'd like to eventually host events on campus to talk about human rights, rule of law, and democracy.
Anke Pinkert
Anke Pinkert saw the collapse of Eastern European socialism as a young adult living in East Berlin 30 years ago. Ever since, she has sought to understand how seemingly sudden historical changes occur.
"Most of my research has dealt with public memory, especially in the aftermath of a historical catastrophe or a large-scale structural, political, and economic shift," said Pinkert, a professor of Germanic languages and literatures.
Currently, Pinkert is working on a monograph that combines these interests in social transformation and public memory. In "Remembering 1989," Pinkert examines the massive unrest in the streets of East Germany which led to the fall of the Berlin Wall.
"We think of memory as something that refers to the past. For example, we will be looking back and commemorate the 30th anniversary of the fall of the Berlin Wall next year. In my book I hope to show how we can track unfulfilled impulses of past revolutionary events and mobilize them for the future," Pinkert said.
Though 1989 was almost 30 years ago, Pinkert sees a strong relationship between that event and today's world.
"We live in polarizing, if not catastrophic times. People have fixed ideas of how society could be changed," Pinkert said. "1989 and 1990 was such an exciting time in (East) German history, because, for a fleeting moment—12 months—everything was up for grabs. Most people who marched in the streets wanted neither a capitalist or socialist order. Left to their own devices, they gathered and formed provisional, horizontal relations with one another, just showing up in schools, parks, factories, and neighborhood clubs to figure out a new vibrant political ecology."
Pinkert plans to use the grant money to attend national and international conferences in the area of memory studies, community activism, and new directions in the humanities. She also hopes to train and mentor graduate students in research methods and archival work.
"This provides an excellent context for the students, to enter the field, and for us to think through their emerging research projects and questions," she said.