Research competition showcases graduate student talent
Cutting edge ideas presented in three minutes or less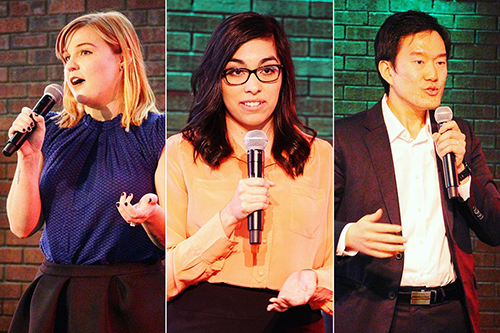 Three minutes or less. In the time it takes for your favorite song to play, University of Illinois graduate students recently showcased their remarkable research to a panel of judges at the fourth annual Research Live! competition at Illinois.  
This year, five graduate students in LAS participated in the competition — Hope Holland (psychology), Belinda Pacheco Johnson (chemistry), Collin Kaufman (neuroscience), Junghwan Kim (geography and geographic information science), and Whitney Sinclair (chemical and biomolecular engineering).
Their presentations gave insight into some of the most interesting projects occurring on campus. Here is what the LAS students are working on:
Hope Holland
Hope Holland's research surrounds everyday gender-based violence that impacts people both mentally and physically.
Holland presented a project she is working on with psychology professor Nicole Allen to examine street harassment—cat-calling in particular. Holland's research also describes these experiences through an intersectional framework by analyzing the ways that race, class, gender, ability status, and sexual orientation impact gender-based violence.
"One of the most striking things to come out of data analysis is that 100 percent of the over 400 women in the sample experienced some form of public gender harassment in their life," Holland said.
Holland uses the metaphor of a paper cut to describe cat-calling. At the time, a single paper cut might hurt but seems like no big deal; however, multiple paper cuts day after day becomes much more significant.
"I wanted to participate (in Research Live!) as a challenge to describe my research in a succinct, linear way. I also wanted to get more experience presenting research to a lay audience, as I'm interested in making sure that research doesn't stay siloed in one isolated discipline," Holland said.
Belinda Pacheco Johnson
Last year, Belinda Pacheco Johnson and her co-workers published a paper detailing their observation that the hottest temperatures in an experimental explosion were caused by the compression of product gases. Johnson's experiments were the first time this phenomenon was observed.
The research revolved around probing the first few nanoseconds a shockwave travels in an explosion. Johnson is learning about the mechanisms that lead to detonation. Her findings will eventually help make explosive devices more predictable.
"This, is most relevant to addressing critical needs for national security, especially when it comes to making explosives safer and predicting their behavior," Johnson said.
Johnson said that her main goal at Research Live! was to make what is a highly technical field seem readily accessible.
"It is challenging to be concise, especially as a scientist, so I think it is a great opportunity to exercise these 'muscles' that I don't get to use that often," Johnson said.
Collin Kaufman
Collin Kaufman was originally encouraged to participate in Research Live! by his friends, Elizabeth Davis and Payel Kund, who both won in the past.
Kaufman developed a versatile platform which can be used in a variety of ways from developmental biology to motile (single celled organisms capable of motion) biological robots with sensors to explore hard-to-reach environments.
In research that's never been conducted, Kaufman was able to successfully remove the spinal cord from a rat and grow it on an artificial platform where it not only survives, but thrives. Using these spinal cord implants, Kaufman has been able to successfully create newly innervated muscles which contract spontaneously.
His research is significant for investigating neurodegenerative diseases.
"This has never been done before and has me very excited to continue this and similar work," Kaufman said.
Junghwan Kim
Junghwan Kim is interested in improving transportation accessibility. He hopes that his research will help planners and policy-makers improve how people move, and he is also interested in how transportation affects people's health and well-being.
Using factors such as the frequency of public transit services and the number of possible routes between two points, Kim developed a way of measuring the overall quality of public transportation.
"The significant discovery made by my research is that disregarding numerous factors such as frequency of services and the number of possible routes may affect transit service quality," Kim said.
Disregarding these factors leads to erroneous assessments of the actual transit service quality that citizens experience, he found.
Since completing his master's thesis last May, Kim has strived to showcase his work with the university community as much as he can.
"I always enjoy sharing my idea and research with others," Kim said. "I can learn a lot from feedback from people which is an invaluable thing."
Whitney Sinclair
Whitney Sinclair is interested in mimicking the dynamic movement of the lung. After receiving a grant from the National Science Foundation, she was encouraged to participate in this year's Research Live! competition to help improve her scientific communication skills.
Sinclair has been able to fabricate a microfluidic platform that replicates the native environment within the lung.
"It is my vision that this platform can be used to identify effective patient-centered drug treatments," Sinclair said.
At Research Live!, she described the dynamic behavior of the lung, discussed traditional methods used to study the lung, and introduced her platform for how to improve these methods.
"I can talk about my research all day, but three minutes (creates) room for error and requires efficient communication," she said.