Short stories on a big topic
Professor's first book addresses contemporary lives of black Americans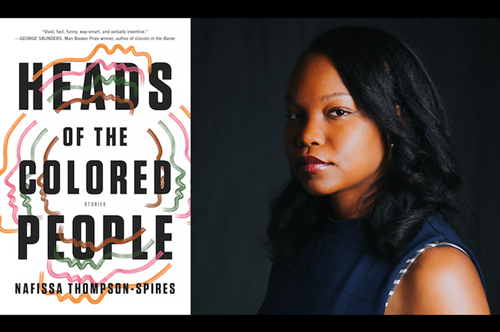 When author Nafissa Thompson-Spires was growing up, she read historical fiction about black families in America, but she really wanted stories about contemporary living that she could relate to.
"I didn't have people burning crosses on my lawn or calling me (a racist slur), but I experienced a lot of terrible microaggressions. I wanted to see black people alive and coping with those things, especially with being one of the only ones in white spaces," said Thompson-Spires, a University of Illinois English professor.
In her first book, "Heads of the Colored People," published by Simon & Schuster, Thompson-Spires fills that gap she found between historical fiction and stories about cool, urban culture. Her collection of short stories, filled with "misfits, nerds and weirdos," was on the longlist for the 2018 National Book Award and was a finalist for the 2018 Kirkus Prize.
"There are no cool black people in my collection. Nobody in my collection is cool or urban," she said. "There are all these subcultures of nerdiness that I thought would be worth thinking about, worth putting on the page, that I hadn't seen anybody thinking about, especially not from the standpoint of black nerdiness."
Her characters are black, and they are also dealing with chronic illness, disability and police brutality. They are cosplayers and, in a semi-autobiographical story, they are the only two black girls in their grade, with their mothers feuding via notes passed back and forth in the girls' backpacks.
Thompson-Spires has been promoting the book, appearing on "Late Night with Seth Meyers" in late October, interviewed by The New York Times, and appearing at events such as the Miami Book Fair.
She was inspired by a book written by the 19th century abolitionist James McCune Smith.
"His sketches were so timely, even now. A lot of things haven't changed, and that was something that seemed especially relevant to me. And his work was so funny," Thompson-Spires said. "There are some really macabre stories in his work, some really melancholy ones. Those are the tones I wanted to hit myself."
Her collection uses humor to tell stories with some grim subject matter. Thompson-Spires describes herself as a failed standup comedian who in elementary school told bad jokes recycled from TV sitcoms.
"I think I use comedy to disarm people and readers, as a sort of method for dealing with life in general. I wasn't expecting to write any serious stories," she said.
Thompson-Spires loves TV, especially sitcoms and "trashy" shows like "Paternity Court" and "Beverly Hills 90210," and Canadian TV shows that don't resolve the situation and end with its characters still in peril. She's been told her stories feel like TV shows.
"I didn't set out for that to happen, but I think something of the televisual has crept into my writing style and I'm happy about that. I think it's cool," she said.
All the stories have an element of humor except for the last story in the collection, "Wash Clean the Bones," about the despair of a young mother who supports herself by singing at funerals, often of young black boys who have been shot.
"A lot of the stories deal with police brutality and the vulnerability of black bodies. Those are not topics I thought I would write about," she said.
One of her characters is a cosplayer obsessed with Japanese anime and manga who is gunned down by a police officer. Thompson-Spires struggled with how to write about violence against black people "without creating more violence porn. I didn't want to be graphic, adding to the exploitation, but I also wanted to point to larger issues of violence.
"I think all my stories are trying to wrestle with the idea of what it means to be black today and to have the full rights of citizenship but still have those rights suppressed by police violence, voter suppression, all the ways we're being told black bodies don't matter," Thompson-Spires said. "James McCune Smith didn't say 'Black Lives Matter,' but he was still articulating that sentiment. Not just that they matter, but they are necessary for this nation to progress."
"Heads of the Colored People" will be available in paperback in January.
News Source
Jodi Heckel, Illinois News Bureau