Alumnus DJ Paoni describes how he became president of a tech company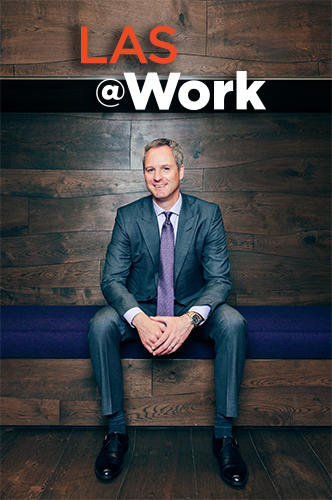 Telemarketing isn't for everyone, but it was a great place to start for Chicago resident DJ Paoni (BA, '93, speech communication), who used what he learned in college and on the job to connect with people and eventually become president of SAP North America, a software company.  
Degree: BA, '93, speech communication
Residence: Chicago
Occupation: President, SAP North America
Family: Wife, Susie, and two children, Anna and Ben.
What's a typical day like in your job?
I would say that no day is ever the same. For any business, and for SAP in particular, the people in your workforce and your customers will always be your chief driving factors. As such, I'm focused on making sure we're doing everything and anything to make SAP the undisputed employer of choice in North America, and around the world. I'm also focused on making sure that we are best serving our more than 160,000 customers in North America as they evolve to become best-run businesses. What's perhaps most exciting about my role is that technology is helping customers tackle some of the world's biggest issues. For example, we're working closely with the public sector to leverage data analytics to help tackle the current opioid epidemic in our country. It's amazing to see the power of technology and the positive impact it can have on the world around us.
What was your first job out of college?
I was a telemarketing rep! Cold calling is a unique skill that helped me hone my sales skills, but what I craved was a deeper, more personal relationship with my customers. From this role, I learned two important lessons: that I loved sales, but, more importantly, that what I love most about sales is the process of building trusted relationships with people, and earning the right to help them solve their challenges.
How did you land a job at SAP?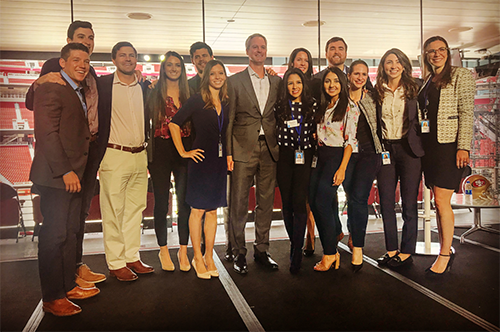 Getting the position was a pleasant surprise. At the time, SAP, like many other companies, was primarily focused on hiring people who carried many years of experience. The company wasn't looking at bringing recent college graduates with limited professional experience like me into its workforce. The company decided to take a chance on a few people with junior-level experience, including myself, and I'd say it paid off! Things have changed a lot at SAP since I first joined. We're very focused on hiring young and eager talent. The SAP Academy is a great example of this, as is SAP's Early College High School Initiative, which introduces students as early as high school to opportunities in STEM. We're not only introducing younger generations to the excitement of the technology field, we're also doing this to help address the growing tech talent gap that is prevalent today.
What about college best prepared you for your career?
The College of LAS helped me develop soft skills that are so critical for sales, and, really, that are critical for any profession today. Sometimes there's a misperception that liberal arts degrees don't seem directly applicable to the workplace today, but if you think about it, a doctor needs to earn the trust of a patient that they're the best person to perform a procedure; a lawyer needs to sell a jury in support of their client. In my role, I need to empathize with my customers about their challenges and earn the right to be their technology partner of choice. Nearly every job today requires effective communication, creative thinking, and problem-solving skills that a liberal arts education can provide. 
More specifically, as a speech communication major, I've been able to apply the skills I honed in college to be an effective presenter—which has served me both early in my career when I would present to customers, and today as a business leader where I have the fortune of speaking to thousands of employees, customers, and partners at events around the world.