Staff and academic professionals recognized by the College of LAS
Six individuals will be honored in March for their work efforts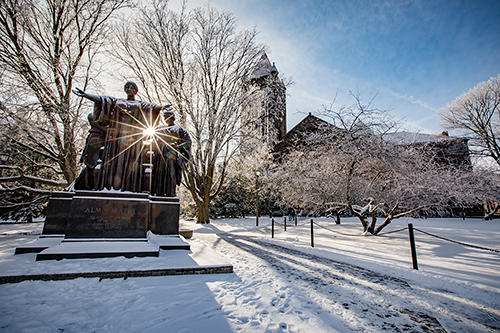 Six staff and academic professionals are being recognized for their particularly noteworthy efforts in advancing the mission of the College of Liberal Arts & Sciences in 2018-19.
Jenny Cox, Brad Petersen, and Jack Thomas have been selected by an awards committee to receive the LAS Academic Professional Award. The recognition comes with a $1,000 award, a $1,000 salary increment, and a commemorative plaque.
Sarah Challand, Kimberly Leigh, and Christine Lyke have been selected to receive an LAS Staff Award. The recognition comes with a $2,000 award and a commemorative plaque.
All six awardees will be honored at a ceremony in March.
"We're fortunate to have this year's awardees working in the College of LAS," said Feng Sheng Hu, the Harry E. Preble Dean of the College of LAS. "They are hard-working, thoughtful, and enthusiastic partners to work with, and they are excellent role models for all of us." 
Summaries of the winners follow:
Sarah Challand is an accounting associate for the Department of Psychology where she works closely with departmental faculty and staff. She works with the Grants and Contracts Office and Campus Research Board to oversee accounts, finances, and policies. Challand was instrumental in leading the department transition from an outdated database system to an updated one, and she also took the lead in establishing an electric filing system. Challand's colleagues recognize her excellence, initiative, and creativity, while noting that her personality and positive attitude enhances the image of the department.
Jenny Cox is the assistant director for finance and administration in the Department of Chemistry, where she handles financial and administrative tasks.  She works closely with the associate head of budget and operations to develop and implement sound financial policies and procedures, and her colleagues praise her talent, attention to detail, and comprehensive knowledge of her duties.  Since joining the department in 2006, she has become known for reliability and professionalism in personal interactions, organization, and other work skills.  
Kimberly Leigh is an administrative aide for the Department of Entomology, where she supports the department head, assists in the oversight of the School of Integrative Biology graduate programs, and helps with operational tasks for the department. For much of her tenure, Leigh has served as the graduate school contact while maintaining the duties of head secretary. Often the first person to greet visitors, Leigh is praised for making meaningful connections with faculty, staff, and students, and for efficiently finding solutions when problems arise. 
Christine Lyke is an administrative aide for the Department of Asian American Studies. Colleagues describe her as indispensable as she runs operations in a positive and creative manner. Lyke ensures smooth transitions in the face of turnover, and she attends voluntary workshops on everything from Photoshop to transgender ally training. She coordinates the Department of Asian American Studies' regular lecture series, and she also has roles in advising, providing administrative support, and redesigning the department website.
Brad Petersen is the executive director of Office of Communications and Marketing in the College of LAS, where his efforts have led to more comprehensive and sustained efforts in supporting fundraising and student recruitment. Petersen is also commended for leading efforts to better publicize the college's excellent reputation as well as improving communication between departments and other units within LAS. According to colleagues, his professionalism, strong leadership, and desire to listen and learn have made him an invaluable asset to LAS.
Jack Thomas serves Spurlock Museum as an information technology specialist. Thomas manages the museum's website, databases, archives, and all of the technology hardware. Since coming to Spurlock in 2002, he has built a brand-new modern website, produced many videos, and supported 26 temporary exhibits by providing technical resources. Colleagues commend Thomas for his long list of work achievements as well as his mentorship and collaboration efforts.