Taking bird research to new heights
Mark Hauber broadens our understanding of the avian world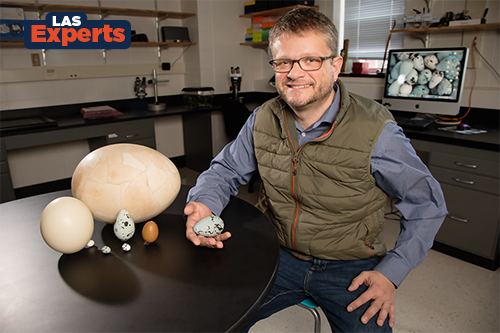 You could say that Mark E. Hauber is interested in birds—if you think it's also enough to say that Red Grange was a decent athlete or that the water is a little cool off Iceland. Hauber has written almost 250 peer-reviewed articles about birds and has served as the editor-in-chief of The Auk: Ornithological Advances, associate editor of Behavioral Ecology and Sociology, Marine Biology, and Emu: Austral Ornithology.
He is a former editor of both Ethology and Behavioral Ecology and a fellow of the American Ornithological society, and he has authored "The Book of Eggs," a life-size guide to the eggs of 600 species of birds. He uses behavioral, developmental, physiological, and molecular tools to study the social and genetic consequences of species, with one recent, widely shared study demonstrating how the unique conical shape of thick-billed murre eggs prevented them from rolling out of nests (and off rock cliffs).  
"I love birds and always wanted to be a scientist and study birds, and I knew I had to come to Illinois, because the technology that I was interested in was created here," said Hauber, during the ceremony distinguishing him as the Harley Jones Van Cleave Professor of Host-Parasite Interactions in the Department of Animal Biology and the School of Integrative Biology.
He took a moment to describe his research and career to us in his own words:
What is your area of expertise?
Ornithology, behavioral ecology, neuroethology, and animal behavior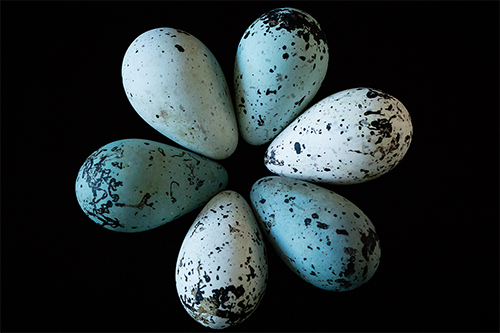 What are you currently researching?
Currently we are studying how to build a brood parasite: what are the genes, proteins, brain areas, calls, and behaviors that make a brood parasitic bird not to build a nest and incubate its own eggs but sneak them into nests of other birds and let the young parasite be raised by a different species.
What is the impact of your work?
We are becoming more integrative (spanning genetics, neurobiology, and behavior with evolutionary analyses) and more quantitative (using complex statistical models and big data) to answer our questions than what we were doing 25 years ago. These are two changes that can be superbly accommodated on the Illinois campus here amongst our colleagues, departments, and research institutes.
What do you enjoy most about teaching?
I enjoy teaching about birds. I'm the instructor for the School of Integrative Biology's ornithology course, which is truly a career dream come true.
What is your proudest achievement?
All my PhD students have graduated with peer-reviewed papers already published as part of their PhDs—which makes their applications for and transitions to the next career stage all the easier and more productive.
Editor's note: This LAS Experts profile is part of a series to highlight the groundbreaking work by faculty in the College of LAS. Visit here for other profiles.