Lincoln Scholars graduate with big plans and optimism
LAS students reach commencement through hard work and help from Lincoln Scholars Initiative scholarships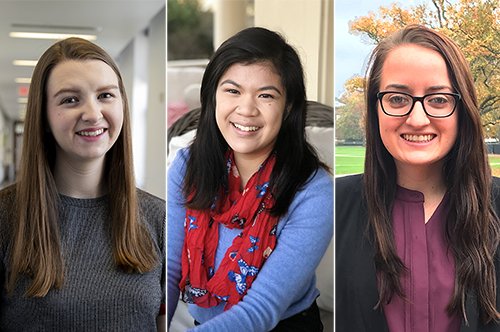 Ten students in the College of LAS graduated this May with help from the Lincoln Scholars Initiative, making them the fourth class of LAS students who have earned a degree with support from the scholarship program.
Formed in 2012 to support promising LAS students from the state of Illinois with financial needs, the ongoing Lincoln Scholars Initiative had its first graduates during the 2015-2016 school year.
This year's graduating seniors include Nadya Grooms, psychology; Alexandra Gruelich, English; Nissa Heman, sociology and political science; Hannah Holmes, chemical and biomolecular engineering; Heather Holmes, molecular and cellular biology; Kierra Jacobs, molecular and cellular biology; Rudy Juarez, chemical and biomolecular engineering; Alex Paez, chemical and biomolecular engineering; Ciara Thomas, psychology; and April Wendling, Earth, society, and environmental sustainability and geography and geographic information science.
In all, more than 90 LAS students have graduated or are currently enrolled at Illinois with help from the initiative. The average unmet need to attend Illinois is about $20,200 over four years, and a Lincoln Scholars Initiative scholarship covers nearly all of this expense.
Read about this year's graduates below.
Alexandra Greulich
Alexandra Greulich majored in English with a minor in business. Currently, she is applying to the Columbia Publishing Course for summer and fall of 2019 and will also be applying for publishing jobs in Chicago.
Greulich said that obtaining the Lincoln Scholarship helped her to pursue a lot of interests outside of school without having to worry about the burden of tuition fees.
"With that freedom and time, I've been able to further my degree by partaking in the honors program in English as well as adding a business minor to my studies," Greulich said.
Greulich recalls many significant experiences outside of the classroom during her time at the University of Illinois. She works at the Office of Admissions, The Daily Illini, and she even had the opportunity to be part of a startup for using nuclear energy.
"In all of these, and the environment Illinois provides to make students feel like home, I've been able to make connections, friends, and experiences that I only hope others will be able to have when they come to this university," Greulich said.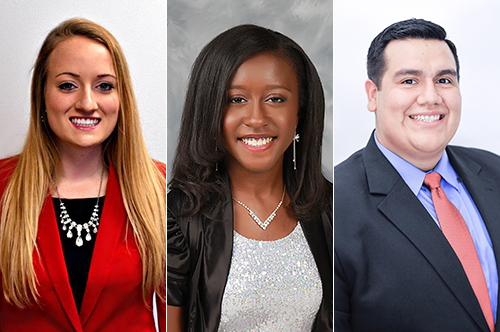 Nissa Heman
Nissa Heman double-majored in sociology and political science. Heman is pursuing a graduate degree in social policy to continue her studies in social inequality while gaining new skills in policy analysis. Heman said she hopes one day to research policy advancement or work for a charitable nonprofit organization.
Heman noted that the Lincoln Scholarship consistently eased the financial burden of her college education.
"Between the Lincoln Scholarship's aid and the help of other scholarships, I will be graduating debt-free," Heman said, prior to commencement.
Heman said that her most notable experiences at the University of Illinois came from the people that she met here. Her colleagues and peers oftentimes pushed her to try new things.
"The busy and competitive nature of campus forced me to 'put myself out there' to access the social and professional opportunities I wanted to pursue," Heman said, "and I consider myself more outgoing and confident because of that experience."
Hannah Holmes
Hannah Holmes majored in chemical and biomolecular engineering, and she came to Illinois with her twin sister, Heather Holmes. Hannah has plans to will be enter a PhD program for chemical engineering.
Hannah said having the Lincoln Scholarship allowed her to fully engage in extracurricular activities and undergraduate research rather than being impeded by the financial burden of college.
"Being able to participate in research as an undergraduate has been both my favorite and the most influential part of college at the University of Illinois," Hannah said. "I have absolutely loved my time spent in research labs, and I would not be the person I am today without those experiences."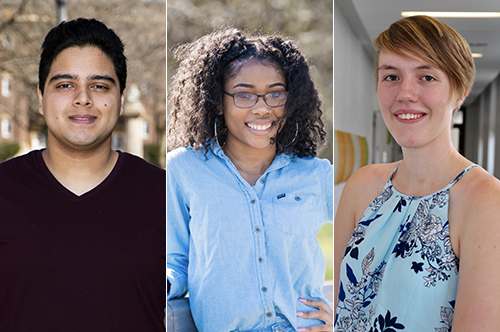 Heather Holmes
Heather Holmes came to Illinois with her twin sister and fellow Lincoln Scholar, Hannah. Heather graduated with a degree in molecular and cellular biology with plans to continue her education in the physician assistant program at Rosalind Franklin University of Medicine and Science.
Heather noted that she and her sister come from a very small and rural town where fewer than 30 percent of graduating high school students go to college.
"The Lincoln scholarship has given me the opportunity to not only beat these odds and obtain a degree, but to dream past this and truly make the most of my time at the University of Illinois," Heather said.
She also noted that the professors at the university made a significant impact on her experience .
"Even with busy schedules, they make themselves available to their students and put in an effort to get to know their students individually. This has not only made me feel welcomed, but is one of the primary reasons the University of Illinois quickly became my home," Heather said.
Kierra Jacobs
Kierra graduated with a degree in molecular and cellular biology with interests in applied health, particularly in a laboratory setting. She hopes to become employed at a hospital. 
Jacobs said the Lincoln Scholarship contributed greatly to the quality of her undergraduate experience.
"Because of the Lincoln scholarship, I have been able to invest more energy into academics and extracurricular activities and less energy into stressing about how my schooling will be paid for," she said, prior to commencement.
Jacobs said that being on a large campus allowed her to meet many incredible people and develop lasting relationships.
"Many of my for-life friendships started in an organization called InterVaristy, a Christian fellowship that reached out to me one of my first days on campus," Jacobs said. "These friends were always there for me whether I needed spiritual advice or just wanted to stay up until the wee hours of the night talking about miscellaneous things."
Rudy Juarez
Rudy Juarez finished his chemical  and biomolecular engineering courses in Fall 2018 and is currently working as a process engineer at ExxonMobil in Beaumont, Texas.
"The scholarship helped me reach my full potential by providing me with a world class education," Rudy said. "Without this scholarship I would not have been exposed to opportunities that helped me open so many doors for myself.
Rudy said that his time in college was a period of growth. He was involved in Theta Tau, an engineering fraternity, and the Society of Hispanic Professional Engineers.
"I was able to create connections and bonds that I will carry with me later in life," Rudy said. "I was also able to give back to the community as much as I could, being involved in multiple outreach events that exposed lower represented minorities to STEM and engineering projects."
Though Rudy has begun a new chapter of his life, he said Champaign-Urbana will always hold a special place in his heart.
"Being a Lincoln Scholar was an honor and great pleasure," he said. "I am proud to say I was able to study at such a great university."
Alex Paez
Alex Paez plans to go straight to work after graduating with his degree in chemical and biomolecular engineering. He's applying to jobs related to plant maintenance of reactors and machinery.
"The impact of this scholarship was quite significant," Alex said. "The scholarship has made the financial side of college so much more manageable. It really made the difference in how much I had to take out loans and now I don't have to be stressed about owning significantly more money when I graduate."
Though Alex is pursuing a career in STEM, he said he's grateful for his liberal arts education and never imagined he'd learn about such a wide array of subjects. Over the years, Alex has had the opportunity to learn about Latin American history, psychology, economics, and more.
"Being a U of I student means that you are curious and ambitious," Alex said. "The university offers so much to its students. I always considered myself a STEM-oriented person and never believed I would be interested in things like English and history. In taking those classes for general education requirements, I discovered it wasn't the subjects that I hated, but the way it was taught."
Ciara Thomas
Ciara Thomas graduated with a degree in psychology with an interdisciplinary psychology concentration. She plans to applying to a PhD program for Fall 2019.
"I really liked my psychology major. I took a class and it drew me in, and I met so many of my friends in that class," Ciara said. "Over the years, interacting with teaching assistants, students, and faculty in the psych department was so fun."
Thomas mentioned that psychology professor Simona Buetti has had a large impact on her trajectory after graduation.
"She pushed me like I never imagined. We went on a trip to Carnegie Mellon together to learn about graduate school," Ciara said. "I've been doing research in the lab just because of her. I got to see what I could do with psychology and I brought that back here, to our psychology program, and got to do research."
Thomas said that without the Lincoln Scholars program she wouldn't have come to the university.
"I'm a first-generation student, so I didn't know how to navigate U of I," Ciara said. "Being a Lincoln Scholar has helped me feel validated. This program in general makes you feel like, 'OK, I'm really supposed to be here.'"
April Wendling
April Wendling double-majored in Earth, society, and environmental sustainability, and in geography and geographic information science. In addition, she earned a minor in integrative biology. Wendling was also the LAS Scholarship Celebration speaker in Fall 2018.
Wendling has plans to spend a year obtaining more field work research experience. She then plans to apply to graduate school for ecology. Wendling said she loved attending the University of Illinois because of the large number of diverse and passionate people.
"Simply put, I wouldn't have been able to afford attending the University of Illinois without scholarships like the Lincoln scholarship," Wendling said. "This funding has also allowed me to pursue my research interests freely, without needing to worry quite as much about if I will be paid for said research or not."
News Source
Samantha Jones Toal and Abby Paeth