The Thompson family's relationship with Illinois goes back almost a century
At 89 years old, Merrill Thompson makes it a point to return to the University of Illinois campus whenever he can. It is, after all, a family place—a place where one goes to reflect and help out.
His adoptive father was a graduate of the business school (now Gies College of Business) at Illinois who played football with Red Grange. Merrill and his late brother, Vince, attended the University of Illinois during World War II, and they both left campus to fight for the U.S. in the Korean War. Merrill said his brother's wife, Genevieve, also graduated from the University of Illinois, studying home economics in the College of Agriculture (now College of ACES).
"There wasn't any other place I wanted to go," Merrill, who earned his degrees in the 1950s, said. "The opportunity was so important and everything here represented opportunities that I could weigh and think of for the first time. I came here because, boy, this school had everything."
Merrill studied economics as an undergraduate, and he went on to study law at Illinois while the College of Law was still located in Altgeld Hall, now home of the Department of Mathematics. During that time, Merrill's late wife, Emma, came to the University of Illinois to pursue her master's degree, but she eventually decided to go straight into teaching to support Merrill through law school.
After law school, Merrill took a job in Chicago at Chadwell & Kayser, a general practice law firm where Merrill worked with companies whose products were regulated by the Food and Drug Administration. One of his most notable clients was Kraft Foods, which he represented for nearly 50 years. While at the firm, Merrill taught food and drug law part-time at Northwestern University Law School for 12 years.
Later in his career, Merrill joined a law firm in Washington, D.C., but he continued to work from his home in Bridgeton, Indiana.
When Merrill and Emma's son, Bradley (BA, '82, economics; MBA, '83, international business), was applying to schools, such as Princeton and Dartmouth, Merrill encouraged him to add one more to his list of possibilities — the University of Illinois. Bradley knew how much Illinois meant to his father and to his family, so he submitted his application.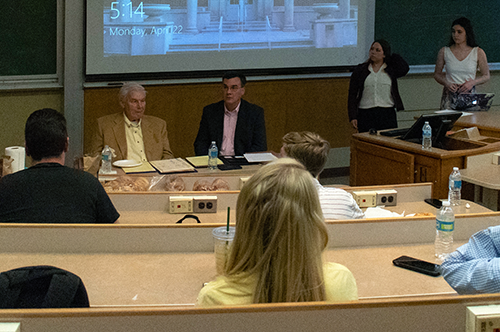 As it turned out, Bradley would soon follow his father's path as an Illini and later on as a lawyer.
After earning his bachelor's and master's degrees at Illinois, Bradley went on to earn a degree at the University of Michigan Law School. He later joined Baker & Daniels in Indianapolis, where he pioneered the creation of a food and drug law practice and frequently went to his father for advice and counseling regarding food and drug regulation.
After about 10 years, Merrill joined Bradley at Baker & Daniels and the two were able to practice law together.
Today, Merrill is retired and Bradley is a member of the firm at Epstein Becker & Green, P.C. Merrill's love for the University of Illinois led him and Emma to establish the Merrill and Emma Thompson Endowment Fund to provide scholarships to in-state students pursuing a law degree. Merrill and Emma understand the financial burden that law school can place on students, especially because Emma helped put Merrill through law school.
Merrill and Bradley came to campus recently to speak with undergraduate students in economics who are interested in law school. Bradley said they wanted to share with students how to prepare for law school, and they also wanted to share something they learned in their own journey. 
"The hope is that students will walk away with their mind expanded a little bit about what they can do to prepare, how much they should try to plan, and realize that a lot of life is feeling your way along and looking for the opportunities rather than having a plan and sticking rigidly to it," Bradley said.
After all, this is a fact of life that both Merrill and Bradley learned when choosing their own path.
Merrill originally came to Illinois because he wanted to be a history professor, but he later changed his mind and decided he wanted to practice law. Similar to his father, Bradley came to Illinois thinking that he would pursue a second bachelor's degree in engineering, but he decided to pursue an MBA prior to law school.
Both noted that making career changes was easier at Illinois because of the diverse opportunities on campus.
"The story of our lives is that you can make all the plans that you want, but you still have to react in the moment," Merrill responded.
Both father and son return to campus as often as they can, often to speak to students, but Bradley noted that he and his wife return for basketball games every once in a while. Today's campus is vastly different from what Merrill and Bradley recall as students, but it still gives them a sense of nostalgia, and it still feels like home.
"I come back every once in a while just to look around. I stand on the steps of the Main Library and look all the way to the union," Merrill said. "You rely more on memory, and memory is the warmth of recollection."