More than 100 LAS graduates added to Bronze Tablet
Distinction is granted for high academic achievement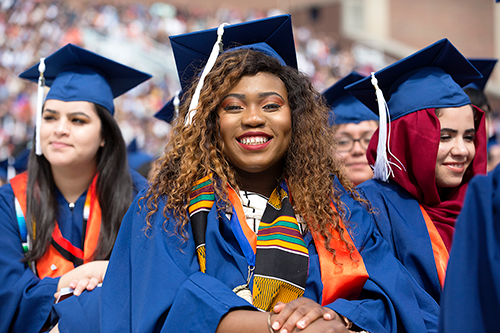 This year's additions to the nearly century-old Bronze Tablet at Illinois include 102 graduates from the College of Liberal Arts & Sciences.
Each year, the Bronze Tablet is inscribed with the names of new graduates and placed in the Main Library. To achieve this honor, undergraduate students must rank at the top 3 percent of each college's graduating class and must have a cumulative grade-point average of at least 3.5.
This year, LAS students make up about 42 percent of the University of Illinois' total number of Bronze Tablet scholars. The first Bronze Tablet was created in 1925, with 14 names.   
This year's recipients are listed here:
Stephanie Linda Abello, creative writing and Spanish
Kyle M. Adkins, molecular and cellular biology
Thomas Arlo Bane, molecular and cellular biology
Brittany Marie Barajas, Spanish
Emily Barraza, political science
Tamara Meredith Beecroft, actuarial science and economics
Miranda G. Brookshier, English and sociology
Tingting Cai, mathematics
Adam Robert Camp, geography and geographic information science and political science
David Boyan Cao, molecular and cellular biology and chemistry
Sean Michael Chapman, linguistics
Shivang Sharad Chaudhary, molecular and cellular biology and psychology
Mengyan Chen, statistics and computer science
Pengyu Chen, statistics and computer science
Weiru Chen, mathematics
Xinxin Chen, mathematics and statistics
Yijung Chen, chemical engineering
Kevin Ka Ngok Cheng, chemistry and economics
Kristy Chin, molecular and cellular biology
Samuel John Cler, molecular and cellular biology
Brett Thomas Cohen, molecular and cellular biology and psychology
Thomas Frederick Cyberski, molecular and cellular biology
Martin Nuguid De Venecia, molecular and cellular biology
Madeline Elizabeth Decker, English and Spanish
Di Deng, physics and statistics
Tsengel Enkhamgalan, global studies
Angela Fu, economics and creative writing
Xin Gao, mathematics and computer science
Ryan Thomas Garippo, communication
Katrina May Keevil Gerhard, molecular and cellular biology
Aaron J. Goffinet, molecular and cellular biology
Gabriella E. Guerra, English
Jackson Philip Harvey, molecular and cellular biology
Natalia M. Hayes, psychology
Shannon L. Hegarty, English
Kiersten H. Heiman, global studies
Yi Huang, psychology and economics
Haley McKenzie Frazer Hubbard, psychology and religion
Taewon Hur, mathematics and computer science
Sparsh Jain, molecular and cellular biology
William Stephen Jeziorski, statistics and econometrics and quantitative economics
Lydia Haelin Kang, psychology
Priya A. Karkhanis, molecular and cellular biology
Danielle Christine Klimas, molecular and cellular biology
Alexander John Koutsostamatis, chemical engineering
Claire V. Kredens, earth, society, and environmental sustainability and geography and geographic information science
Jenna Nicole Kurtzweil, English
Haydn Charles Lambert, English and political science
Aleeza Josephine Leder Macek, integrative biology
Qianqian Li, mathematics and statistics
Yuchen Li, statistics and computer science and mathematics
Perry Lee Lim, chemistry
Feikai Lin, molecular and cellular biology
Yiling Loh, chemical engineering
Danish R. Majid, molecular and cellular biology
Madeline J. McDevitt, molecular and cellular biology
Yuhao Min, chemistry
Christian Thomas Monte, chemical engineering
Bridget Elizabeth Mueller-Brennan, mathematics
Alexander N. Nemeh, molecular and cellular biology and psychology
Emily K. Nesbeitt, English
Rachel Catherine Neuses, molecular and cellular biology
Sara Marie O'Malley, political science and psychology
Yuchen Pang, mathematics and computer science
Jaimin Chetan Patel, molecular and cellular biology
Yesha C. Patel, integrative biology
Melanie Jane Rdzok, communication
Matthew G. Rice, political science and economics
Jake R. Ritthamel, integrative biology and chemistry
Jennifer Chantal Rodriguez, molecular and cellular biology
Nicole Elizabeth Rose, political science and communication
Kinan Sawar, molecular and cellular biology
Lindsey M. Schmidt, political science
Morgan Samantha Scholtes, chemistry
Niti Nilesh Shah, economics and political science
Chen Shen, psychology
Christopher Junsik Shin, chemistry
You Jin Song, molecular and cellular biology and chemistry
Lois Y. Suh, molecular and cellular biology
Sebastian Sulewski, philosophy
Man Sze, molecular and cellular biology and psychology
Eriele M. Tellis, political science
Sara Elizabeth Temple, history
William Michael Totura, molecular and cellular biology
Wesley Scott Tung, molecular and cellular biology
Alankrita Venkatesh, chemistry
Hao Wang, statistics
Karen Wang, psychology
Yuanheng Wang, chemistry
Yuanning Wei, statistics
Max Noah Weiss, political science
Zepeng Xiao, mathematics and statistics
Tao Xiong, economics and statistics
Jianing Xu, mathematics and psychology
Yiting Xu, molecular and cellular biology
Ziru Xue, economics
Changyu Yin, actuarial science
Jiawei Zhang, psychology and statistics
Yunxiang Zhang, mathematics
Yunxin Zhang, mathematics and computer science
Jingyao Zhu, physics and astronomy
Jingyi Zhu, mathematics