Jewel Ifeguni, a student, leads a startup company with help from Illinois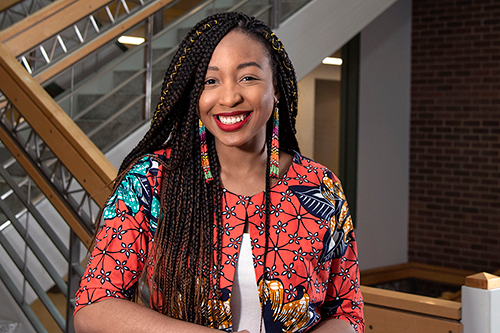 Jewel Ifeguni understands that college is about more than completing assignments. In a way, the senior in communication and computer science created her own assignment, and completed it, as she co-founded her own company to advocate diversity and inclusion.
Her company, YouMatter Studios, which she started with co-founder Adia Ivey, is dedicated to empowering marginalized voices and creating a more diverse platform within the media industry. Ifeguni started the media and production company about two years ago with help from the iVenture Accelerator, which assists U of I student entrepreneurs launch their business ideas.
YouMatter Studios is built on the notion that everyone, no matter their race, gender, sexuality, class, or ability, should have representation in media. The company recently received the $10,000 Fiddler Innovation Fellowship from the Technology Entrepreneur Center (TEC) and the National Center for Supercomputing Applications. Her company was also a finalist for the Illinois Innovation Prize through the TEC and the Grainger College of Engineering.
Ifeguni's company was just one startup with LAS roots that was honored by TEC recently. Other award-winning startups have aimed to improve everything from orthodontics to confidence in children and our understanding of Asian cuisine.
Ifeguni is creating digital media using virtual reality technology and 360-degree videos to be used in police training. The videos will put into perspective two different sides of a routine traffic stop between a white police officer and a black driver, in hopes of helping people better understand the situation and ensure that it is handled appropriately. Ifeguni has been working with the Urbana Police Department and the University of Illinois Police Department.
YouMatter hosts various workshops in Chicago, and it has plans to establish several workshops in Champaign. Ifeguni also said that she hopes to submit the company's videos to film festivals.
Ifeguni said her goal for these videos is to make them realistic, effective and meaningful. The videos will also feature interview from people who have been affected by these interactions between policy and the community.
In addition to the videos, YouMatter has a web series which features many student interviews about the first time they felt represented in media. The hope is to spread awareness about how to increase diversity and inclusion across today's media environment.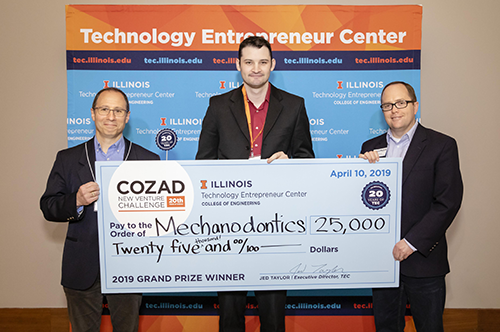 "Activism is something that I am passionate about, but in the form of empowerment, so I do understand my role in the entrepreneurship community," Ifeguni said.
She noted that her love of communication, business entrepreneurship, and activism comes from many of the courses she has taken at the university.
"The College of LAS and courses I've taken has helped elevate not just my knowledge but my career and how my company is affected," Ifeguni said. "I have to think about so many aspects of how we socialize, what the effects are, and how media plays a role in it. That's why I use my voice to forefront and empower marginalized voices."
Ifeguni's company has won various grants totalling more than $20,000. It's one of several student startups selected to be supported by iVenture in the 2018-2019 academic year. Other recent award-winning startups with LAS connections include:  
Mechanodontics

– James Wratten, a graduate student in mathematics, received $25,000 as the grand prize winner in the 20th annual Cozad New Venture Challenge through TEC. His startup, Mechanodontics, is developing a revolutionary behind-the-teeth braces that shortens treatment time, allows for easier cleaning than traditional braces, and is more comfortable. Wratten, who co-founded Mechanodontics, also received the $10,000 Dr. Paul Magelli Innovation Prize. The startup also won the AbbVie Award and the Singleton Law Firm, PC Prize.

Dill

-

Shayne Chammavanijakul, an undergraduate in linguistics, founded this Chicago-based print publication to showcase Asian cuisine as they are, and not something "overly exotic, alien, or foreign." She was a finalist for the Illinois Innovation Prize.

RingWing, LLC

- Jenna Johnson, an undergraduate in communication, and Benjamin Khachaturian, an undergraduate in systems engineering and design, are helping children gain more confidence through their invention RingWing, which is an indoor catchable glider. It received the Adjacency Prize through TEC.  

HexNest

- Rachel Circelli, an undergraduate in chemistry and political science, and Mark Van Den Avont, an undergraduate in mechanical engineering, are working together to create safer and affordable sports mats which will ultimately reduce injuries to student athletes in schools and private clubs. The startup took the $10,000 second place prize in the Cozad New Venture Challenge, and it also won the EnterpriseWorks Incubation Space Prize, the Research Park I-Start Prize, the Meyer Capel Prize, and the mHUB Prize