LAS young alumni and student awarded Fulbright grants
Grants will support educational, research, and teaching experiences across the world
Nine College of LAS young alumni and a student were offered student Fulbright grants to pursue international educational, research, and teaching experiences across the globe this coming year. They were among 13 Illinois students and alumni chosen this year, and another seven Illinois students were named Fulbright alternates.
As the flagship international educational exchange program of the U.S. government, the Fulbright U.S. Student Program builds international relationships to solve global challenges. Based on their academic and professional achievement as well as their demonstrated leadership potential, approximately 2,100 U.S. citizens will travel abroad for the 2019-20 academic year through the Fulbright student program.
The LAS awardees who accepted the Fulbright award this year include: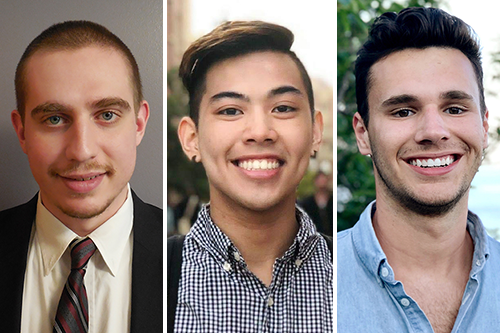 Sean Chapman, of Joliet, Illinois, and a graduate of Joliet West High School, was offered one of 25 English Teaching Assistant positions in India. A December Illinois graduate with a bachelor's degree in linguistics, Chapman said he is eager to further his studies of Hindi and Sanskrit while sharing the English language with Indian students. As a member of the James Scholar honors program, Chapman explored how varieties of language may be used to stratify societies and uphold the interests of the ruling elite. Chapman also taught English while studying abroad in Russia in fall 2017. Post-Fulbright, Chapman said he plans to pursue graduate study in historical linguistics and become a professor of Indo-Aryan linguistics.
Kevin Ho, of Burbank, Illinois, and a graduate of Reavis High School, was named one of 15 Fulbright English Teaching Assistants in Vietnam. Ho graduated from Illinois in May with a bachelor's degree in English and a teacher education minor in secondary school teaching. Ho previously served as an English tutor at Urbana High School and as an English as a second language tutor at the South-East Asia Center in Chicago, in addition to working as a teaching assistant and residential adviser for international high school students at the Summer Institute for the Gifted at the University of California, Berkeley. An avid member of service and dance organizations, Ho plans to join similar organizations in Vietnam to integrate into the community. After his Fulbright year, Ho said he hopes to work in diverse and in-need high schools in the U.S. before pursuing a doctoral degree and becoming a professor of education.
Jack Josellis, of Wilmette, Illinois, and a graduate of New Trier High School, was offered an English Teaching Assistant Fulbright in Madrid, where he will assist English teachers in high school classrooms and facilitate a Model UN program. Josellis, who previously attended the First Colloquium on Language Contact Education in Córdoba, Spain, graduated from Illinois in May with a bachelor's degree in history, a teacher education minor in secondary school teaching and a concentration in social studies. While at Illinois, Josellis worked in various local high schools and helped coordinate philanthropic events as head of external affairs for his campus fraternity. He said he hopes to draw on this experience to organize a community philanthropy basketball tournament for his Spanish students, and he plans to become state-certified to teach secondary education social science and English courses.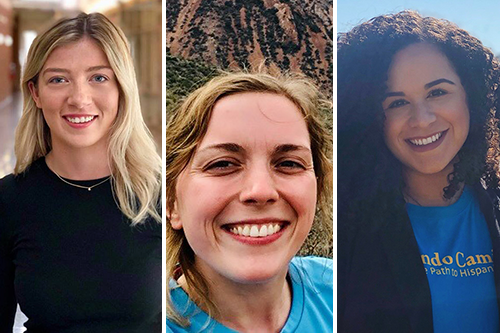 Phoebe Lauer, of Chicago, and a graduate of St. Ignatius College Prep, was offered an English Teaching Assistant Fulbright in the Canary Islands, Spain, where she will assist English teachers in early childhood and elementary school classrooms. As an undergraduate, Lauer studied abroad in Barcelona, Spain, where she also volunteered as an ESL instructor. Lauer graduated from Illinois in May with a bachelor's degree in psychology and Spanish. While living in the Canary Islands, Lauer hopes to volunteer at a hospital or rehabilitation center for individuals with cognitive or physical disabilities, as well as to continue her advocacy for immigrant and refugee rights.  She said she plans to pursue a doctoral degree in occupational therapy with a goal of working in a hospital setting to assist children with cognitive and physical disabilities.
Katherine Micek, of Orland Park, Illinois, and a graduate of Carl Sandburg High School, was offered a Fulbright English Teaching Assistantship in Malaysia. A first-generation college student, Micek earned a bachelor's degree in integrative biology from Illinois in May 2017. She was placed in Kansas City, Missouri, by Teach for America to teach math to middle school students, and obtained a Master of Secondary Education from the University of Missouri, St. Louis. In Malaysia, Micek will assist English teachers in high school classrooms and lead extracurricular English activities for secondary students. She is particularly interested in furthering environmental stewardship efforts in Malaysia. After the Fulbright, Micek said she plans to teach in a low-income high school district.
Natalia Román Alicea, of Bayamón, Puerto Rico, has been offered a Fulbright English Teaching Assistantship in Colombia. She graduated summa cum laude with a bachelor's degree from Kent State University in May 2017 and earned a master's degree in communication from Illinois in May. While serving as an English instructor in a university in Cali, Colombia, Román Alicea said she hopes to coordinate community activities and professional development workshops through a local grassroots organization serving disadvantaged Colombian youths. As an aspiring academic, Román Alicea has studied college and career readiness of Latin American youths, and her research currently focuses on intercultural communication and health communication within Latin American populations in the U.S. After her Fulbright experience, Román Alicea plans to pursue a PhD and a research-oriented career.
Krti Tallam, of Fremont, California, has been awarded a Fulbright grant to India. She graduated from Alsion Early College High School, where she was dually enrolled at Ohlone College, simultaneously earning a high school diploma and an associate degree before enrolling at Illinois. In December, Tallam earned both a bachelor's in natural resources and environmental sciences, and a bachelor's in statistics. Her environmental work at Illinois led to recognition in 2017 as one of 50 Udall Scholars in the U.S. In India, Tallam plans to study how climate change and urbanization have affected zoonotic disease ecology trends. She hopes to develop predictive models toward improving the management of zoonotic disease transfer in terrestrial and marine systems. After her Fulbright, Tallam said she plans to accept a deferred entry for a doctorate in geography and the environment at Oxford University to influence environmental conservation through scientifically informed analyses.
Eriele Tellis, of Chicago, and a graduate of Gwendolyn Brooks College Preparatory Academy, has been named one of seven Fulbright English Teaching Assistants to Italy. Tellis, who graduated in May with a bachelor's in political science and a minor in Portuguese, said she applied for the Fulbright in Italy "to build a critical foundation for my future career as an immigration lawyer, exchange customs with the students and work with local nongovernmental organizations in the community to alleviate the refugee crisis." A James Scholar honors student, Tellis focused her studies on issues of international migration, comparative politics and globalization. Tellis studied abroad in Brazil for a semester and also in Italy for one month. On campus, she served as president of the student organization Women of Color and also founded an organization for young girls, Sister to Sister, to provide mentoring to area disadvantaged teens. She also is the Illinois state facilitator of Delta Sigma Theta Sorority, Inc.
Naomi Wasserman, of Lafayette, California, was awarded a Fulbright grant to conduct doctoral research in New Zealand. She earned a bachelor's in environmental sciences from Barnard College and is pursuing a PhD in geology at Illinois. Her research focuses on the development of stable isotope systems to trace contaminant mobility in the modern environment and as indicators of the oxygenation of early Earth. At the University of Otago, Wasserman will use these geochemical tools to study the fate and transport of the metalloid antimony, an emerging contaminant that is naturally abundant in New Zealand. Part of her research will involve working with local environmental consultants to monitor the remediation of antimony- and arsenic-contaminated mine waters. Wasserman said she hopes to connect with other backpacking and long-distance running enthusiasts in New Zealand by completing several Great Walks and competing in the Northburn 100. After graduating, she plans for a career in water quality research.
The LAS alumni and student were among 13 from Illinois chosen for a Fulbright. The others include Jordan Blake Banks, a graduate in agricultural and biological engineering; Jason Ho, a student finance and information systems and information technology; Danielle Steven Nutting, a student in Doctor of Musical Arts; and Johnny Uelman, a student in pathobiology.
The Fulbright program is jointly administered at Illinois by the National and International Scholarships Program, which works with undergraduates and recent alumni, and the Graduate College Office of External Fellowships, which supports graduate students. Additionally, dozens of Illinois faculty members and staff with geographic and programmatic expertise review student application materials and conduct candidate interviews.
"Having 21 of our 59 Fulbright applicants being either offered a grant or named an alternate is a real testament to the strength of our student body and the great faculty support they receive," said David Schug, the director of the National and International Scholarships Program. "This represents the most students ever from Illinois to be so honored, and we are hopeful that placements may be found for many of our alternates as well."
"Few fellowships have the global cachet that Fulbrights do," said Ken Vickery, the director of fellowships in the Graduate College. "Fulbrights open doors for students, honoring not only their academic achievement but also their capacity to promote international goodwill and serve as cultural ambassadors."
Applications are open for students interested in pursuing studies, fine arts, research or English teaching assistantships under the Fulbright for the 2020-21 academic year.